Women Who Went To The Klondike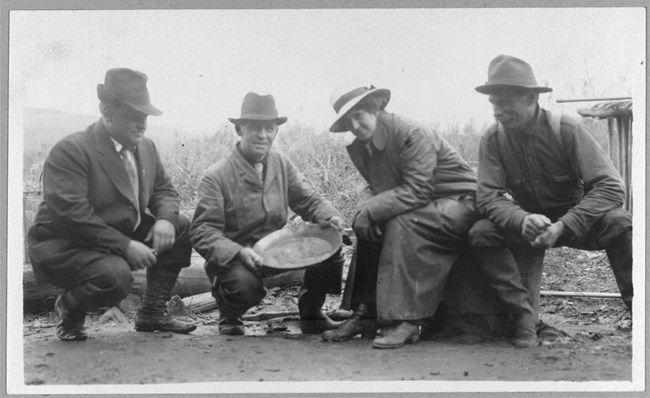 Breaking The Norm
Few women braved the cold, wet climate and unknown circumstances of the Alaskan wilderness in the mid-1890s. It was a world dominated by men. Yet charming and attractive
women
who processed self-reliance and determination saw the gold rush as a golden opportunity. They approached the frontier with high spirits and feistiness to eagerly embrace adventure. Some women came from desperation to support themselves and families. Others looked confidently at fulfilling their life beyond being a dutiful housewife. Each brought with them vision to make their own decisions and choices to determine their very existence. Everyone was hoping to improve their fortunes if they could.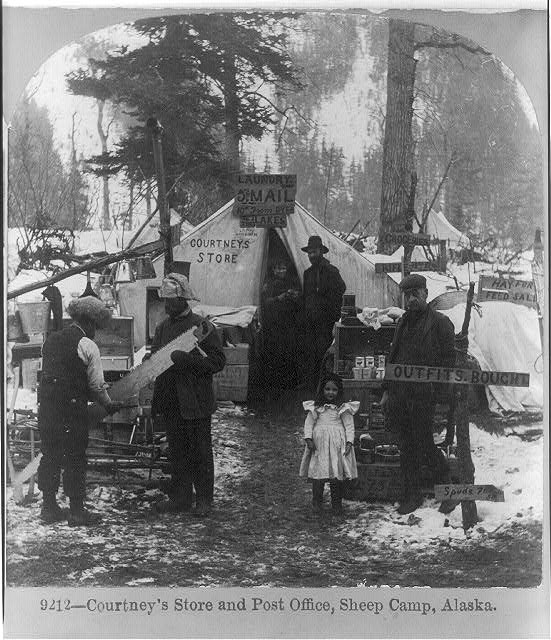 These women faced obstacles and seized opportunities in their new found independence. The journey north required outdoor skills to survive the Alaskan wilderness either on foot or horse, and boat building to navigate the Yukon River all the way to Dawson. There were dangerous rapids; tricky sandbars, biting mosquitoes, and inclement weather. Conditions could range from blinding snow storms to cold driving rains, followed by floods and avalanches. Most stampeders, male or female, were not physically conditioned to the strenuous life that was required. There were two winning strategies that worked for all the stampeders, regardless of their gender. Providing goods and services, and "mining" the miners worked for many. Others became prospectors themselves, working the creeks and turning profits quickly to hire others to work for them in the gold fields.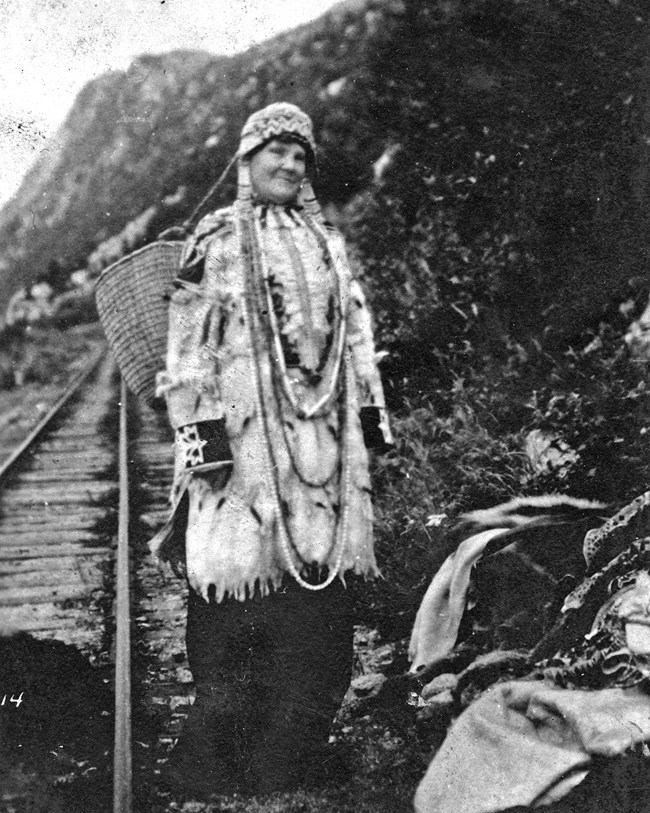 Harriet Pullen Comes To Skagway
Harriet Pullen's success at mining the system is closely associated with Skagway and the transition from frontier boom town to a more settled community. Harriet arrived in Skagway with early fortune seekers in the fall 1897, and started out like many others, broke, but optimistic and ambitious. Upon her arrival, she said:
" I only had seven dollars to my name. I didn't know a soul in Alaska. I had no place to go. So I stood on the beach in the rain, while tented Skagway of 1897 shouted, cursed, and surged about me."
Harriet knew how to cook and how to handle horses and soon improved her situation with these skills. She gained employment cooking for
Captain William Moore
, a man of means and wealth, and supplemented her income by selling her apple pies. Harriet's successful pie business led quickly to bigger enterprises. She sent for her horses from Washington state and geared up to haul freight for miners over the rugged
White Pass Trail
, also known as the Dead Horse Trail. She made enough to support herself and three children. Profits from this venture helped her make a smooth yet big transition in her life; when the White Pass & Yukon route railroad was completed, this effetely closed down freight lines. But now Harriet was in the position to join the thriving business of tourism.
She purchased a grand home from Captain Moore, which she then converted into one of Alaska's most luxurious hotels. Harriet gained a hospitable reputation for her accommodations which boasted hot baths and soft beds. Guests staying at her Pullen House mansion enjoyed fresh vegetables picked from her gardens along with milk and cream from her farm in
Dyea
. Harriet also provided dramatic presentations in the parlor of Pullen House, drawing on her personal stories and experiences with Skagway's colorful cast of gold rush characters and events.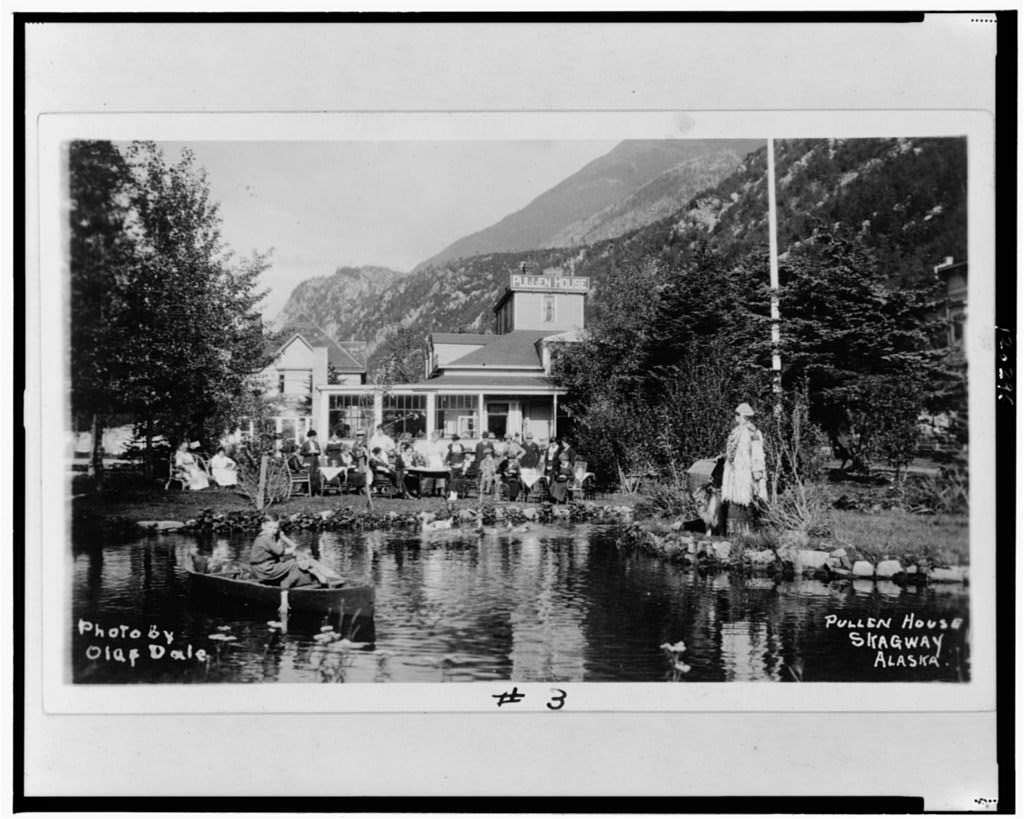 Her own real-life drama of surviving a shipwreck illustrates Harriet's tenacity that served her well beyond the rigors of hauling freight through Alaska's wilderness. The report from January 18, 1907, The Olympic Times newspaper, entails the fateful events of the ship Alice Gertrude.

While visiting her mother near Port Angeles, Washington, Harriet boarded the ship hoping to enjoy rest and relaxation. The ship, Gertrude, left the port in a snow storm and howling gale at night. The ship Captain soon tried to take refuge and find safe harbor in a calm bay but mistook his bearings. The ship struck rocks head-on and could not be backed off; terrible rough seas were boiling up around them. Two tug boats came to the rescue in the early morning light but the seas were still very rough. Harriet managed to get into a life boat; but when she tried to climb ashore, a huge wave came over the boat, flipping it with Harriet underneath in the swirling waters. She maintained presence of mind and bravely made her way to the edge of the boat. She was gallantly rescued by a small whaling vessel and met by friends at the dock. It was said that Harriet was the only white woman who underwent hardships of the wreck and although she was fearless, underwent the most terrible experiences of all. Harriet lived out her life became affectionately known as "Ma Pullen" with respectful notoriety, sharing her hospitality with visitors in her vibrant hotel until she died in 1947. Harriet Pullen is a great example of women who honed their business skills to succeed during the gold rush and seized opportunities that came along with the mad rush. What about the actual mining game- using shovels and gold pans?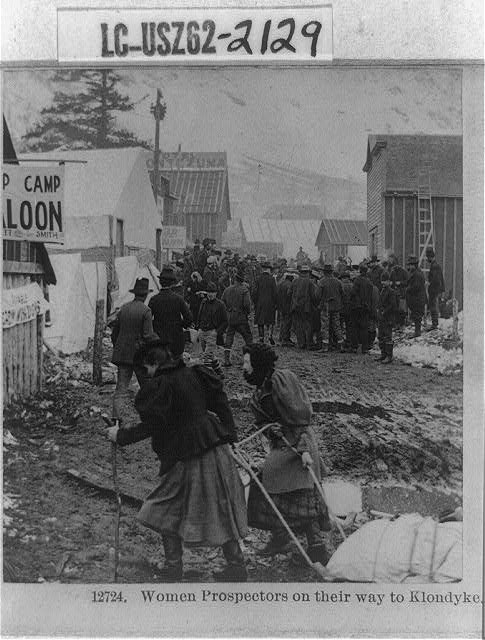 Nellie Mines The Klondike
The stand-out woman miner is perhaps Nellie Cashman, who arrived in Alaska with experience from boom towns all over the West. Prior to the Klondike Gold Rush, Nelly prospected in British Columbia, Arizona, Mexico and South America as a world traveler, backed by her steady income from managing boarding houses and restaurants. When Nelly joined the Klondike Gold Rush in February 1898, she was not married and traveled with her nephew and another young man. The three of them arrived in Dawson too late to stake claims, so Nellie opened a store to support her mining passion. Several claims later found her no richer and often embroiled in controversy over property disputes.
However, her charitable lifestyle and religious beliefs made her popular in the community; she engaged in fund raising activities to support the local hospitable and donated liberally to her church. On April 22, 1900, the Klondike Nugget said this about Nellie Cashman:
"There is not a mining camp in the country where she is not known and loved, as her many deeds of charity have endeared her to the hearts of all who ever knew her…Nellie has grubstaked many a prospector and knows more about mining in all branches than many a man who poses as an expert."

Much of the pleasure Nellie found in mining came from living in the wilderness not necessarily concentrating on the business of buying and selling claims. She is remembered as being unique, preferring to associate with men, and never having a spot on her moral character. In Frances Backhouse's book, Women of the Klondike, she states that many women tried their hand at gold panning, but none made a fortune this way. Rather they found more success managing mining properties. Nellie was no exception; she loved mining and it was her store and restaurant supported her mining claims. In 1904, she moved from Dawson to Fairbanks and spent the rest of her life there.
Life In The Klondike
Remote areas attracted women like Nellie Cashman and other frontier women who could live far from the comforts of civilization. Another Gold Rush woman spent her honeymoon trip in the fall of 1895 going over the Chilkoot Pass with a dog team and sleds. She reportedly wore her Alaskan Uniform consisting of heavy flannels, a warm dress, moccasins, fur coat, cap and gloves, rolled up in full robe and bound to the sled. This hard working woman was Ethel Berry, who spent two months alone in a tiny cabin while her husband Clarence worked out in the gold fields and creeks. The Berrys heard about
George Carmack
's discovery on Bonanza Creek and immediately moved near there, staked a claim and Ethel soon became known as the Bride of the Klondike-one of the first Klondike millionaires.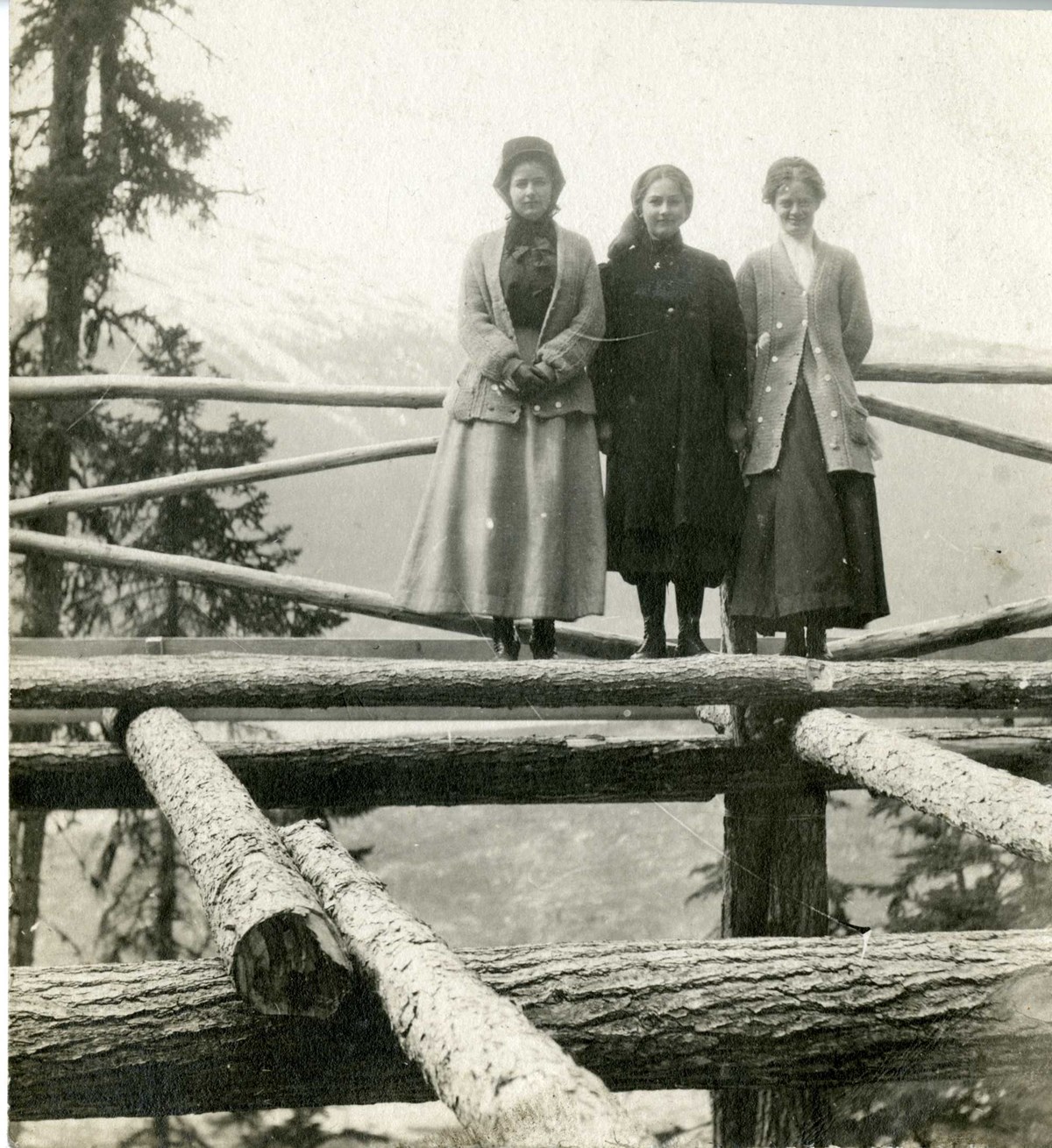 Ethel described her life in the Yukon as living in a wooden shack with only a flour sack for a window. She panned the miners' "pay dirt" by lamplight in a washtub or in ever-growing dumps created by miners tunneling out from shafts in frozen ground. By 1898, the Berries were rich, well-established and had one of the few two-story cabins on Eldorado Creek. This poor farm girl from Selma, California was featured in newspapers all over the world. The Berry's claim became legendary and they continued to work hard and invest their fortunes wisely.
In the end, gold rush women found value in the human drama of meeting basic challenges of life - staying warm, getting enough to eat, resting, and staying alive. They captured the natural beauty- glaciers, streams, flowers, picturesque rocks and mountain peaks in their photographs and journals. Many faced extraordinary circumstances with skills required for the perilous journey. These pioneering women found the courage to recognize their mistakes and accept their failures, to stretch their limits, and face the unknown. Some became heroes in a great adventure and others simply survived. Even for those who got rich in Dawson, the real gold was their life experiences that remained the most exciting aspect of the Klondike Gold Rush.

This article was orginially written and edited as a KHNS radio talk.
Last updated: March 27, 2019