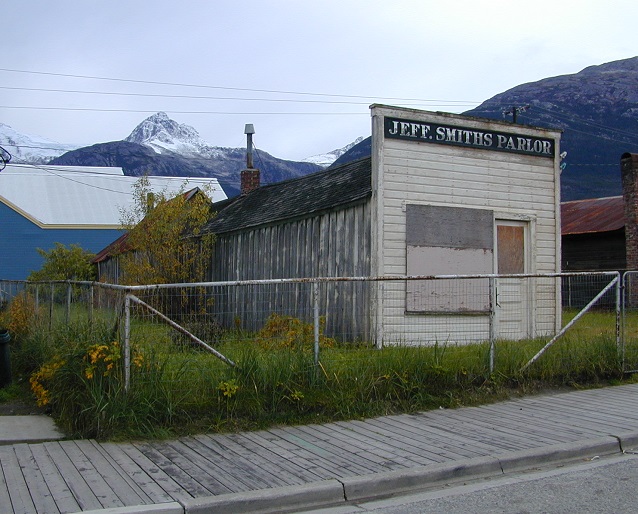 Where is this site?
Jeff. Smith's Parlor is located on 2nd Avenue between Broadway and State Streets in Skagway, Alaska.
Why was this site excavated?
Jeff. Smith's Parlor was donated to the National Park Service (NPS) in 2008. Plans were put in place to open the museum to the public and provide tours; however, before it could be opened, the building had to be restored and put on a permanent foundation to protect both visitors to the museum and the structure itself. The National Historic Preservation Act requires all federal organizations, like the NPS, to assess impacts to archeological resources when a historic structure is rehabilitated. Because the construction of the foundation would destroy the cultural materials beneath the parlor, park archeologists excavated the site to obtain as much data as possible before it was lost.
More about the site
During the Klondike Gold Rush, this building served as the gambling parlor of notorious conman Jefferson Randolph Smith, commonly known as "Soapy." It served a variety of purposes before becoming a museum in the 1930s. Originally located on 6th Avenue, the building moved to its current location on 2nd Avenue in 1964. This means that the archeology beneath the parlor has no relation to the time Soapy spent in Skagway. Instead, it highlights Skagway's unique geological story. The Skagway Valley was carved entirely by glaciers.  Due to glacial rebound, the rise of land that was once depressed by glaciers, the entire town now sits about six feet higher than it did at the time of the Gold Rush. Today, 2nd Avenue is well above the water, but historically, the town's lower elevation caused this street to be located below the high tide line. Buildings in the tidal flats area were constructed on pilings to accommodate the changing tide.