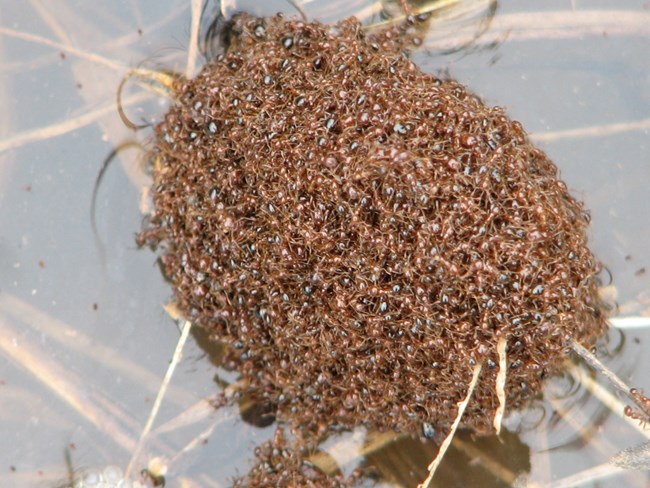 No matter how you choose to enjoy the national parks—hiking the trails or relaxing by a campfire, climbing peaks or diving the depths of the ocean—it's likely one of your favorite pastimes is affected by an invasive species.

What's an invasive species?
Invasive species—nonnative organisms that cause harm to the environment, economy, or human health—have serious impacts on native ecosystems. They disrupt ecological processes, threaten ecosystem integrity, degrade cultural resources, and potentially interfere with visitor experiences in parks. Additionally, they exacerbate the effects of other threats like climate change and fragmentation from land use change.
Invasive species are an increasing problem:
Exotic invasive plants cover approximately 1.4 million acres of NPS lands and waters.

At least 52 parks are either at risk for quagga/zebra mussel contamination or already have infested waters.

In FY2016, parks reported almost 1,500 populations of invasive animals.

A 2010 survey, based on the USGS non-indigenous aquatic species database identified 361 aquatic invasive species in 129 parks.
How does the National Park Service deal with invasive species?
Executive Order 13112 recognized invasive species as a major factor contributing to ecosystem change. Consequently, every federal land management agency works on invasive species issues. For example, Everglades National Park educates visitors and the public about multiple invasive species afflicting South Florida, including Burmese pythons, lionfish, and invasive exotic plants.

Natural Resource Stewardship and Science (NRSS) Directorate participates in federal work groups and provides guidance and training on emerging invaders. NRSS scientists contribute to several DOI initiatives to address invasive species management activities. The 17 Exotic Plant Management Teams (EPMTs) assist 287 park units as well as other partners across the U.S. Formed in 2000, the EPMTs provide help and expertise in specific ways:
Prevent introduction of invasive species
Identify and remove new infestations
Reduce impact of existing infestations
Restore native plant communities
Managing invasive species requires strategic approaches, cooperation, and collaboration. These species affect areas within national parks, but they travel to and from adjacent properties such as private, state, federal, and tribal lands. NPS continues to look for ways to be of assistance on both national and local levels of invasive species introduction and control.

What can individuals do to curb the spread of invasive species?
Once established, invasive species are very difficult to eradicate, which is why it's crucial to prevent the (accidental or intentional) introduction of invasive species in the first place. Here are some things we can all do to prevent invasive species introduction and slow their spread:
Pet Smart: Frequently, invasive animal species start out as pets. Before inviting a pet into your home, make sure you can provide the care it needs and understand the implications if it were to escape or be let loose. The release of unwanted pets or their escape can result in the establishment of invasive species. In fact, 80% of the nonnative reptile and amphibians in Florida are due to escapes or intentional releases.
Flower Power: When designing your backyard paradise, you have the opportunity to both slow the spread of invasive species AND attract pollinators—both are important issues! Seeds from introduced plant species can blow in the breeze to neighboring yards and open spaces, changing the natural balance. Also, nonnative plant species can out-compete the specific plants pollinators need to live and thrive. Pollinators face serious declines all over the world, and we need these bees, butterflies, and birds for healthy ecosystems and a healthy economy. You can design your garden to attract your regionally specific pollinators with this free guide from North American Pollinator Protection Campaign (NAPPC).
Prevention: Many harmful species travel with humans and pets. To avoid transporting aquatic invasive species follow these guidelines and be sure to learn and comply with all state and federal regulations that pertain to the waterbodies in which you recreate. And if you're going in a cave, be sure to decontaminate your gear to avoid spreading the fungus that causes white-nose syndrome, a fatal disease affecting bats. A range of best management practices to prevent the spread of invasive plant species and invasive animal species can be found on the National Invasive Species Information Center web site.
For invasive species, prevention is the best defense. We can all work together to help defend our national parks and other public lands from invasive species.