Burmese Pythons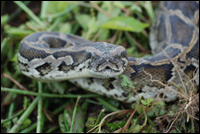 In recent years, snakes from around the world have been turning up in and around Everglades National Park. Burmese pythons, one of the largest snake species on earth, are now known to be breeding in the park and spreading throughout south Florida. Originally from southeast Asia, Burmese pythons are now frequently found in south Florida. More than 2,000 pythons have been removed from the park and surrounding areas since 2002, likely representing only a fraction of the total population.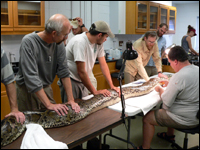 The population of Burmese pythons presently established in the park is the result of accidental and/or intentional releases by pet owners. These introductions can have devastating consequences to our ecosystem. Burmese pythons have been found to feed on a wide variety of mammals and birds in the Everglades -- even the occasional alligator! By preying on native wildlife and competing with other native predators, pythons are seriously impacting the natural order of south Florida's ecological communities. The continued proliferation of Burmese pythons -- and the continued introduction of new foreign species -- can further threaten many of the endangered plants and animals we're working diligently to protect.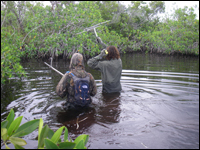 During the past decade, the National Park Service has worked alongside partner agencies to explore potential control methods for managing the existing population of Burmese pythons. During this time, park scientists and partners have published a wide array of studies that help describe how these unwanted invaders are interacting with the landscape. Burmese pythons will likely never be eradicated from the area, but YOU have an important role to play in preventing the spread and establishment of invasive species. Learn how you can help.
Area of Impact
Burmese pythons have become a serious concern for the greater south Florida area. Since they were first documented to be established in 2000, pythons have increasingly been found in outlying areas, including Key Largo, Marco Island, the Big Cypress, and other wildlife management areas.
The park is working in concert with other area land managment agencies to track the occurence and spread of pythons. View the interactive map below to view removal and location data.