Article
Homesteading Land Entry Case Files Online Activity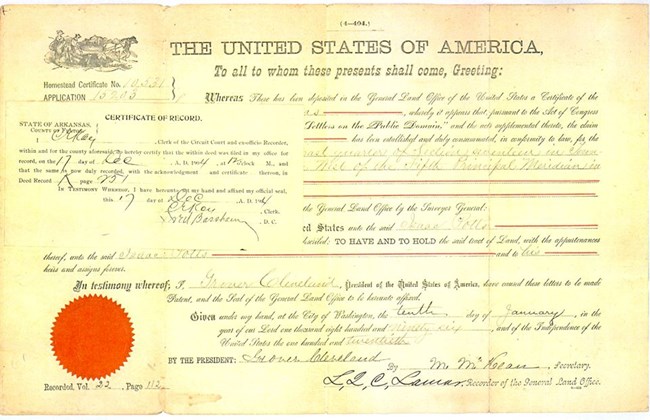 The paperwork required of homesteaders before they could obtain a patent, or title, to land in the public domain resulted in exceptionally detailed land records. Called Homestead Land Entry Case Files, these records describe improvements made to the property, including houses constructed, wells dug, crops planted, trees cleared, and fences built.

Over the course of the Homestead Act's 123-year history, more than 4 million homestead claims were made with about half successfully proving up. Each one of these successful claims generated a written record that was kept by the U.S. General Land Office. Today, these case files exist as paper originals stored at the National Archives in Washington D.C. The complete collection contains over 30 million individual pieces of paper! Since 1999, Homestead National Historical Park aims to eventually digitize all 30 million documents of the homestead case files collection.

The records that have been digitized so far can be found on Fold3.com and Ancestry.com. If you are a descendant of a homesteader, and have access to your family's homestead records, this activity can be a great way to learn more about your ancestor's life on the homestead. Learn more about requesting homestead records here.
Using a homesteader's Land Entry Case file
This activity will help you learn about and explore historical homestead records, and what information they can provide to you. Use the documents below to answer the questions. Keep your answers and notes so you can share what you find with your family and friends!
Questions for exploring the documents below:
Find the initial affidavit, the first paperwork filled out to file an application for land. To what did this claimant swear?
If your claimant was not originally a United States citizen, what country were they from?
What is the legal description, including township and range, for the land this person claimed?
On the Homestead Proof (Final Affidavit), was the person who applied for the homestead the same person who recieved the claim at the end of 5 years? If not, who was it?
Using the Final Proof, Testimony of Claimant (Witness #1 Testimony):
How does the claimant describe their house?
How does the claimant describe how the land was used?
How many witnesses provided testimony for the claimant?
Last updated: February 13, 2023