Hearing the Difference—monitoring sounds in Alaska's National Parks
"I feel like it is my work to reinvigorate the awareness of quietude—and in order to do that, quietude has to exist." Davyd Betchkal, NPS biologist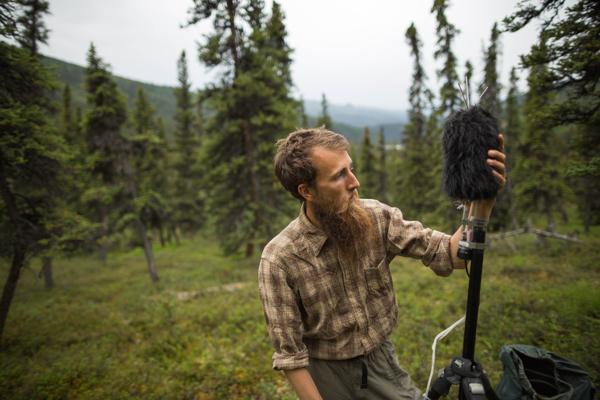 A mother bear and her brood of cubs amble their way across a meadow of blooming cottongrass in the remote wilderness of Noatak National Preserve, Alaska. Like any family on an outing, the bears have plenty to say. Their vocalizations can be heard thanks to high-end field recording equipment installed by National Park Service biologist Davyd Betchkal.
Stationed in Alaska, Davyd's work contributes to sound research projects monitored and managed by the NPS Natural Sounds and Night Skies Division in Fort Collins, CO. To date Davyd has gathered more than 800 days of audio recordings in national park units across Alaska. These include a range of natural sounds, from wood frogs and rockfalls to beavers and sheep. The National Park Service protects these sound resources. The soundscapes they create express acoustical qualities unique to Alaska wilderness environments.
Davyd's recordings also capture an intrusion of human-caused sounds in park spaces, typically from airplanes, machines and trucks. National parks use the data from the recordings to identify noise impacts, evaluate proposed activities that may impact the natural, acoustical environment, and develop management plans.
Davyd climbs high and low to install equipment and gather sounds representative of a variety of habitats. Sounds heard 4,500 feet above treeline on Healy Ridge in Denali National Park and Preserve will be different from those heard in a boggy wetland below. Davyd experiences these differences in terms of decibels. A location with sound levels approaching 60 decibels (dBA) will be far louder than one with a natural ambient level of 15.6 dBA, like Dunkle Hills in Denali —among the quietest places Davyd has documented.
Learn more about Davyd's work in "The man who collects sound," an article by photojournalist Loren Holmes of the Alaska Dispatch News.
Visit the Natural Sounds and Night Skies Division website to learn about NPS fieldwork methods used to measure and monitor sounds.
More sounds from nature gathered in national parks can be heard on our Sound Gallery page.
Article by Julie West, communications specialist, NPS Natural Sounds and Night Skies Division
Last updated: September 19, 2016