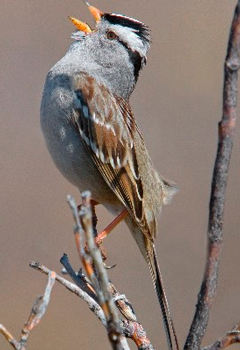 Natural Sounds
Natural sounds are vital to park ecosystems and to your experience in a park. National Park Service Management Policies require NPS to restore and manage park acoustical environments and soundscapes (see the Science of Sound page for definitions). Sound is important to wildlife for:
Animal communication
Territory establishment, finding good habitat
Courtship and mating
Nurturing and protecting young
Predation and predator avoidance
Effective use of habitat
Have you ever heard the reverberating thud of male bighorn sheep butting heads, the eerie howl of a wolf, or the slap of a beaver tail on the water's surface? The visitor who experiences sounds like these often cherishes the memory for a lifetime. They are potent reminders of the ancient rituals preserved in our natural spaces and serve as key examples of the richness of park acoustical environments.
Most national park visits, however, are dominated by the songs of birds, frogs, and insects going about their daily activities. Such sounds, while more common than a wolf howl, are a captivating and memorable part of a park experience. Standing in the midst of the deafening trill of spring peepers, for example, is a riveting reminder that wetlands are critical habitat for amphibians. While most amphibians are almost impossible to spot, their calls travel for miles.
Check out some of our sound recordings from parks.
Did you know?
When returning to the colony with food, a sea lion mother finds her pup by recognizing its voice.
Rattlesnakes shake their tails to alert intruders to their presence, saving them the trouble of an attack.
Killdeer use a distinct, high-pitched trill, while faking a broken limb, to distract predators from their nests.
Many bird songs can be described in human phrases. For example, the American Goldfinch call sounds like the words "potato chip!" and Chickadees helpfully call out the sound of their own name, "chicka-dee-dee-dee!"
Male cicadas produce the loudest sounds in the insect world. Entomologists believe that the sound protects these insects by hurting predators' ears.