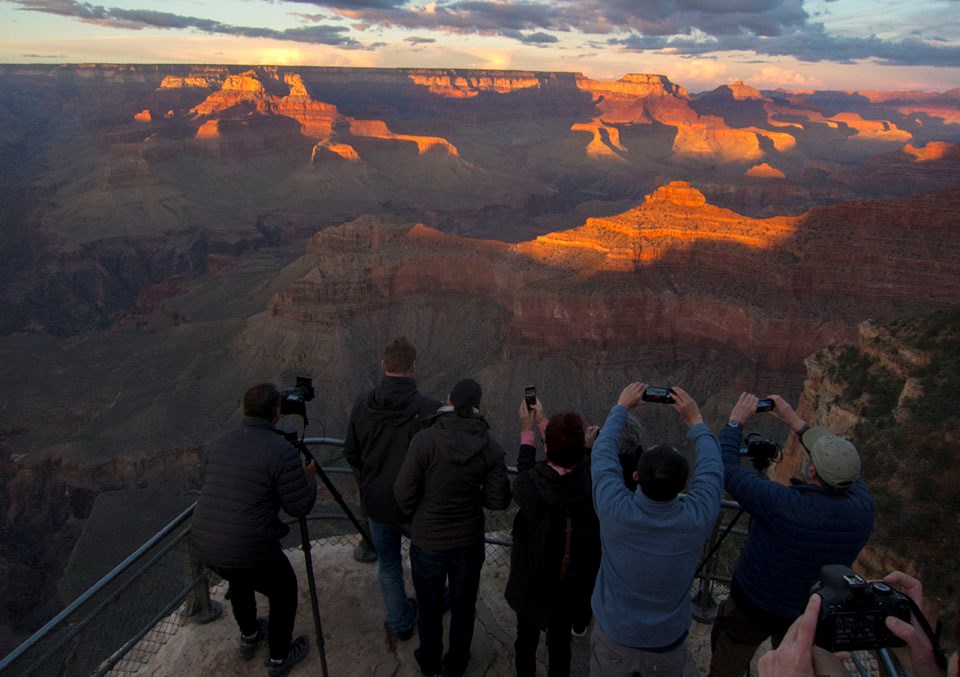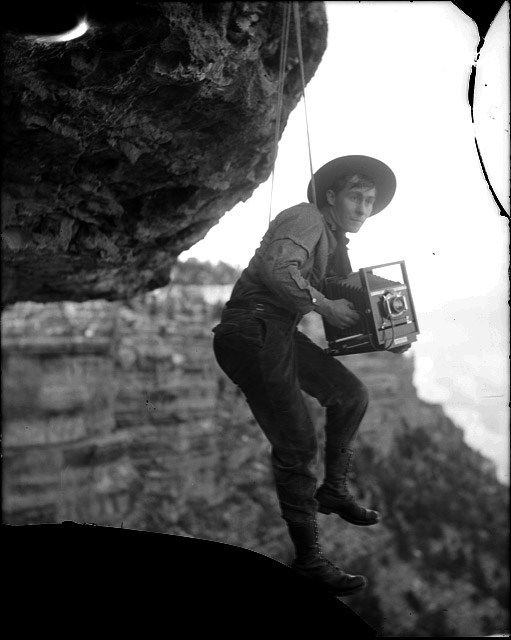 Photography has a long history at Grand Canyon: from the Kolb Brothers pioneering the art of photographing the canyon in the early 1900s, to countless visitors worldwide coming to capture vast landscapes and stunning vistas on smartphone to treasure for years to come.

To honor this history, we need your help to help preserve the park for future photographers.

When you're in the park, protect the things you come to enjoy, as well as yourself and other photographers by following some simple rules.

Keep your eye on the Trail
As beautiful as the landscape beneath Grand Canyon's steep cliffs can be, it is best not to become acquainted with it too quickly; when walking, always keep your eye on the path, and stop before snapping that sunset. Please be aware of your surroundings if you are backing up, and remain at least six feet away from the ledge at all times.

Keep Wildlife Wild
Do not approach or pursue animals to take their picture. Wild animals contain infectious diseases. Elk and deer can become aggressive during rutting and calving season. Do not solicit the animals with food. Keep both animals and yourself safe, happy, and healthy by respecting boundaries and remain a minimum of 25 yards away from large animals- unless you're shooting from the safety of a car. Zoom in with your lens, not your feet! Learn more about Grand Canyon Wildlife Photography.

Park in Roadside Pullouts
Don't block traffic to take pictures. Keep roads clear and stay with your vehicle if you encounter heavy traffic. Don't drive or park on roadside vegetation.

Check the Weather
During monsoon, thunderstorms become frequent and during this time being on the rim can turn an enjoyable vacation into a tragedy. Unfortunately, photographers are more at risk due to the conductive metal that cameras and tripods are made of. If you see lightening or hear thunder, leave the rim and go indoors immediatly. Likewise, be aware of extreme heat or cold.
On the South Rim
YAKI POINT - Best to shoot at dawn. Look east and Vishnu Temple and Wotans Throne are silhouetted against the dawn sky. If there are clouds or vapors, this can be awesome. Look west (and below), O'Neill Butte and the South Kaibab Trail are lit by the dawn light. Beyond, the Canyon stretches for miles.
MATHER POINT - The classic Grand Canyon view, and for good reason. Monstrous views up and down the canyon, and a view of Phantom Ranch (using binoculars) at the bottom. However, in the morning, you view the "dark" unlit side of O'Neill Butte at Mather. It can also be very crowded, even at 6:00am.
MOHAVE POINT - A spectacular view of the river looking west. Hermit Rapid (a big one) is plainly seen. During late morning, the sun may hit the river.
HOPI POINT - Another classic South Rim view. Vishnu Temple/Wotans Throne are lit by the PM light.
DESERT VIEW - The Watchtower with the river below and the Palisades of the Desert in the background is a great sunset shot.
Learn more about these points and get directions to the viewpoints along
Hermit Road
and
Desert View Drive.
On the North Rim

POINT IMPERIAL - Emotionally, no other dawn viewpoint stimulates as Point Imperial. The highest viewpoint at Grand Canyon, Imperial Towers over 2500 feet above the opposite rim. From here you look down into the Nankoweap Basin and at Mt. Hayden. The vast expanse of the Navajo Reservation stretches beyond, seemingly forever. Here, you see a true sunrise as the sun actually rises over the distant horizon.

BRIGHT ANGEL POINT / GRAND CANYON LODGE (patio & dining room) - If only the El Tovar Hotel Dining Room (S) had a view like this! If you're staying on the North Rim, you don't have to go far for a great sunset.

CAPE ROYAL - One of the finest views at Grand Canyon. Below, the Colorado River makes a giant arc changing from a southerly flowing river to a northwesterly flowing river. Here you are literally surrounded by a 300+ degree view of the Grand Canyon. Add in Angels Window (a PM shot, usually) and you have a place to spend hours contemplating (and maybe taking a photo or two) of the Grand Canyon.
Below the Rim
Panoramic photos from below the rim can be unique. The size of the canyon becomes more evident in photos from below the rim. Exploring the inner canyon can lead to some truly one of a kind, intimate photos of streams, side canyons, and the river. However, getting there is no small feat. Even for experienced hikers, carrying heavy camera equipment in addition to the necessities requires extra effort. Before going on an unmaintained trail always check in with the Backcountry office and please be aware of harsh weather conditions and the fact that many trails have scarce or no water. Before setting out, be sure to consult our
hiking FAQ
.
Cedar Ridge - A 1.5 mile hike down the South Kaibab Trail, starting near Yaki Point. The South Kaibab trail is much more exposed than the Bright Angel, allowing sweeping vistas even just a short ways down. Please note that there is no water avalible on this trail, and on hot days, shade is scarce.
Horseshoe Mesa - Horseshoe Mesa is accessable by the trailhead at Grandview Point, east of the village. It is a lesser maintained and very strenueous trail. The first mile offers spectacular canyon views. Horseshoe Mesa itself juts far into the canyon, and offers incomperable views of Wotan's Throne, Vishnu Temple, Angel's Gate, Coronado Butte, and a distant view of the river. There are also remnants of Peter Berry's 1890s "Last Chance" copper mine including a couple of mine shafts. If you are interested in this hike, please consult
the Backcountry office
and consider spending a night or two at the mesa.
Plateau Point - A flat 1.5 miles past the Indian Gardens campsite is Plateau Point, offering an unmatched stunning view of the river and Phantom Ranch. Follow the Tonto Trail west and be sure to catch a sunrise or sunset. If you are interested in this spot, consider booking a night or two at Indian Gardens.
Last updated: September 18, 2018