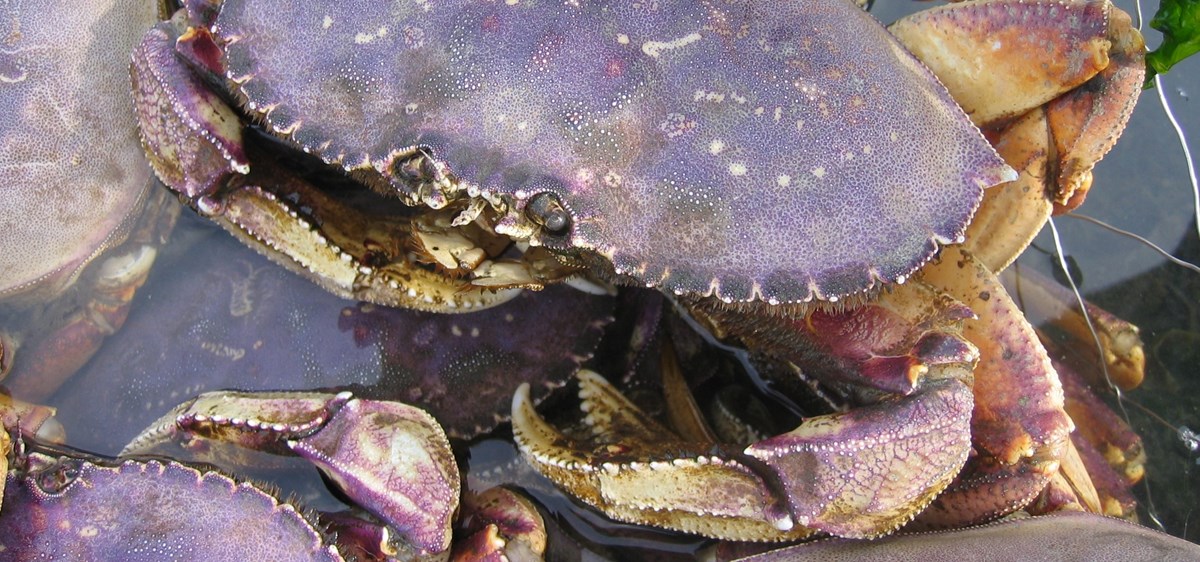 Dungeness Crab Facts
Dungeness crabs have purple tinged, grayish-brown backs with cream-colored undersides.
Mature Dungeness crabs are typically 6"-7" across.
Dungeness crabs have several pairs of appendages. Two pairs (antennae) are for touch and smell. A number of modified appendages act as a mouth, used for cutting, picking, sorting and pulverizing food. The pincers, the most recognizable appendage, are used for grasping, tearing and defense. Each crab has four pairs of walking legs. Appendages are also located on an up-tucked tail; the female uses these appendages to hold onto her eggs.
Crabs are able to regenerate lost appendages.
A sideways walker, a crab will push with four legs on one side and pull with the other side.
They are named after one of their representative habitats - a shallow, sandy bay inside of Dungeness Spit on the south shore of the Straits of Juan de Fuca.
Crabs have an outer shell, or exoskeleton, called a carapace.
Dungeness crabs have broad, oval bodies covered by a hard chitinous shell.
They have smaller, shorter legs in relation to their body size than other crabs of the area, and they have no spines on the top side of their carapaces (shells).
The carapace does not grow in the continuous, gradual manner of animals with internal skeletons - such as fish and mammals.
They can live between 8-13 years and reach a size of 10-plus inches.
Within 2-3 years, crabs are sexually active. At 4-5 years, they have grown to the legal harvest size (6 ¼ across the shell and 2-3 pounds in weight).