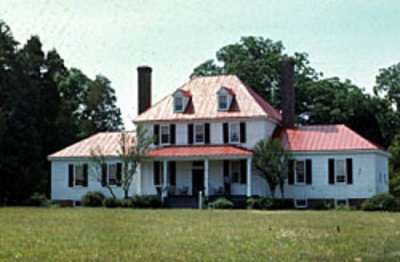 Eppington is the historic, Georgian style plantation home of Francis Eppes VI. Eppes and Thomas Jefferson were brothers-in-law; Eppes's wife was Elizabeth Wayles Eppes, and Jefferson married Martha Wayles Skelton Jefferson. Following Martha's death in 1782, two of the Jeffersons' daughters, Maria (Polly) and Lucy, lived here with the Eppes family while their father served as the minister to France. Jefferson visited Eppington on several occasions, and during one of his stays he received an invitation from George Washington to serve as the secretary of state. Lucy died at age two in 1784 and was buried at Eppington. In 1797 Polly married Francis Eppes's son, John Wayles Eppes, who developed a distinguished political career as a member of the Virginia House of Delegates, US House of Representatives, and the Senate. Along with Appomattox Manor and Weston Manor, Eppington is one of several James River plantations associated with the Eppes family.
The two-and-a-half-story center portion of Eppington was built c. 1770 and the one-story wings were added c. 1790, all with hipped roofs. The practice of combining several varying sections developed in the third quarter of the 18th century, to break down the dominance of the central block of earlier Virginia houses. The interior of Eppington is notable for its exceptionally fine paneling. In 1989, Eppington was donated to Chesterfield County by the Cherry family and is protected by a historic preservation easement. Today the Chesterfield County Department of Parks and Recreation, the Chesterfield Historical Society of Virginia, and the Eppington Foundation work together to present the history of Eppington Plantation. The Parks and Recreation Department and the Eppington Foundation manage approximately 400 acres of the original plantation and jointly plan and implement restoration and interpretation programs.
Eppington was listed on the Virginia Landmarks Register on September 9, 1969 and the National Register of Historic Places on November 11, 1969. For more information please visit: Eppington or call: 804-748-1623.
Last updated: August 9, 2018