Early Detection News - August 2017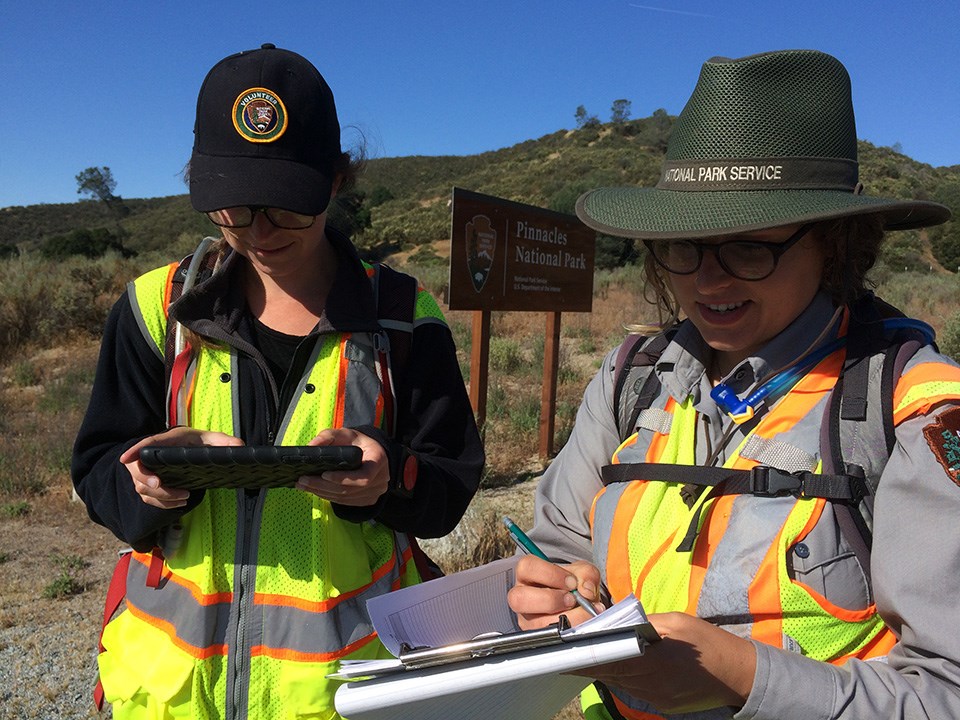 End of 2017 Field Season
The ISED Team has completed our surveys for the 2017 field season, wrapping up the second full round of surveys of roads and trails in the SFAN Network. This season, we surveyed over 180 miles of roads and trails and recorded 1348 new assessments of priority invasive plant patches. Special thanks to our interns Amber Antonison, Sarah Inman, Cheyenne Liddicote, and Julia Hedelman and to our volunteers Alex Wong and Kathleen Feinblum, without whom this monumental task would not have been completed.
Noteworthy Early Detections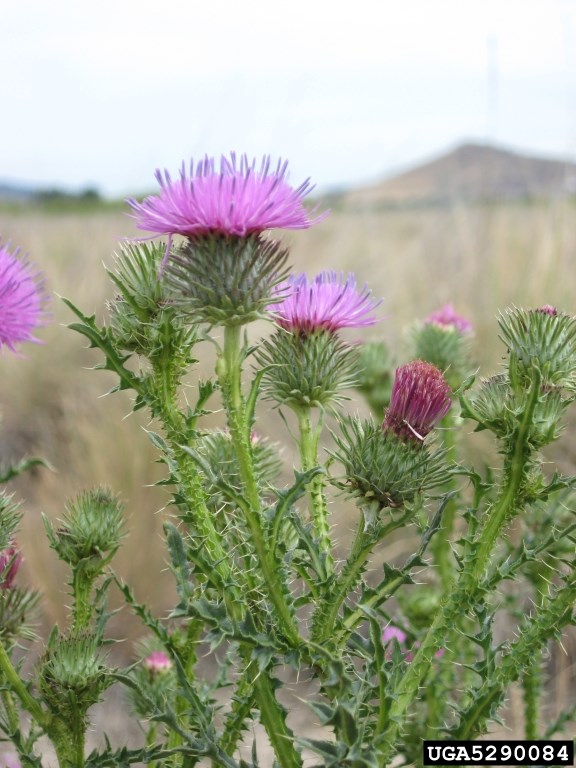 ISED discovered and removed a single, immature spiny plumeless thistle along Mt. Vision Road. Spiny plumeless thistle was first mapped in this area in 1973, by CDFA early detection/rapid response teams. Subsequent efforts by CDFA and NPS have nearly eradicated spiny plumeless thistle from Marin County, but continued surveillance is necessary to ensure success.
Spiny plumeless thistle is a biennial thistle that grows taller than the more common bull thistle (Cirsium vulgare). The leaves of spiny plumeless thistle are deeply lobed with long spines and the stems have spiny wings. Spiny plumeless thistle has a roughly spherical inflorescence, distinguishing it from Italian thistle (Carduus pycnocephalus) and a pappus of barbed bristles (not plumose), distinguishing it from Cirsium spp. Spiny plumeless thistle tends invade disturbed areas and form tall dense patches that are unusable by humans and wildlife alike.
When thistles such as plumeless thistle outcompete native grasses, long fibrous grass roots are replaced with a single taproot, which leads to erosion and subsequent sedimentation. Plumeless thistles have a very high reproductive ability; a single inflorescence can produce up to 1500 seeds. Seeds are transported by wind, but usually remain within 100 meters of the parent.
Sources:
USDA Field guide for managing invasive thistles
Jepson Herbarium
Spiny plumeless thistle NPS article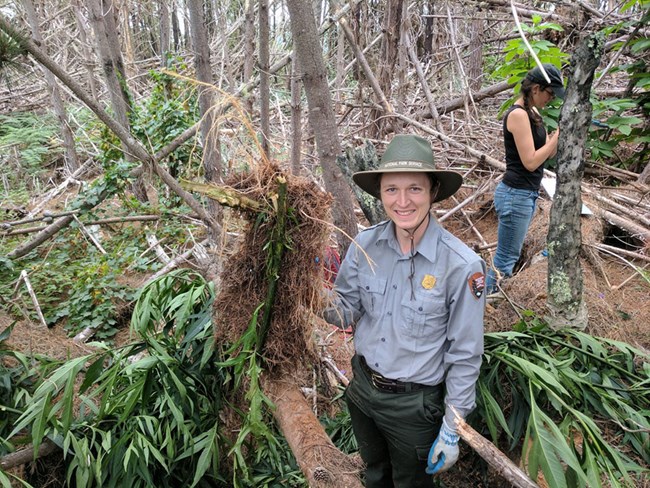 Following up on an iNaturalist report, the SFAN team found and removed two poroporo plants in Bishop pine forests on the Drakes View Trail and Inverness Ridge Trails. One plant was over ten feet tall and about 10 m from the trail, but was able to be hand pulled due to the soft soil.
Poroporo is a soft-wooded shrub characterized by deeply lobed leaves, blue-violet flowers, and round, green fruits that turn bright red-orange as they mature. Each fruit contains hundreds of seeds. This perennial plant can reach up to 12 feet in height. Like many other plants of the Solanaceae, the unripe fruits and leaves of this species are toxic to humans and animals.
Poroporo, also known as New Zealand nightshade or kangaroo apple, is native to the east coast of Australia and New Zealand. It has been introduced to other regions of those countries where it is now considered an environmental weed. In the US, its invasion potential is largely unknown. Currently, Poroporo has been introduced to Oregon and California; in Hawaii, it is considered to be an invasive plant. In Marin, plants have been found in Point Reyes NS on Limantour Road and in Golden Gate NRA at Muir Beach and scattered patches from Stinson Beach to Mt Tam. We have also mapped substantial populations in the San Francisco Presidio. It is typically found in loose soils and heavily disturbed areas.
Some controversy remains about the identification of this species in California. In their native New Zealand and southwestern Australia, there are two closely related poroporo species, Solanum laciniatum and Solanum aviculare. Recent correspondence from New Zealand taxonomists calls the attribution of the Calfornia plants into question. Of further ecological interest,
S. aviculare
is in decline in New Zealand while
S. laciniatum
remains widespread there.
Sources:
Jepson Herbarium
USDA Plants Profile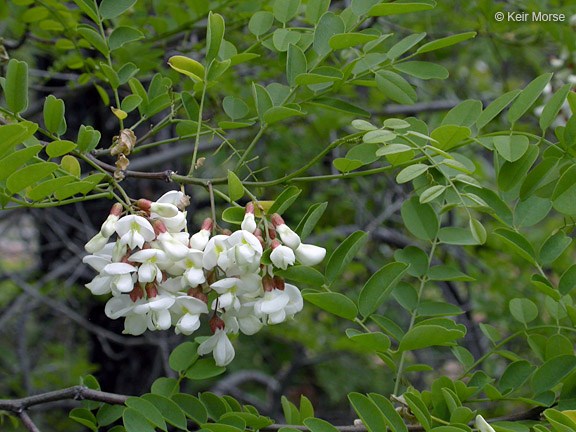 We mapped several large black locust trees along Highway 1. These are established populations that do not appear to be rapidly expanding.
Black locust grows as a shrub or tree which is distinguishable by its paired thorns. Black locust leaves are pinnately compound in sets of 7-20 leaflets, which are round and 3-4 cm in length. Black locust have large drooping clusters of white flowers.
Black locust is native to parts of the US including the Southern Appalachian and Ozark Mountains. It has been planted in all of the Lower 48 states but has been noted as invasive in as wide ranging ecosystems as pine barren, sand prairie, and black oak savannah communities, in as varied climates as the Mid-Atlantic, Midwest, West Coast, and Texas. Black locust grows best in full sun and well drained soils. Where invasive, black locust forms dense clonal forests which shade out competitors and alter nitrogen, calcium, and phosphorus cycling. This disruption of nutrient cycling has in some cases led to the establishment of other problematic invaders, such as cheat grass (
Bromus tectorum
).
Sources:
Fire Effects Information System Plant Profile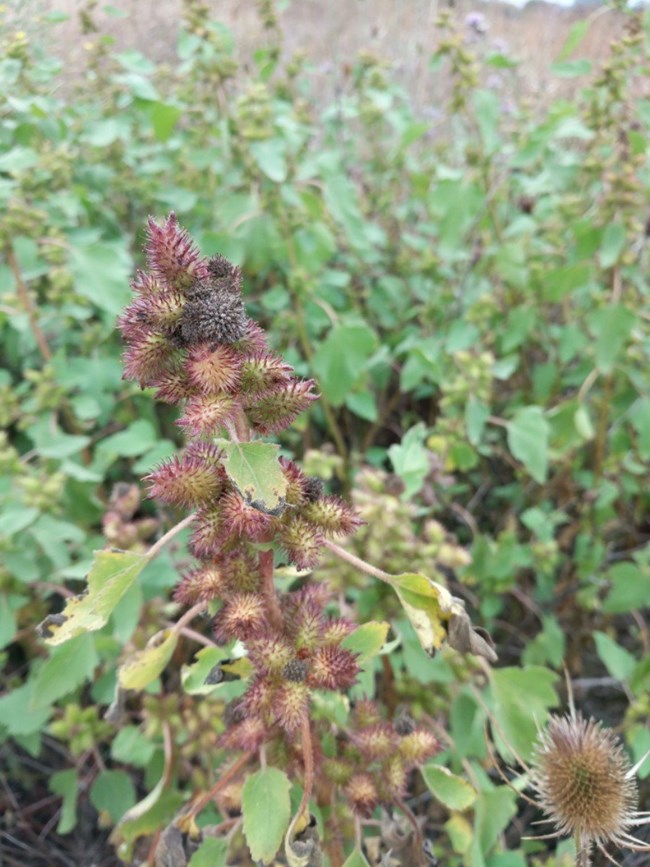 In early September, ISED discovered a dense patch of cocklebur on the Olema Marsh trail. This is the first recorded observation of common cocklebur in Point Reyes NS, although it is known to Golden Gate NRA.
Common cocklebur is an annual herb that is believed to be native to North America. It has become weedy due to the fact that it competes strongly in agricultural and disturbed areas. It is highly invasive elsewhere in the world where it is not native, including Africa and the Middle East. Cocklebur's weediness stems in part from the way its various subpopulations adapt quickly to changes in the environment.
The distinctive fruits of common cocklebur are distinctive ellipsoid burs covered with hooked prickles. Two unusually large prickles mark the tip of each bur. The leaves are triangular to ovate with jagged edges and weak lobes.
Sources:
Blais, P., and Lechowicz, M. (1989). Variation Among Populations of Xanthium strumarium (Compositae) from Natural and Ruderal Habitats. American Journal of Botany, 76(6), 901-908.
James M. Lee, & Michael D. K. Owen. (2003). Dry Matter Yield Differences of Five Common Cocklebur (Xanthium strumarium) Biotypes Grown at a Common Site. Weed Science, 51(2), 186-190.
Bugwood Wiki article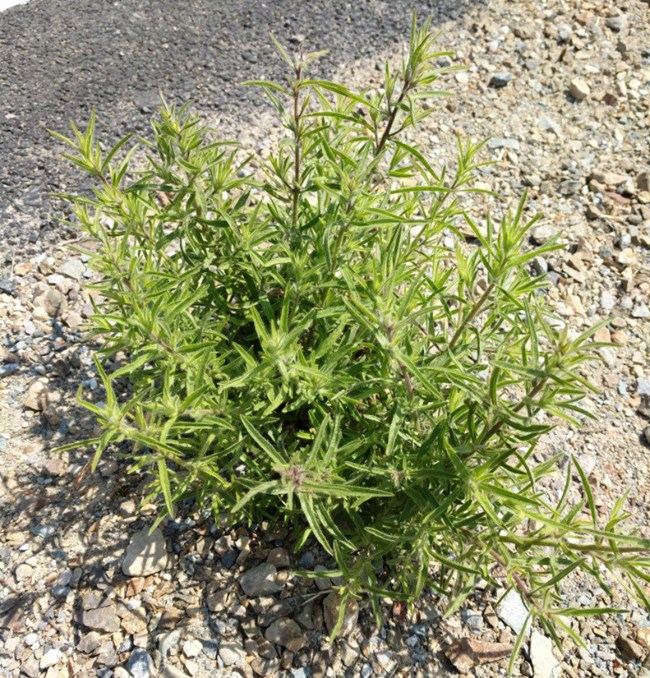 In August and September the ISED team mapped and pulled stinkwort in two places along Highway 1, north of Dogtown and just north of Stinson Beach. Stinkwort is a new invader that has spread rapidly along roadsides in California, but early detection/rapid response efforts by multiple agencies have kept stinkwort from spreading along coastal roads in Marin County.
Weird Wildling Waifs
From time to time, landscape plants choose to scale the garden wall and live as "free folk", growing as weeds in the wildlands. Species that only sporadically escape are known as waifs. Recently, the ISED team found and removed three new waifs that were growing in disturbed areas.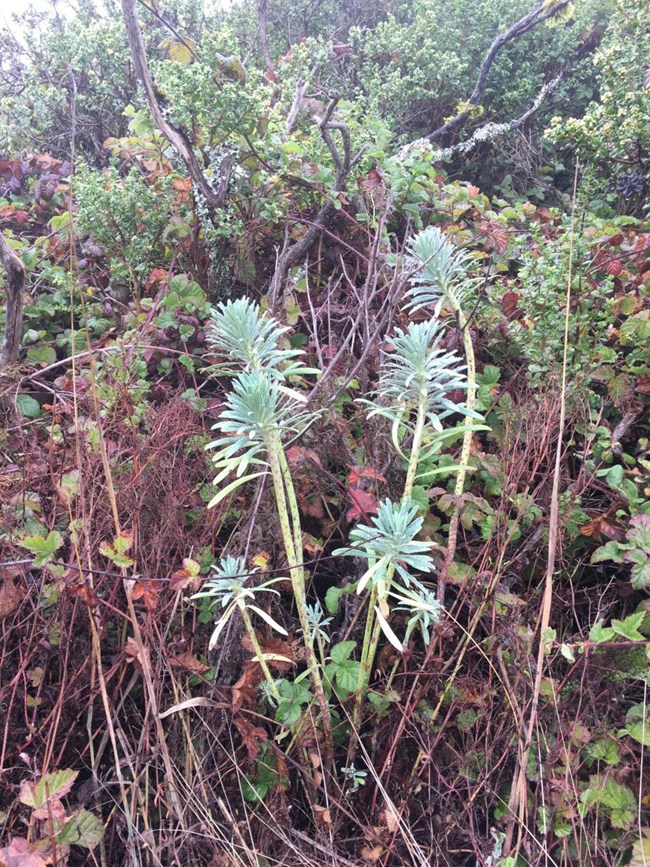 Albanian spurge is a small shrub with whorls of 10-15 cm long leaves, native to the Mediterranean Basin. It is capable of self-seeding and has been known to reproduce aggressively in some gardens. It is a naturalized weed in southeast Australia and New Zealand, and has been reported escaping in a few locations in California. ISED found Albanian spurge growing in coastal scrub vegetation far from habitation, at the edge of a pullout on Mt Vision road in Point Reyes, and a few miles away escaping landscaping on Lower Dover road.
Sources:
Global Compendium of Weeds Profile
Garden Guides profile
Gardening help from Missouri Botanical Garden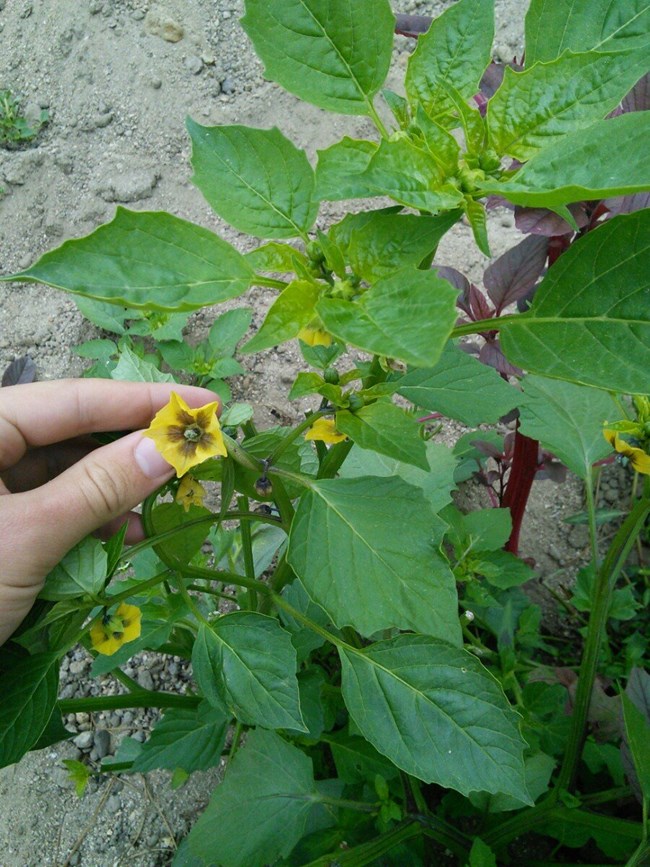 Tomatillo is a groundcherry native to Mexico and Central America with small yellow flowers which have five dark spots in the center. The fruit is a green berry enclosed in a papery husk maturing to a larger purple fruit. Tomatillo is both an important food crop, and occasionally an agricultural weed. While commonly cultivated for the fruits, the rest of the plant is toxic. ISED found and pulled three plants growing in dirt piles at the back of the Bayview Trailhead in PORE along with red amaranth (see below).
Sources:
Encyclopedia Britannica
UC IPM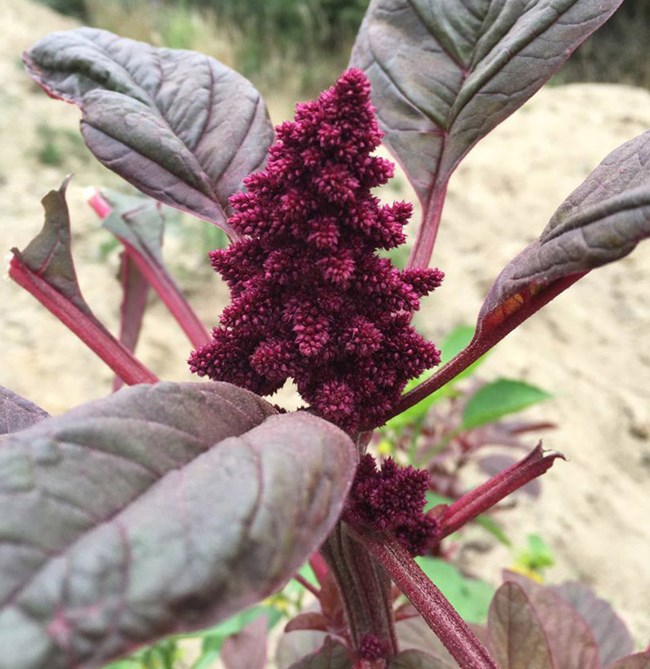 Red amaranth is an annual herb native to Central America with green to red stems and leaves and a distinctively fuzzy maroon inflorescence. Red amaranth has been reported as invasive in cultivated areas in New Zealand and other Pacific Islands. ISED removed seven plants from the dirt piles at the back of the Bayview Trailhead.
Sources:
Pacific Island Ecosystems at Risk
Jepson Herbarium
August/September 2017 Survey Results
Click on a point in the map below to view additional details about a specific record. This month's ISED records may also be viewed in an interactive map at the
Calflora Observation Hotline
. Navigate to the
Help Site
for assistance using the Observation Hotline.
Last updated: October 10, 2018