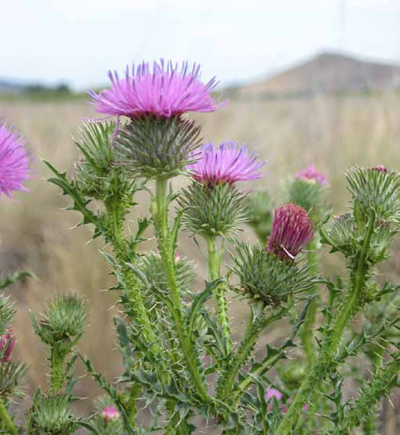 Biennial or winter annual
Freely branching stems that grow one to four feet tall.
Stems have leaf-line spines.
Leaves in a basal rosette the first part of the life cycle.
Stem leaves are alternate and sparsely hairy underneath.
Purple to pink flowers erect on the stem, solitary or in clusters of two to five.
Fruit is an achene capped with cream-colored bristles.
Habitat and Ecology
Spiny plumeless thistle (Carduus acanthoides) is found in the Northeast, the Midwest, and many western states, except Oregon, Nevada, Utah, and Arizona. It is native to Europe and was first discovered in the United States in Camden, New Jersey, in 1878. Spiny plumeless thistle does not compete well with established vegetation, but disturbance creates prime sites for colonization. The thistle is typically found in open sites, roadsides, pastures, annual grasslands, and waste areas. It easily hybridizes with other Carduus thistles.