Don't worry, NASA! I went to Obedience School
Here I am at the CAPCOM, or capsule communicator, console in the Space Station Flight Control Room at Mission Control in Houston. The capcom is a flight controller, usually an astronaut, who stays in constant radio contact with the crew in space.
At Mission Control at NASA's Johnson Space Center in Houston, I met the

flight controllers

who control the International Space Station. That's where I am now, living and working and helping astronauts with scientific research from all over the world! Mission Control is keeping an eye on me, just like it does for the rest of the crew aboard the space station 24 hours a day, 7 days a week, 365 days a year. The flight controllers have lots of different areas of expertise. Some are engineers who monitor the systems onboard the space station. Others are doctors who keep us healthy in microgravity. (I wonder if there's a veterinarian on hand?)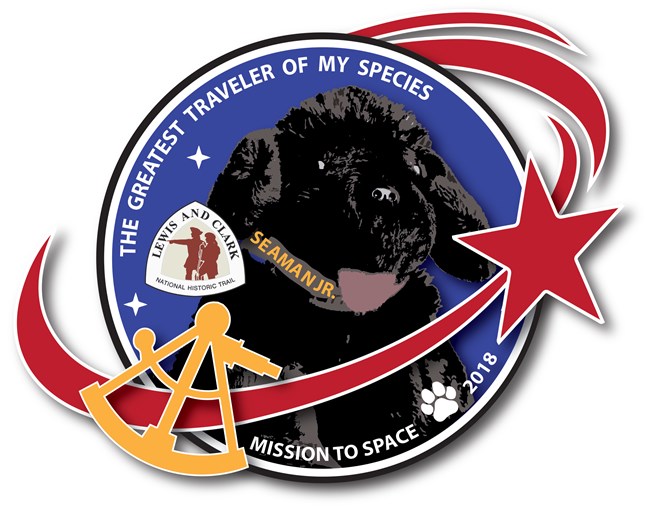 Traveling in the spirit of a
Newfoundland dog
that became one of the most famous members of the Lewis and Clark Expedition,
Seaman Jr.
will enjoy the sights of our home planet from the
International Space Station,
including amazing views of our national trails, in honor of the 50th anniversary of the
National Trails Act
and
NASA - National Aeronautics and Space Administration
60th anniversary.
The
National Park Service
and
Lewis and Clark National Historic Trail
invite you to learn more about
Seaman, Jr.'s
space journey! Follow his blog (
go.nps.gov/NewfieNews
) for special updates to see all of the missions in space and flashbacks to his training adventures at NASA centers and on the national trails.
Last updated: September 6, 2018