Article
Dillon Visitor Center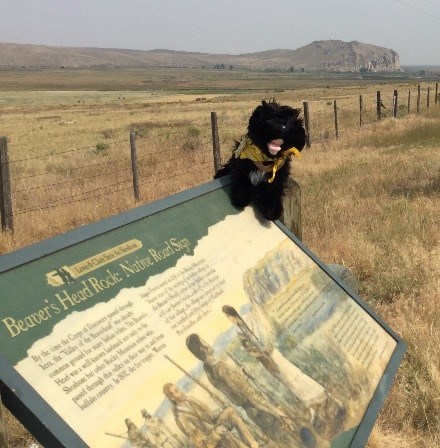 Keelie's first stop was
Beaverhead Rock State Park
located 14 miles northeast of Dillon, Montana.

Keelie learned that
Sacagawea
recognized the rock formation and knew she was in the vicinity of her relatives. The mountain formation was named Beaverhead Rock since it resembled the head of a swimming beaver. Beaverhead Rock is not directly accessible, but it can be viewed and photographed from a distance.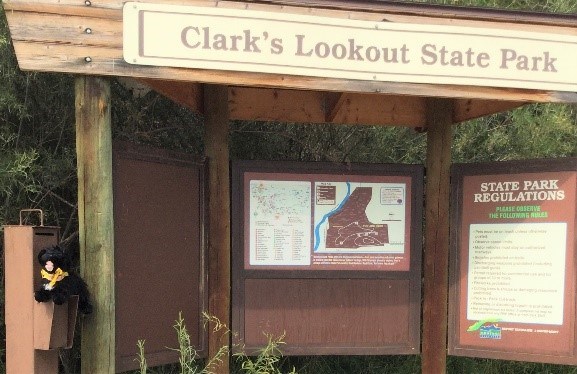 Keelie climbed the hill that overlooks the Beaverhead River and out over the valley where William Clark stood on Aug. 13, 1805, getting a sense of his surroundings. The monument shows the three compass readings that Captain Clark took on that day.
Clark's Lookout
is located on Hwy 91 N, Dillon MT and is situated on 8.2 acres of land at 5,118 feet. Take time to hike the trail and enjoy the landscape like Lewis & Clark experienced.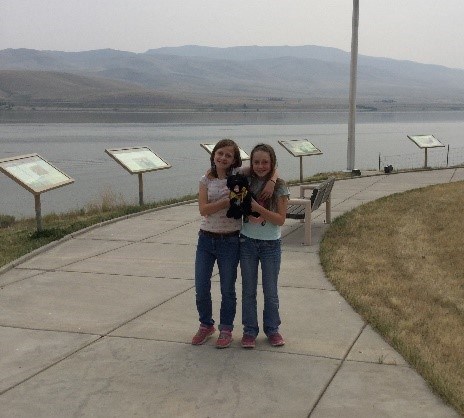 Keelie wanted to explore more of the trail and followed the trail by car to Camp Fortunate. Keelie was fortunate to meet two young ladies Emma & Christa Peterson from Salt Lake City UT. The two explorers and Keelie pose for a picture near the spot where Sacajawea recognized the Shoshoni Chief as her brother Cameahwait. There are areas you can hike, boat, fish and swim. With Clark's nick-of-time arrival and Sacajawea finding her brother the spot was named Camp Fortunate.

Learn more about the Dillon Visitor Center:
Website
Learn more about the Lewis and Clark National Historic Trail:
Website
Facebook
Instagram
Newfie News Blog
In honor of the 50th anniversary of the National Trails System, five special dogs, the Lewis and Clark Pups, will travel in the paws of their ancestor Seaman, dog of Meriwether Lewis. The pups will travel more than 3,700 miles to complete their mission to commemorate and protect the Lewis and Clark National Historic Trail. They will be joined by Seaman Jr. who will complete his portion of the mission on the International Space Station.
As they make their stops they will be reporting back in on their adventures. Follow Rocky, Harper, Dakota, Keelie and Seaman Jr. at:

go.nps.gov/NewfieNews
Last updated: August 31, 2018