Managing the Denali Park Road Visitor Experience
By William C. Clark (last updated 2016)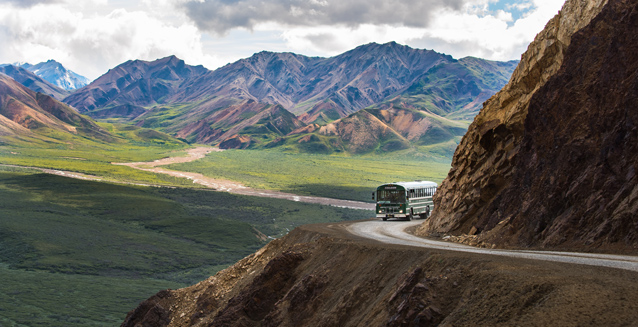 In 1971, the George Parks Highway was completed and created an easier route to access Denali National Park and Preserve from Anchorage.  Since then, vehicle visits to the park have increased exponentially. The added visitation prompted the park to reassess the management of the park road and traffic. To ensure quality visitor experience, protect wildlife and resources, and maintain the historic character of the Denali Park Road, the park developed a management plan for the transportation system. This plan is commonly called the Vehicle Management Plan (VMP) and represents years of study, analysis, planning, and public input to create standards that are annually monitored. 
Methods
The VMP provides guidance on management strategies for the next 15-20 years by monitoring vehicle behavior patterns of user groups on the park road. An adaptive management approach helps ensure that desired resource and visitor experience conditions are met while the transportation system is optimized. The Road Ecology Program observes and analyzes the transportation system and works with park management to incorporate the results of our analysis back into the decision-making process.  
During the summer months, seven indicators are monitored to assess the interactions of ecological and transportation systems.
Number of vehicles at wildlife stops (to provide for world-class encounters for visitors and less stressful encounters for wildlife)
Number of vehicles at rest stops and the Eielson Visitor Center (to ensure quality experiences at park facilities)
Number of vehicles in specific viewing areas (to maintain a sense of solitude)
Hourly gaps in traffic at specific wildlife crossing sites (to provide freedom of movement for migrating animals)
Length of time a hiker waits for bus pickup (to ensure the transportation system functions in its primary role)
Hourly nighttime traffic (10:00 p.m. to 6:00 a.m.) (to provide a quiet period for wildlife)
Hourly large vehicle (>80,000 pounds gross vehicle weight) traffic (to minimize noise)
The Road Ecology Program has collected data since 2012. At times, the program relied on GPS technology installed on buses and government vehicles. Today, more effort is put into field operations. Park staff and volunteers collect most field data by making observations from a government vehicle or while riding a park bus.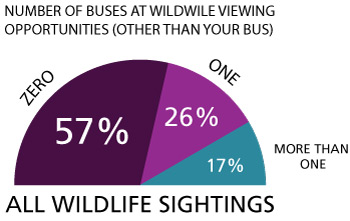 Results from the 2015 Field Season
Park staff and volunteers collected data on 309 trips and at 2,361 wildlife stops. Eighty-two percent (82 out of 100) of wildlife stops occurred between the Teklanika Rest Stop and Eielson Visitor Center. Despite a full and varied bus schedule, visitors were very likely to encounter wildlife with some sense of solitude (Figure 1).
The results of the seven VMP indicators are:
Wildlife stop standards were met throughout the road corridor.
Rest stop standards were met at all three sites.
Viewscape standards were met at all four sites.
Sheep gap standards were met at four of five sites. Mile 60.6 maintained a 10-minute gap in traffic 87.2% of the time, short of the 90% standard.
Hiker wait time standards were met.
Nighttime traffic standards were met at five of six sites. Traffic rates of ≤ 3 vehicles per hour were reported 94.5% of the time, short of the 95% standard, at mile 30.3 (TekGate).
Large vehicle traffic was not assessed, the methods to do so are pending research and installation of required technologies.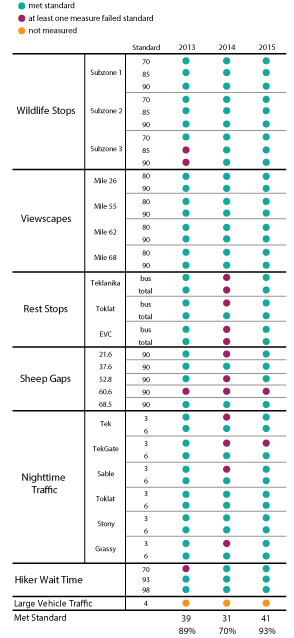 The seven VMP indicators assess 44 metrics. In 2015, 41 (93%) metrics met the VMP standards. In 2014 and 2013 only 31 and 39 met VMP standards, respectively (Figure 2). This year's improvement is based on compliance increases at rest stops, a more than two-fold increase in compliance of nighttime traffic rates, and a two-fold increase in compliance at wildlife crossing sites.
The average number of observed parked vehicles at rest stops increased while the maximum number decreased in 2015 from 2014, meaning that the numbers of parked vehicles at rest stops were more stable and less prone to peaks and valleys. This suggests that at rest stops the schedule functioned in a more optimized way, it "evened out". Nighttime traffic compliance recovered because fewer construction projects were scheduled and road repair emergencies were minimal this year compared to substantial in 2014. The cause of the increase in wildlife crossing site compliance is not known.
To pinpoint the cause of all inter-annual compliance changes is difficult because of the complexity of behavior and large number of road user groups and cascading effects of stochastic events that translate through the entire system. However, the major park road user, the Visitor Transit bus Service, did not change between 2014 and 2015, which suggests that observed improved compliance rests with: (1) behavioral changes by other user groups, (2) natural, detectable variability within the system, (3) the GPS system in 2014 inconsistently reported the location of parked vehicles, or (4) a combination of all of these. With more years of data, the REP will be able to better pinpoint causes and effect regarding VMP compliance.
More Information
Last updated: January 3, 2018