Results of Denali Park Road Vehicle Management Plan (VMP) Monitoring
By William C. Clark, Physical Scientist (last updated 2020)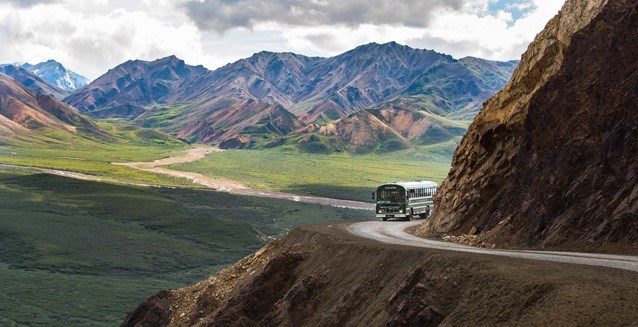 In 1971, completion of the George Parks Highway improved access to Denali National Park and Preserve and visitation increased dramatically. To ensure a quality visitor experience, protect resources, and maintain the historic character of the Denali Park Road, the park developed a Vehicle Management Plan (VMP) – a product of years of study, analysis, planning, and public input. Annual monitoring of standards is reported here and archived at the Integrated Resource Management Applications (IRMA) site. Methods and protocols are further outlined at IRMA.
Results from the 2019 Field Season
Park staff and volunteers collected data on approximately 278 trips along the Park Road and while at 3,683 wildlife stops. Eighty-one percent (81 out of 100) of wildlife stops occurred between the Teklanika Rest Stop and Eielson Visitor Center. Visitors were very likely to encounter wildlife and with few vehicles nearby.
The results of VMP indicators are:
Wildlife stop standards met throughout the road corridor.
In fact, 84% of wildlife observations were made with two or fewer buses present (including the observer's bus). 57% of all wildlife observations were made with only the observer's bus present. Fewer buses at wildlife events helps mitigate wildlife stress and benefits visitors because it increases the intimacy of the encounter.
Rest stop standards met at all three sites.
Rest stop standards ensure waiting lines are shorter and provide more time for enjoying the park.
Viewscape standards met at three of four sites.
Vehicles associated with the construction of a fish-friendly culvert in the Stony Dome area caused that viewscape to fail both one–year and five–year standards. Fewer vehicles visible in the landscape provides visitors a greater sense of solitude and a richer wilderness experience.
Sheep gap standards met at two of five sites.
Mile 60.6 maintained a 10-minute gap in traffic 87.2% of the time, short of the 90% standard. Gaps in traffic provide opportunities for wildlife to migrate more freely from one side of the road to the other.
Hiker wait time standards met.
Shorter wait times for day hikers, backpackers, and anyone that disembarks the bus along their trip improves visitor experience.
Nighttime traffic standards met at two of five sites.
Fine and coarse traffic rates of were exceeded at Miles 30.3 (Teklanika Gate), 41 (Sable Pass), 53 (Toklat River), and 62 (Stony Dome). Lower nighttime traffic volumes provide longer periods of quietude for the resource.
Large vehicle traffic not assessed.
Larger vehicles create greater noise (which increases impacts to wildlife and solitude).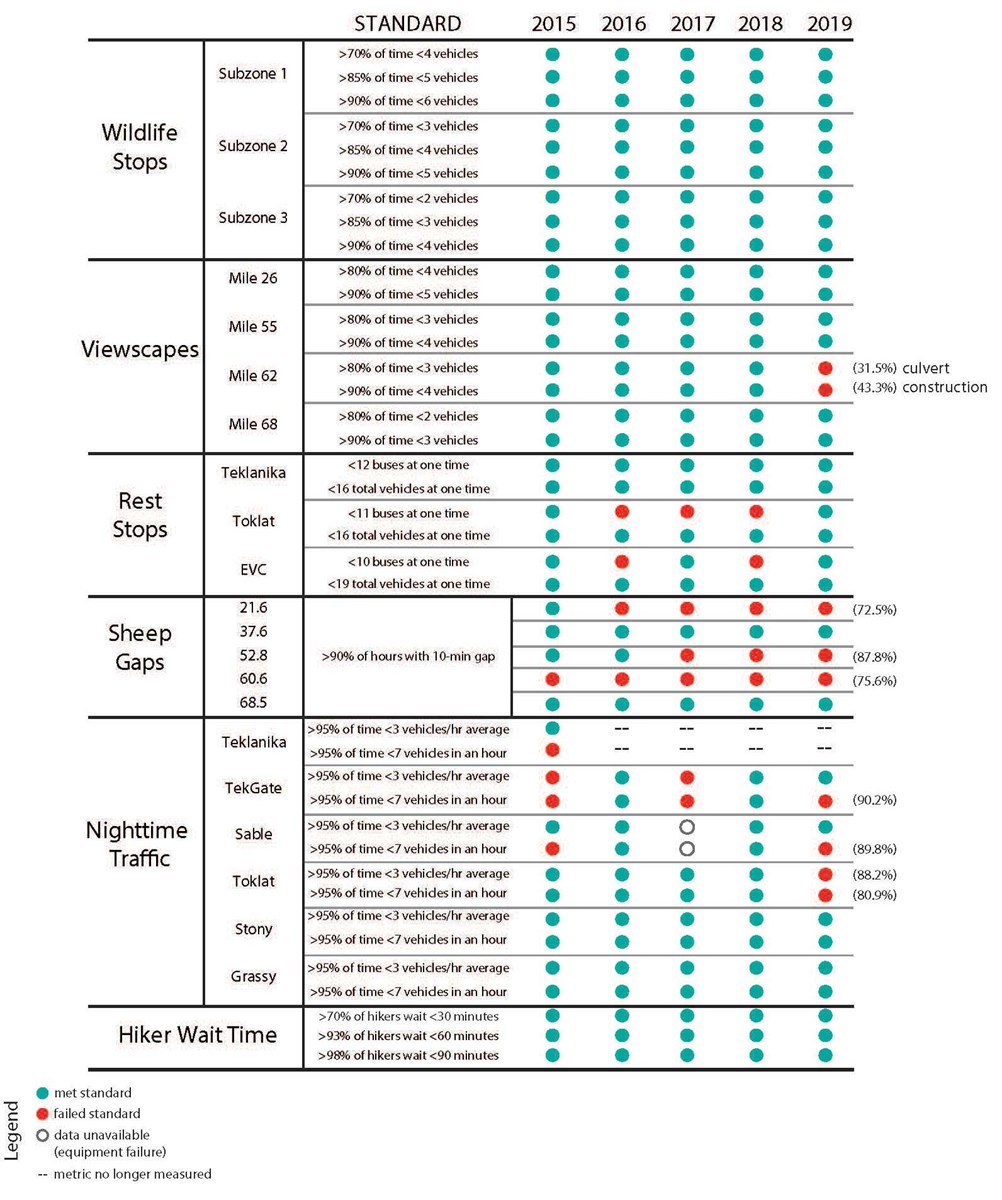 The VMP indicators assess 41 metrics (Figure 1).

VMP metrics have both 1– and 5–year standards. Since 2015, the NPS has made over 17,000 wildlife, 20,000 rest stop, 1,300 sheep gap, and 2,500 hiker wait time observations (Figure 2).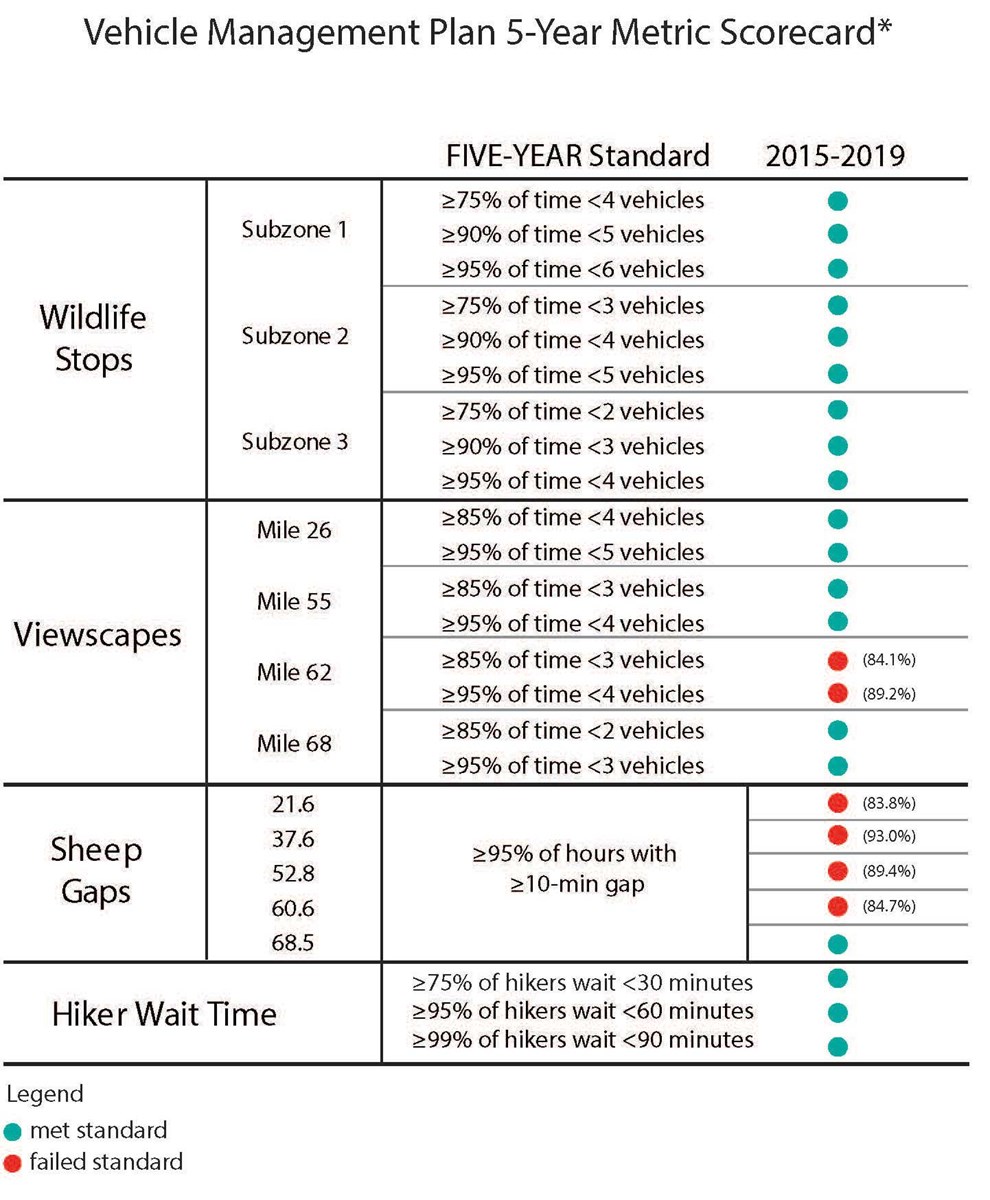 Last updated: May 26, 2020