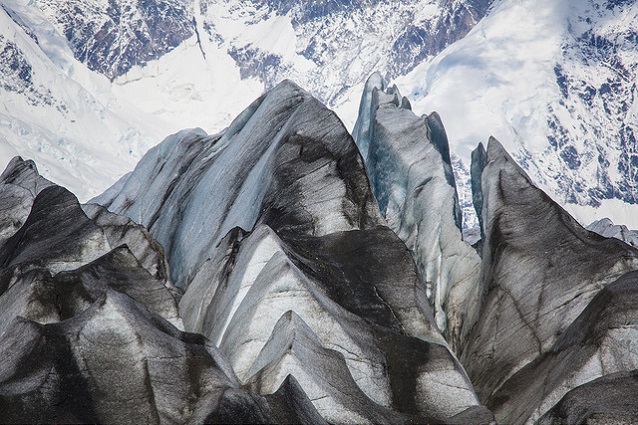 Crevasses are cracks that form in glacier ice when the glacier is put under too much stress for it to deform by flowing. This can happen when:
(1) The ice stretches too fast and is pulled apart, for example if the ice speeds up as it flows down the valley;
(2) Faster-moving ice crunches up against slower-moving ice, for example, when the glacier moves over a bump or step in its rocky bed.
One type of crevasse forms when a glacier flow speeds up too fast for the ice to compensate by flowing. Think about stretching silly putty or bread dough or any other thick, stretch substance. When it is pulled apart slowly, putty will stretch and deform; when it is yanked apart suddenly, it will break. This is similar to how this type of crevasse forms, when a glacier is flowing too fast for the ice to deform.
A second type of crevasse forms when the ice piles up on itself, crunching and cracking. These crevasses form like faults in the Earth's crust, with blocks of ice moving past one another along a crack. They can occur when the ice flows over a bump or step in the bed, rounds a bend, or slows down near its terminus. 
Last updated: February 9, 2018