Surry County: Chippokes Plantation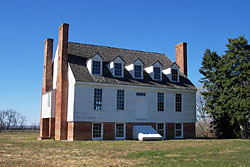 Chippokes Plantation, a 1,400-acre farm located opposite Jamestown Island, has been the site of an active agricultural operation for nearly four centuries. Unlike many large plantations along the James River, it was never a family seat during the 17th or 18th centuries, but changed hands frequently, serving as a secondary plantation managed by overseers or farmed by tenants. Named for Choupocke, an Indian chief friendly to early English settlers, early owners of Chippokes included Governor Sir William Berkeley, who acquired the property in 1671, and the Ludwell family, who owned the property from 1684 to 1824. Chippokes Plantation consists of 20 historically significant buildings and structures, including two plantation houses. The River House, the oldest dwelling on the plantation, is a vernacular frame building that was doubled in size in the 1840s. Architecturally, the River House illustrates the continuation of a Virginia Tidewater vernacular tradition, whose beginning can be seen in earlier frame homes, such as  Kittiewan.
Albert C. Jones purchased the plantation in 1837, and became the first owner to live there. Jones used the River House as his principal residence until he built an Italianate brick home on the property around 1855. This house, like nearby Lee Hall, reflects the liberal application of academic stylistic elements onto the regional forms and floor plans of the largest homes. Chippokes Plantation also retains an extensive collection of original plantation outbuildings, slave quarters, farm buildings and several colonial period archeological sites. In 1917 Mr. and Mrs. Victor Stewart purchased Chippokes, and lived here until 1967, when Mrs. Stewart donated the plantation to the Commonwealth of Virginia for the establishment of a museum of Virginia's agricultural history.
Chippokes Plantation is a part of the Chippokes Plantation State Park, located at 695 Chippokes Park Rd, Surry, VA 23883. It was listed on the Virginia Landmarks Register on November 5, 1968 and the National Register of Historic Places on October 1, 1969. For more information, please visit: Chippokes Plantation State Park or call (757) 294.3728.
Last updated: September 14, 2016