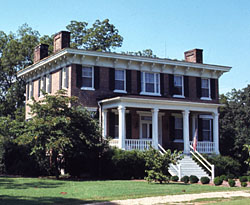 Lee Hall is the only large pre-Civil War plantation house on the lower Virginia Peninsula. It was built ca. 1850 for Richard Decatur Lee and his wife, Martha. Lee was a wealthy tobacco planter. He was also placed in charge of the area's defenses during the Civil War. Confederate Major General John Bankhead Magruder made Lee Hall his headquarters from April to May 1861 during the Warwick-Yorktown phase of the Peninsula Campaign. From Lee Hall, Magruder and General Joseph E. Johnston directed the defense of the lower Virginia peninsula against Union troops under Major General George B. McClellan. During the Confederate retreat on May 3, 1862, there was a small confrontation with Union forces. The plantation yard included the remnants of a fort from which a Confederate hot-air balloon was launched on April 17, 1862.
Lee's support of the Confederate cause brought him financial ruin, and he was forced to see Lee Hall in 1866. A village was established at the nearby rail crossing in the 1880s and took its name from the house. In the following century the property was bought and sold many times, until the 1996 purchase of the site by the City Of Newport News. The house was restored to its antebellum appearance and is now a museum interpreting the 1862 Peninsula Campaign and the ways that the Civil War changed the fabric of American society.
Lee Hall was listed on the National Register of Historic Places on December 5, 1972 and the Virginia Landmarks Register on August 15, 1972. It is located at 163 Yorktown Road, Newport News, VA 23603. For more information please visit: Lee Hall or call: 757-888-3371.
Last updated: August 16, 2017