Cane River Music Festival
The 8
th
Annual Cane River Music Festival took place on May 20, 2017, at Cane River Creole National Historical Park south of the city of Natchitoches, Louisiana. Held at the
Oakland Plantation
, the setting includes the plantation main house, outbuildings, fields, river, and forest that are the culmination of centuries of influence by people of diverse backgrounds, resulting in a unique cultural landscape.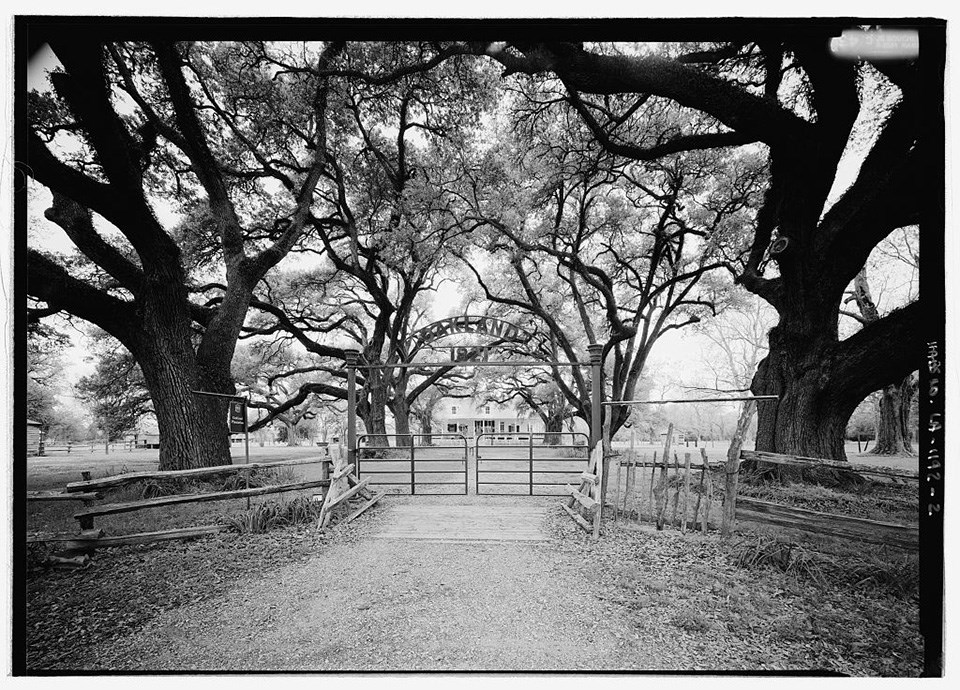 The region was inhabited by the Natchitoches people in addition to several other tribes before it developed into a frontier port and trading post in the early 1700s. Oakland Plantation operated continuously for approximately two centuries as a cotton plantation and farm under the Prud'homme family. This working agricultural landscape was home to several generations following the plantation's establishment by Spanish land grant in 1789.
By 1799, over half of the population in Natchitoches was composed of enslaved individuals whose labor created the foundation and wealth of the plantation economy that came to dominate the region.
Visit our keyboard shortcuts docs for details
Duration:

1 minute, 23 seconds
The sounds of bugs and the song "Aux Natchitoches" provide a soundtrack to views of the Cane River Creole NHP landscape. The traditional Louisiana French song is still performed by Creole, Cajun, and American Indian artists and represents the musical heritage of the region.


Life on Oakland Plantation was greatly influenced by its landscape. Its setting in the fertile lowlands of Cane River, within a network of rivers and lakes along various trade routes, shaped the physical and social development of the plantation. During colonial life and beyond, interaction among American Indians, free and enslaved Africans and individuals of African descent, and French and Spanish colonists produced a Creole community unique to the region.

Descendants of these mixed populations created an influential class of people who blended aspects of African, French, Spanish, and American Indian cultures. Many of the "gens de couleur libres" - "free people of color" - became important community members and are known today as Cane River Creoles.
Louisiana Creole

The term Creole is a complex term with no fixed definition. It was used in colonial Louisiana to indicate New World products derived from Old World stock, which could apply to identity, architecture, and food.

A social and cultural life emerged from the influences of Louisiana Creole, incorporating new-world traditions while retaining important elements of their mother cultures. Drawing upon these influences, Louisiana Creoles formed their own languages, religions, folklore, institutions, and customs.

The imprint of Creole culture shaped many aspects of life in the region, including music, cooking, and education.

In 1864, for the first time, the Louisiana Constitution directed that school instruction "be conducted in the English language." State Constitutions that followed in 1916 and 1921 maintained that it was illegal to speak French at school. The most recent State Constitution of 1974 did away with this provision and acknowledged the right of people "to preserve, foster, and promote their respective historic, linguistic, and cultural origins."
Creole Music at Cane River
Early Creole music had no instrumentation and featured what is known as juré singing, which comes from the French jurer meaning to testify. It is typically related more closely with African traditions.
This creolization was also articulated in musical form, which reflected the unique blending of cultures and ethnicities. Early Creole music had no instrumentation and featured what is known as juré singing, which comes from the French jurer, meaning to testify. Often a call-and-response style with hands and feet providing the rhythm, juré singing was generally performed in French or Louisiana Creole with Afro-Caribbean rhythms, incorporating both secular and religious themes.

Later Creole music generally featured acoustic string instruments including guitar, fiddle, stand-up bass, and accordion - instruments that were easily transportable. Although French was banned at schools, it continued to be a familiar language among friends and families.
Aux Natchitoches

This is a traditional Louisiana French song that is still performed by Creole, Cajun, and American Indian artists. It was first recorded by the Avoyelles Parish-born musical artist Blind Uncle Gaspard in 1929, and musical scholars believe it to be a much older ballad handed down through the oral tradition from the colonial period.

Duration:

3 minutes, 26 seconds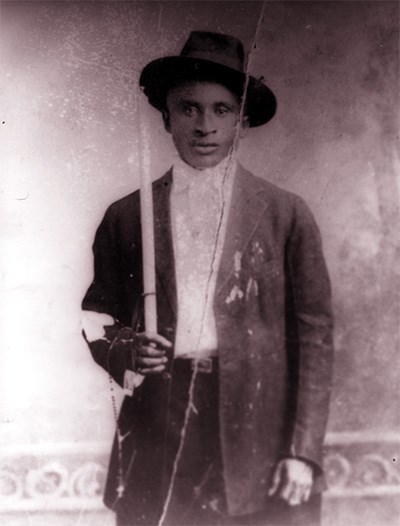 Amédé Ardoin was born in 1898 at the Rougeau Farm in L'Anse des Rougeau, near Basile, Louisiana. Born to a French-speaking black Creole farming family, he became a legendary accordionist who was among the first Creole musicians to record his music.
A self-taught musician, Ardoin easily adapted to both European songs and African rhythms with his accordian. He played with an engaging style that created passionate and complex songs that called his audience to dance.
Recording his first solo album for Columbia Records in New Orleans in 1929, Ardoin recorded several influential tracks with Cajun fiddler Dennis McGee the following year. McGee and Ardoin met working as children on a farm near Eunice, Louisiana. At a time when music was primarily experienced through live performance, their recordings of two-steps and waltzes for a national label changed the experience and reached broader audiences, allowing the music to exist outside of a specific time and place, and are still influential today.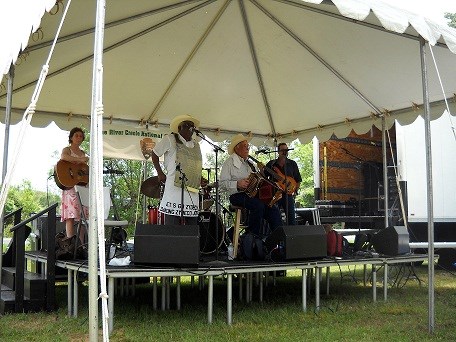 Jim Hobbs, librarian at Loyola University New Orleans, writes that, "Creole music is most importantly social music." The Cane River region has a long legacy of music and dance. It provided its inhabitants a reprieve from a long week working on the farm, and an opportunity for friends and neighbors to visit and enjoy live Creole music, blues, jazz, and early rock and roll.
As mail and telephone were not readily available in the early 20
th
Century, a man on horseback traveled throughout the Oakland Plantation area to announce dances, which were most often held in houses. By the 1930s, local dance halls and juke joints replaced the house dances, with two popular institutions that served primarily Creole clientele located across the river from each other: "The Friendly Escape," better known as Kirk Hall, and "Friendly Place," also called Wood Hall.
"Creole music is most importantly social music."
Additionally, community dances were held on Sunday nights at nearby Isle Brevelle. Families would arrive and picnic in the afternoon until time for the dance. These activities created strong social bonds and a place for the music to thrive and evolve.

Creole music in the 1930s and 1940s was often called La-La, French La-La, or Pic-Nic, the precursors to zydeco music. Influenced by earlier recordings by Amédé Ardoin, Clifton Chenier, from the countryside near Opelousas, contributed to the popularization of zydeco in the late 1940s and 1950s. This new style incorporated elements of rhythm and blues with French singing and included instruments like the accordion, saxophone, and washboard. As the music became more broadly known and celebrated, zydeco achieved more mainstream affirmations in the decades to come.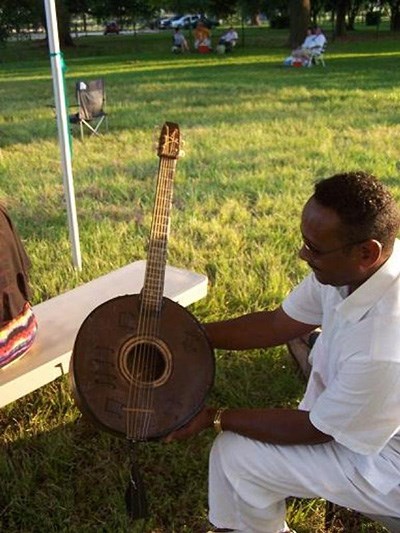 Although family-style dances declined in the 1950s and 60s, musical traditions endured and continued to evolve. With increased access to transportation, communication, and media formats, the influences have broadened to incorporate other musical forms such as rhythm and blues, jazz, and country, often replacing or augmenting traditional waltzes and two-step.
Furthermore, the addition of amplified instruments such as electric guitar and even drums continues to transform the sound. While Creole music now reaches a global audience, it remains an important symbol of local identity and continues to be performed at festivals, trail rides, and church dances.
Cane River Creole National Historical Park initiated a music festival in 2010 to honor the vibrant musical legacy bound to the unique landscape and to continue the tradition of live music. The event is held annually at Oakland Plantation and features local artists. The 2017 event performers included Big Max and the Harmonics, LaCour Trio, Landry and Co., Meyka Inc., and Goldman Thibodeaux and the Lawtell Boys. Unfortunately, this year's festival was suspended early due to inclement weather.
The Annual Cane River Music Festival invites visitors to experience the landscapes of Cane River Creole National Historical Park in a new way as locals and visitors enjoy the sights and sounds of Oakland Plantation.
While vast changes associated with the forces of industrialization and urbanization have altered the region over the decades, contemporary bands continue to play traditional Creole music that has evolved to include new outside influences. Creole culture was, and continues to be, a mix of continuity and change, exemplifying the French expression:
plus ça change, plus c'est la même chose
(the more things change, the more they stay the same).
For further information:
Juke Joints, Dance Halls, and House Parties: A Legacy of Music on Cane River
Cane River Creole National Historical Park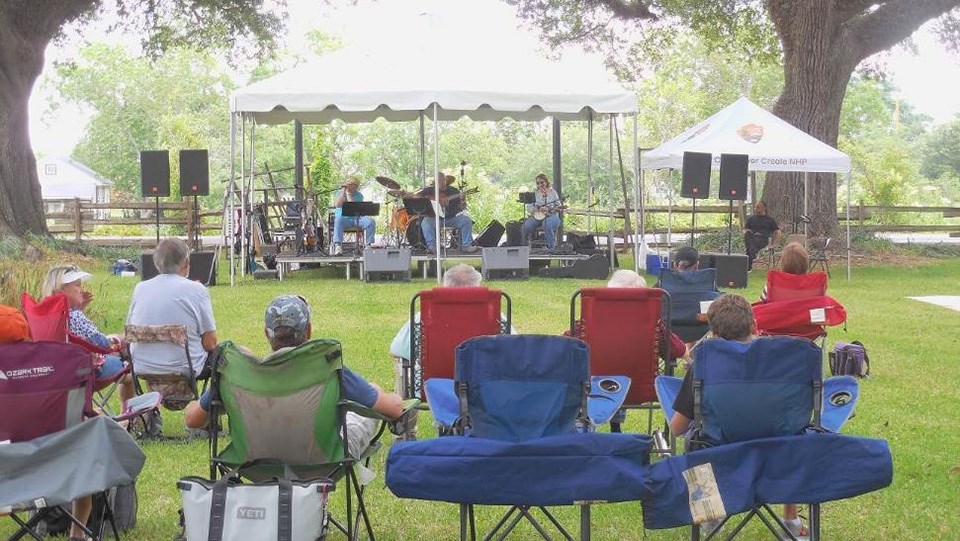 ---
Works Cited & Additional Resources

"Cane River Creoles," Cane River National Heritage Area, accessed May 22, 2017, https://www.canerivernha.org/cane-river-creoles.

"Cane River Special Resource Study and Environmental Assessment," Cane River Creole National Historic Park, U.S. Department of the Interior, 1993.

H.F. Gregory, PhD, and Joseph Moran, MA, "We Know Who We Are: An Ethnographic Overview of the Creole Traditions and Community of Isle Brevelle and Cane River, Louisiana," Cane River Creole National Historical Park, U.S. Department of the Interior, 1996. Accessed May 22, 2017 https://www.nps.gov/cari/learn/historyculture/upload/weknowwhoweare.pdf

"Historical Background of the Cane River Area," Cane River Creole National Historical Park, accessed July 17, 2017, https://www.nps.gov/cari/learn/historyculture/upload/historicalbackground.pdf.

Jim Hobbs, "Introduction to Cajun, Louisiana Creole, & Zydeco Music," accessed May 21, 2017, http://www.loyno.edu/~hobbs/ccz/introduction.html.

La. Const. of 1864, art. 124.

La Const. of 1974, art. 7, §4, accessed July 17, 2017, http://senate.legis.state.la.us/documents/constitution/constitution.pdf.

Ann Patton Malone, PhD., "Oakland Plantation, Its People's Testimony (Draft)," Cane River Creole National Historical Park, U.S. Department of the Interior, 1998. Accessed May 23, 2017.

John Minton, "Zydeco," in American Folklore: An Encyclopedia, ed. Jan Harold Brunvund (United Kingdom: Routledge, 1996).

Amanda Petrusich, "The Long-Gone Sound of Amédé Ardoin," Oxford American: A Magazine of the South, Issue 79, Winter 2012.

Ben Sandmel, "Amédé Ardoin" from Music Rising at Tulane University, accessed May 25, 2017, http://musicrising.tulane.edu/discover/people/208/Amede.

Ben Sandmel, Zydeco! (Jackson: University Press of Mississippi, 1999).

Roger K. Ward, "The French Language in Louisiana Law and Legal Education: A Requiem," Louisiana Law Review 57 (1997).
Last updated: May 21, 2019