Camp Sherman, Ohio's WWI Soldier Factory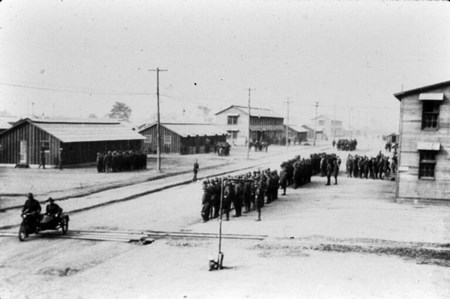 On April 6, 1917 the United States formally declared war on Germany and entered
World War I
. Less than two months later, the nation was in a race to prepare the infrastructure and people to fight the war. In June of 1917, Chillicothe, Ohio, in south-central Ohio, underwent a transformation that was becoming a familiar scene around the country. The Army decided to build one of the large training cantonments it required to train and mobilize men for the war effort on the northern edge of Chillicothe. In a matter of only a few months during the summer of 1917, the bucolic serenity of the Chillicothe area was dramatically transformed when over two thousand buildings were erected on land that was coveted for farming and where prehistoric Indians constructed large
ceremonial earthen mounds
. This sprawling military complex that quadrupled the population of Chillicothe would become known as Camp Sherman.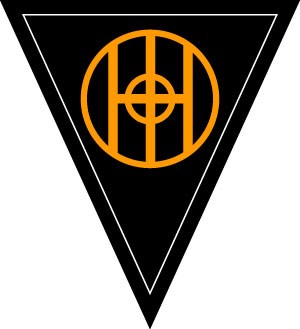 Organizing for War
Over one hundred and twenty thousand men would pass through the gates of Camp Sherman by the time of its decommissioning in 1921. It was home to two divisions of the Army, the 83rd and the 95th Divisions. Under the command of Major General Edwin Glenn, the 83rd Division would be the first to ship out to Europe, leaving Camp Sherman on June 5th, 1918 and arriving in Europe on June 19th, 1918. The 83rd Division would become known as the Sherman Bayonet Division. The last full division to train at Camp Sherman, the 95th, never did receive their extensive war training due to the end of hostilities in late 1918. As a result, the 95th was demobilized in December of 1918. Parts of the 84th Division would reside at Camp Sherman as well. Some units of the 84th were sent from Camp Taylor, Kentucky to finish their training at Camp Sherman and then reunited with the rest of the division in Europe. After the war, some division units of the 84th were also demobilized at Camp Sherman throughout the first half of 1919. A few regiments of African-American soldiers would be trained at Camp Sherman as well. The 317th Engineers Regiment, 317th Engineers Train and the 325th Field Signal Battalion were organized and trained at Camp Sherman before shipping out to join the 92nd Division in France. The all African-American 813th Pioneer Infantry regiment was also organized and trained at Camp Sherman and would wind up with the U.S. Second Army in France in 1918.
To learn more about the intriguing story of Chillicothe's short-lived Army cantonment, visit Hopewell Culture National Historical Park's Camp Sherman webpage. There you'll read about how the area was transformed into Ohio's WWI soldier factory, what went on at Camp Sherman during its existence and how part of the land of Camp Sherman would become home to Hopewell Culture National Historical Park.
Last updated: October 30, 2018