Autumn 1812: Isaac Brock's death in battle gives rise to a heroic legend
When Major-General Isaac Brock fell in battle, a legend was born. The British army rallied under the story that his last words were to "push on." Brock's legend grew over time, and he became "The Hero of Upper Canada." But how did a British general become the representation of Canadian independence?
"he cried out to some persons near him to push on" a soldier describing Brock's death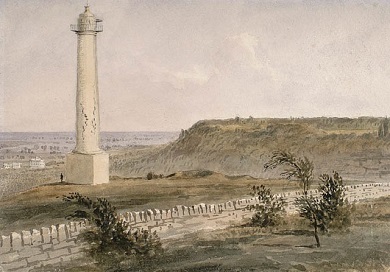 When war broke out between Great Britain and the United States in June 1812, Isaac Brock took on the task of defending Upper Canada, the region stretching from Kingston to York (now Toronto) down to Niagara and across to the Detroit River. Brock's challenge was to build a defensive strategy to protect the settlers and British interests.
When Brock led the British army to capture Fort Detroit from the Americans, he earned the respect and admiration of settlers and natives throughout Upper Canada. The British government was so impressed that he was made a Knight Companion of the Order of the Bath. Unfortunately, he never learned about his knighthood.
On October 13, 1812, Brock awoke to the warning of an American invasion. He rode from Fort George to Queenston Heights, where American soldiers had crossed the river. While he rallied his men to charge up a hill, a musket ball struck him in the chest. A nearby soldier remarked later that Brock "placed his hand on his breast and made no reply, and slowly sunk down."
But another soldier gave a different account: "Immediately before he received his death-wound, he cried out to some persons near him to push on the York Volunteers, which were the last words he uttered." From this account, many people believe that Brock's last words were to "push on."
Whether or not that story is accurate, it captures the best characteristics of a hero. Brock's soldiers and friends wanted him to be remembered as a courageous leader. That reputation was easier to spread if his last words were encouraging his men to fight on.
A plaque on Brock's coffin reads, "Here Lie The Earthly Remains Of A Brave And Virtuous Hero." He was later buried in a monument built in 1824. After the first was damaged, another monument was built and today stands nearly 200 feet above the Niagara River. Although he was British, not Canadian, Brock has been called "The Hero of Upper Canada" because he was a symbol of courage and loyalty even in death.
Last updated: March 6, 2015