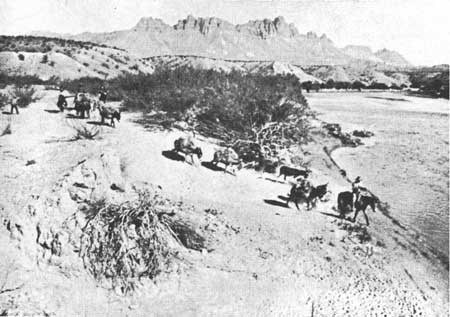 Big Bend National Park contains thousands of years of human history. Archeology helps understand how humans have moved through the area and used its natural resources over the past 10,000 years. Archeology can also help explore the park's more recent history. Among the park's estimated 26,000 archeological sites are the remains of candelilla processing camps. These point to a century-old industry and provide evidence of both industrial processing methods and workers' daily lives.
Candelilla is a flowering plant native to Texas, New Mexico, and multiple Mexican provinces. It has also been termed the "wax weed" for the natural, outer coating of wax that grows along its multiple, reed-like stalks. This wax is an ingredient for thousands of commercial products ranging from shampoos to furniture polish to chewing gum. Despite this wide usage, most of the candelilla harvesting and processing is done by laborers (most of whom are Latino) living in temporary desert camps and relying on their own hands and burro labor. Big Bend National Park contains the traces of many wax-processing camps. Because the candelilla industry is still active, some of these camps are recent. However, others are over 100 years old.

Creating wax is a multi-step process. Workers (also termed candelilleros or cereros) must first harvest the candelilla either by hand or with pointed sticks. They stack the plants in bundles ranging from 50 to 80 pounds. These are then loaded onto burros and carried to the processing area, often located near water sources. Once enough candelilla has been harvested, laborers stamp the plants into a large, buried vat that contains between 200-300 gallons of water and sulfuric acid. Many of the artifacts archeologists find at these camps are the workers' acid-eaten shoes. Workers then clamp a grate down over the vat and let the contents boil. The sulfuric acid helps separate the wax, which floats to the surface. The wax is skimmed off and allowed to cool in a container, often a barrel or even a hole in the ground. During this time, workers boil the next batch using plant remains for fuel. The hardened wax is broken into chunks and placed in burlap bags for final transport.
Although workers' camps are transient, they leave their marks upon the landscape. As Curtis Tunnell noted, "the most prominent features…include vats and firepits, deeply work trails, piles of ashes, sleeping shelters, [and] cooked candelilla piles" (Texas Beyond History). According to Tunnell's archeological and ethnographic research, processing areas within camps are often separated from living areas. The latter often contain 'beds' of plant piles, hearths, and other domestic remains. While many camps are open-air, laborers have also constructed dugouts or used rock shelters as additional protection from the elements.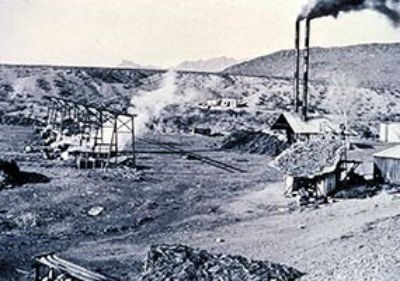 However, there were also more permanent wax-processing areas within Big Bend. In the early 1900's, C.D. Wood and W.K. Ellis built two factories, one in McKinney Springs and another near the village of Glen Springs that employed between 40 and 60 Mexican laborers. Edgar Lowe also operated one by Double Mills. At this time, very little archeological investigations have been performed at these sites. Future excavations might reveal if and how the industry changed over time, as well as uncover the daily experiences of the many workers whose labor made it possible.
Resources
Big Bend National Park
, specifically the
Glen Springs
and
Archeology
pages. National Park Service.
Casey, Clifford B. Soldiers, Ranchers and Miners in the Big Bend. Office of Archeology and Historic Preservation, Big Bend National Park, National Park Service, 1969.
Maxwell, Ross A.
A Guide to the Rocks, Geologic History, and Settlers of the Area of Big Bend National Park
. Guidebook 7. Texas Bureau of Economic Geology, University of Texas at Austin, February 1968.
Wax Camps along the Rio Grande
. Texas Beyond History, 2004.