National parks are amazing places to set off on an adventure to see the splendor of nature and animals in the wild. It is important to plan ahead and be prepared for your trip and follow recommended safety practices for encountering wildlife...instead of using your friend as bear bait.
Trip Planning

Make your adventure a fun, safe one by planning ahead. Find tips and a checklist to get started.

Watching Wildlife

Keep yourself and other visitors safe and wildlife wild by following these simple safety tips.

Bear Safety

Stay alert and aware when traveling in bear country with some tips for being prepared and how to act during encounters.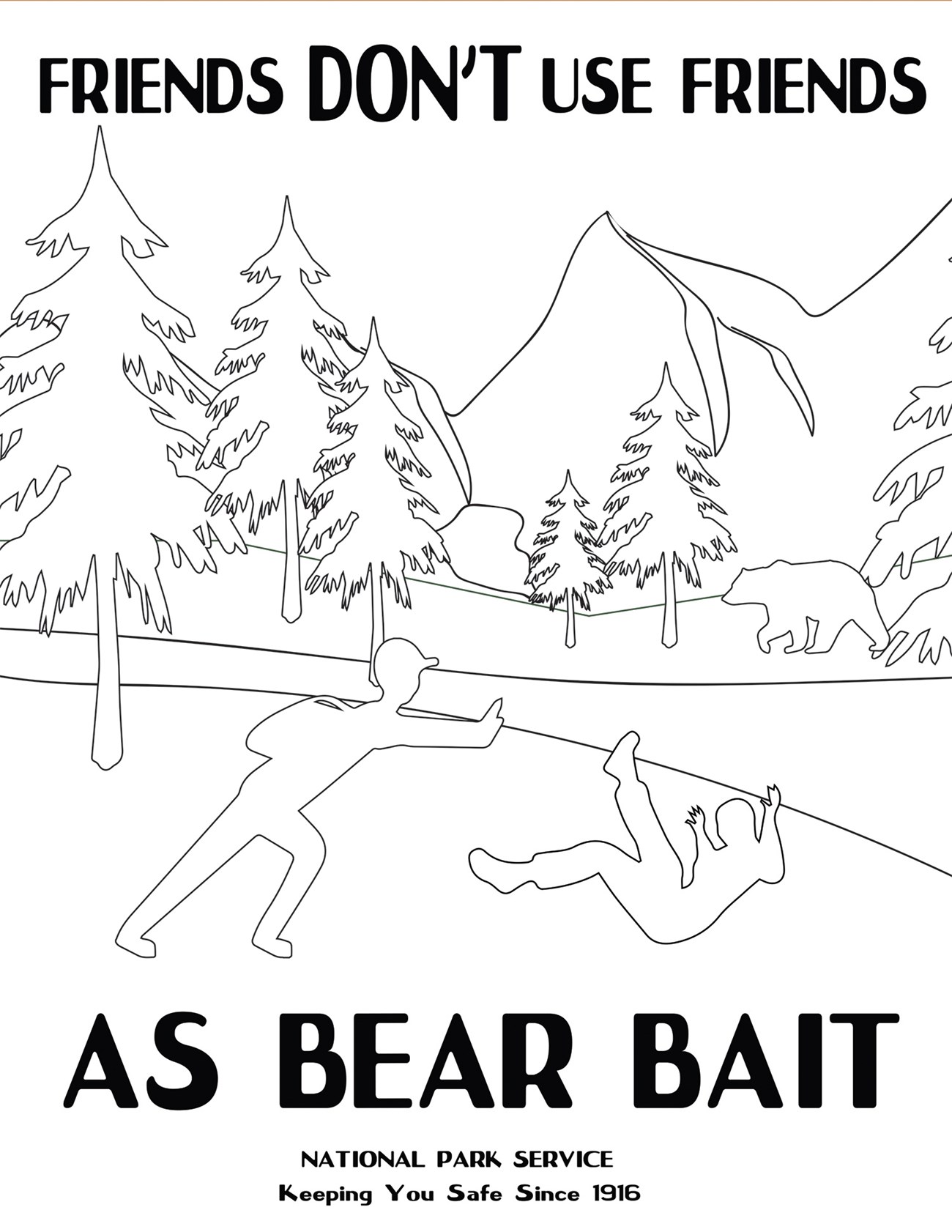 The image is a coloring activity to encourage trip planning and wildlife safety in parks. Text on the image reads "Friends Don't Use Friends as Bear Bait. National Park Service. Keeping You Safe Since 1916." The illustration includes outlines of a person pushing another person to the ground with an outline of a bear approaching. There are six trees and a mountain in the background. Instructions for the activity are included on this webpage.
Instructions
Download the "Friends Don't Use Friends as Bear Bait" image. Choose your method:
Print the image and color it with art supplies of your choice or
Use a software program to draw or paint on the image
Share your art masterpiece on social media using #KeepingWildlifeWild and #FindYourPark or #EncuentraTuParque to promote trip planning and wildlife safety in parks.
RELATED TOPICS
Games and Challenges

Test your knowledge or learn something new about national parks with games and challenges for all ages.

Find Your Virtual Park

Stay connected with national parks across the country with online resources and virtual experiences.

Kids in Parks

National parks are great places to go on adventures exploring nature and history. Check out online resources for kids of all ages.