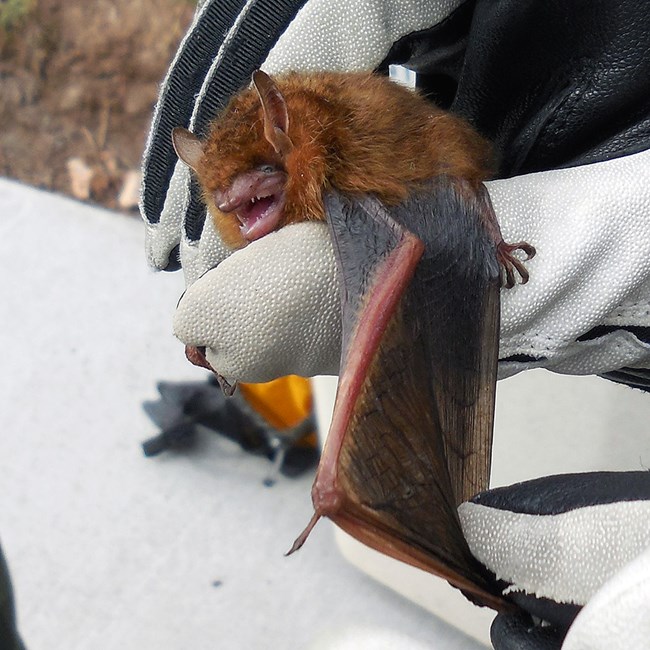 Overview
Mount Rushmore National Memorial is a 1,278-acre park in the center of the Black Hills in South Dakota established to protect the faces of four presidents carved on the mountainside. Granite outcroppings and the old growth ponderosa pine forest that surrounds the mountain may provide good bat roosting habitat.
The Northern Great Plains Inventory & Monitoring Network monitors bats to detect long-term trends and to get early warning of undesirable changes in bat populations at the park. A fungal disease called white-nose syndrome is spreading quickly, threatening bat populations in North America. First documented in a New York cave in 2006, this disease is associated with more than seven million bat deaths. It spreads primarily from bat to bat and humans might be spreading the disease by carrying nearly invisible fungal spores on their shoes and clothing from one cave to another. Bat monitoring helps us understand changes occurring with the spread of this devastating disease.
Acoustic Monitoring
Ten acoustic recording stations were established in 2015 at Mount Rushmore National Memorial. Acoustic recorders detect the unique ultrasonic calls bats use for echolocation. There were 44,796 bat call recordings from stations across all survey nights from 2015 to 2017. The data were analyzed through specialized software programs that make preliminary identifications of the bat species based on individual call characteristics, such as frequency and shape. Some bat species make calls that are similar to other species, which is why researchers with special expertise review the calls and make the final species determinations.