White-nose Syndrome in National Parks
Bats in the National Park Service face serious risks from a disease called white-nose syndrome (WNS). Since 2006, this fungal disease has killed millions of bats in North America. In some hibernacula (caves or mines where bats sleep through the winter), 90-100% of bat populations have died. Learn more about white-nose syndrome. 
Throughout the United States, the National Park Service manages 419 parks. These parks contain 84 million acres. Also, nearly 1 in 4 parks have caves, and 1 in 3 have mines. Many of these caves and mines provide habitat for hibernating bats. These cave- and mine-hibernating bats are at risk of WNS.
Parks in more than half of the United States are affected by the presence of WNS. The map below shows how widespread WNS is in eastern states. Many parks in these areas have likely experienced sharp declines in the bat population due to the disease. Losing an important predator so quickly may affect the ecology of the area. As the disease spreads, scientists consider the impact and potential for impact on national parks to be very high.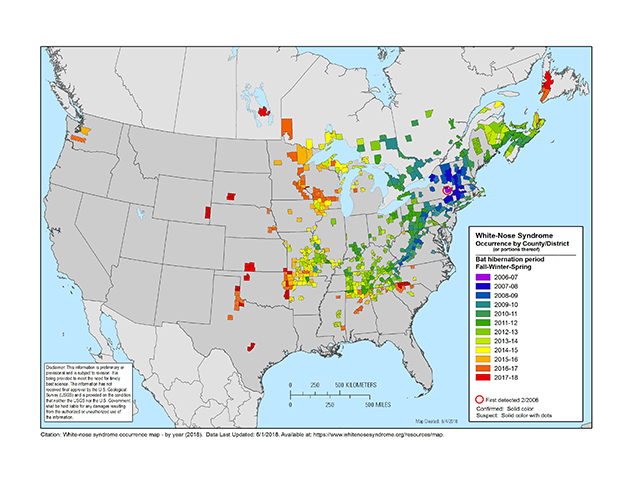 The National Park Service takes the threat of WNS seriously. Several representatives from the park service work with other agencies to develop a united response to WNS. Park officials observe bat populations, and they close sensitive caves to human entry. For other caves, rangers educate visitors about WNS. They also explain how humans may spread the fungus. Park staff show visitors how to help protect bats by properly cleaning their equipment and shoes before and after cave visits.
Last updated: December 11, 2019