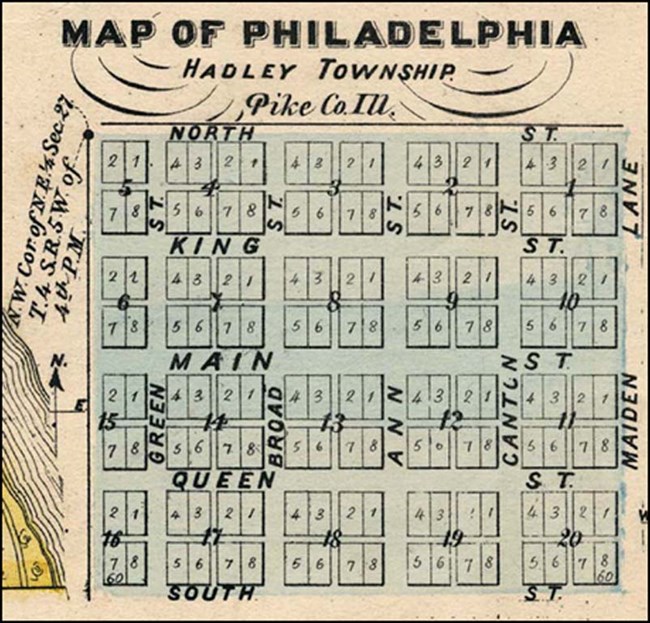 Twenty-seven years before the Emancipation Proclamation was issued in 1863, the formerly enslaved pioneer "Free" Frank McWorter established the first town founded by an African American man in the United States. Frank was born in 1777 to Juda, an enslaved West African woman, in South Carolina. He spent the first 42 years of his life enslaved, and during that time moved to Kentucky with his owner George McWhorter in 1795. There, on the frontier of Kentucky, Frank met his wife Lucy and together they started a family. As a man known for his hard work and ingenuity, Frank soon was allowed to hire himself out, and in his free time began to produce and sell saltpeter - a necessary component of gunpowder - by working in the local mines.
After some time, Frank saved enough to purchase the freedom of then-pregnant Lucy, ensuring the freedom of the child. Two years later, in 1819, Frank purchased his own, and "Free" Frank was finally a free man. In 1830 the couple and their three freeborn children moved to a pioneer homestead in Illinois, where Frank obtained land for his family to farm.
In 1836 Frank McWorter purchased 42 acres of land in Pike County, Illinois, which he platted into 144 lots. With this land Frank hoped to create a community for African and European Americans alike, providing a safe, affordable town in which to live and work.This philosophy attracted both African American and European American settlers to a community that was, by all accounts, harmonious and prosperous. Although it began as a modest frontier settlement with roughly 58 inhabitants in 1850, Frank's new town, which he called New Philadelphia, grew steadily. At its peak in 1865, the population reached 160 people in 29 households, with a 30% black population. However, when a new railroad bypassed the town in 1869, the population dropped off significantly. Just eleven years later, the population had fallen to 81 residents. Today, the once-prosperous city is covered primarily by farmland.
Once established in Pike County, Frank began to save the funds he earned from farming and the sale of New Philadelphia lots to purchase the freedom of more family members, including his children, grandchildren, and great grandchildren. In total, Frank freed sixteen of his relatives, at a combined cost of $14,000. This remarkable feat was even continued after his death in 1854, as designated in his will. Frank's commitment to the emancipation of all enslaved people did not stop with his own family. In fact, New Philadelphia is likely to have been a stop on the Underground Railroad.

Archeology at New Philadelphia
Major excavation of New Philadelphia began in 2002, and has allowed archeologists the unique opportunity of examining a site settled by free African Americans. There, teams of archeologists from various universities have studied the site to determine how the inhabitants of New Philadelphia lived, what they did for fun, and the items they made, while tracking how the built environment of the town developed over time.

Over the course of more than a decade, excavation teams have unearthed domestic foundations, basements and underground structures, and a number of artifacts. These include glass bottles, ceramics, clay pipes, children's toys, and a small 1903 Illinois State Fair badge. Discoveries such as faunal and floral remains help researchers reconstruct the diets of New Philadelphia's residents. With this information they can look for regional patterns to determine from which areas the settlers originated. Further, the extant remains seem to suggest that there was no racial segregation of residences or business in the town. The appearance of English ceramics also indicates the existence of a trade network with large cities including St. Louis, Missouri. Although the town was only occupied for just over a century, the archeological evidence its residents left behind have helped keep the story of New Philadelphia alive.
New Philadelphia was placed on the National Register of Historic Places in 2005 and was recognized as National Historic Landmark in 2009.

For More Information
New Philadelphia Archaeological Project, University of Illinois, Urbana-Champlain
New Philadelphia Townsite Provides Clues to the Past, Originally published in "Exceptional Places" Vol. 4, 2009, a newsletter of the Division of Cultural Resources, Midwest Region. Written by Vergil E. Noble.
New Philadelphia: A Multiracial Town on the Illinois Frontier, Teaching With Historic Places