Article
Become a Zion B.A.R.K. Ranger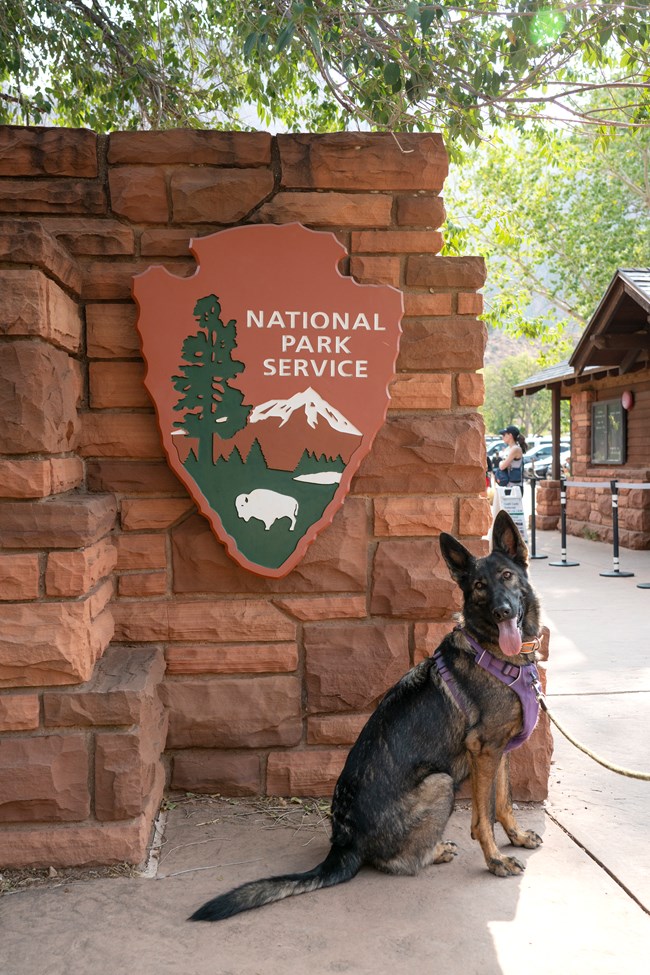 Know the B.A.R.K. Ranger Code for a Safe Visit!
For many, pets are an important member of our families. If you are planning to bring a furry family member on your trip to Zion, make sure you are prepared and are following the B.A.R.K. Ranger code. The code helps protect you, your pet, and the park while you are here. If the activities you have planned for your visit do not allow for pets or are unsafe, consider leaving them at home.
Bag your pet's waste
Help keep Zion clean by bagging your pet's waste and throwing it away in the garbage. Pet feces is not a natural fertilizer and can spread diseases to park wildlife, introduce non-native plant seeds, and can pollute rivers. Additionally, stepping in poop left behind by pet owners can be an unpleasant experience for other visitors!
Always leash your pet
Pets must be restrained on a leash not more than six feet long when in Zion (even if your pet is well behaved). Unleashed pets can stress or injure wildlife, scare other visitors, and are more likely to have a dangerous encounter. Keep your pet, wildlife, and other people safe by using a leash. Leashed pets cannot be left unattended.
Some people, especially children, are frightened of dogs. At times, highly visited areas of Zion can be very crowded. Make sure your leashed pet is well behaved around other people. You are helping to protect the experience of other visitors.
Respect wildlife
There are hundreds of species of wildlife that call Zion home. A respectful pet keeps clear of wildlife, stays on pavement and out of wildlife's natural habitats. Always stay at least 25 yards from wildlife that you may encounter on your visit.
Remember the smaller creatures too! Keep your pets from disturbing the abundant lizards and ground squirrels.
Pet food is also food for wildlife. Ensure all food is secured in a car or other hard sided container and not left unattended while exploring.
Know where you can go
Plan ahead and know where you can take your pet. Do not leave your pet unattended anywhere in the park or left alone in a hot vehicle if you cannot take them with you.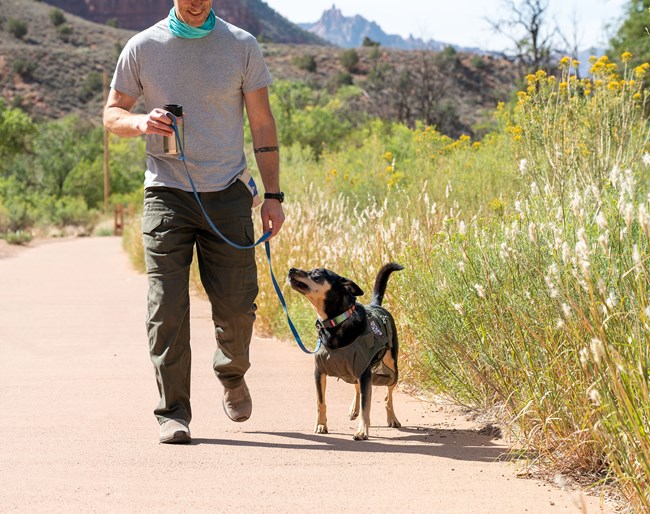 Where Can Your Pet Go in Zion?
Where Pets are Allowed in Zion
The Pa'rus Trail at the Zion Canyon Visitor Center
On public roads and parking areas
In developed campgrounds and picnic areas
On the grounds of the Zion Lodge
Where Pets are not Allowed in Zion
On all other trails
On shuttle buses
In wilderness areas
In public buildings
In any other areas, as signed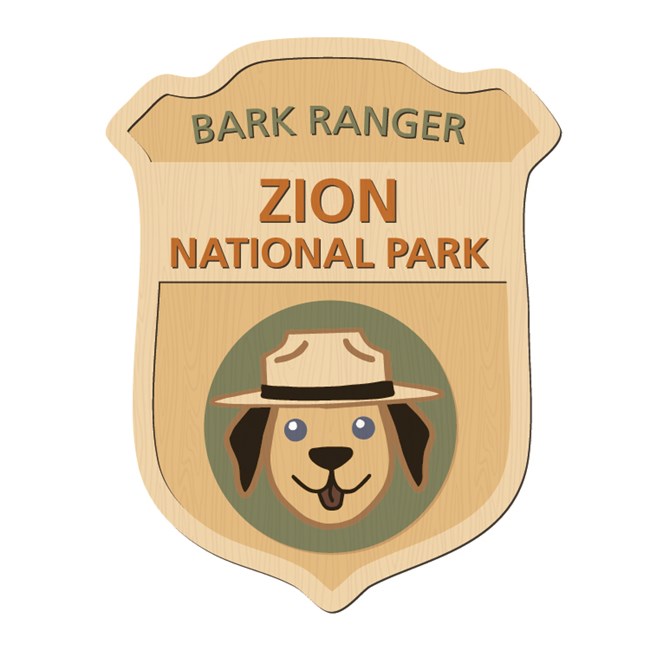 How to Become a Zion B.A.R.K. Ranger
Demonstrate to other visitors that you know how to explore the park safely and help protect special places like Zion! Stop in any Zion visitor center to pick up your official B.A.R.K. Ranger pledge card to become an official B.A.R.K. Ranger. You will be asked to complete a few simple activities, learn the B.A.R.K. Ranger code and sign your pledge. You can then purchase the official B.A.R.K. Ranger badge at any Zion Forever park store.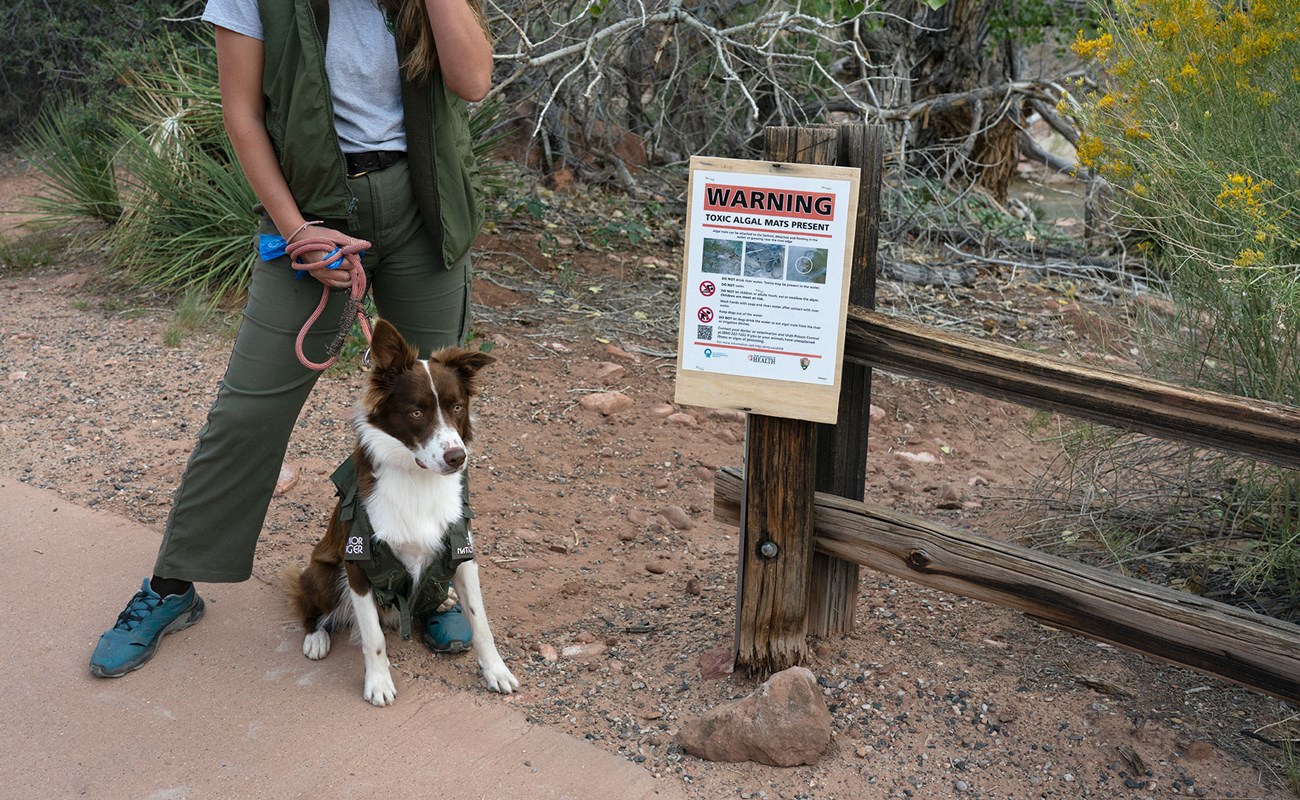 Pet Safety
Be prepared and ensure your pet can safely attend all activities on your itinerary. Pets should not be left unattended in a vehicle, especially in the summer. High temperatures in a car can be a serious threat to pets. Instead, consider leaving them at home in the comfort of air conditioning, or utilize local boarding services.

Hot to touch? Too hot for paws! The summer heat can be dangerous for a pet's paws. Avoid walking your pet in the heat of the day. Follow the five-second rule: place the back of your hand on the pavement; if you cannot hold it for five seconds, it's too hot to walk your pet.
Know where you can get your pet water while visiting the park. If you are hungry or thirsty while you are exploring, your pet probably is too. Always carry extra food and water for your pet and speak to a park ranger if you need help locating the closest drinking water.
Wildlife can pose a threat to pets in Zion, both directly and indirectly. Keeping your pet attended and on a six-foot leash as well as fully vaccinated will reduce the chances of injury or disease. Rabies and distemper have been detected in park wildlife.
Zion has been actively monitoring for the presence of harmful cyanobacteria and cyanotoxins in the Virgin River within the park. Cyanotoxins may be present at any time. We recommend keeping dogs out of the water along the Pa'rus Trail. Dogs are vulnerable to cyanotoxin exposure as it is difficult to control how they interact with potentially toxic algal mats. Check our website for current information about the Toxic Cyanobacteria Bloom.
Service Animals
Dogs classified as service animals are individually trained to perform a specific task that assists a person with a disability. Service dogs are legally permitted anywhere that visitors can go. Emotional support, therapy, and companion animals, as well as service animals in training, are not service animals and must abide by all pet regulations.
Kennel
Zion does not operate a kennel, but boarding kennels are available in the nearby towns of Rockville, Hurricane, St. George, Kanab, and Cedar City.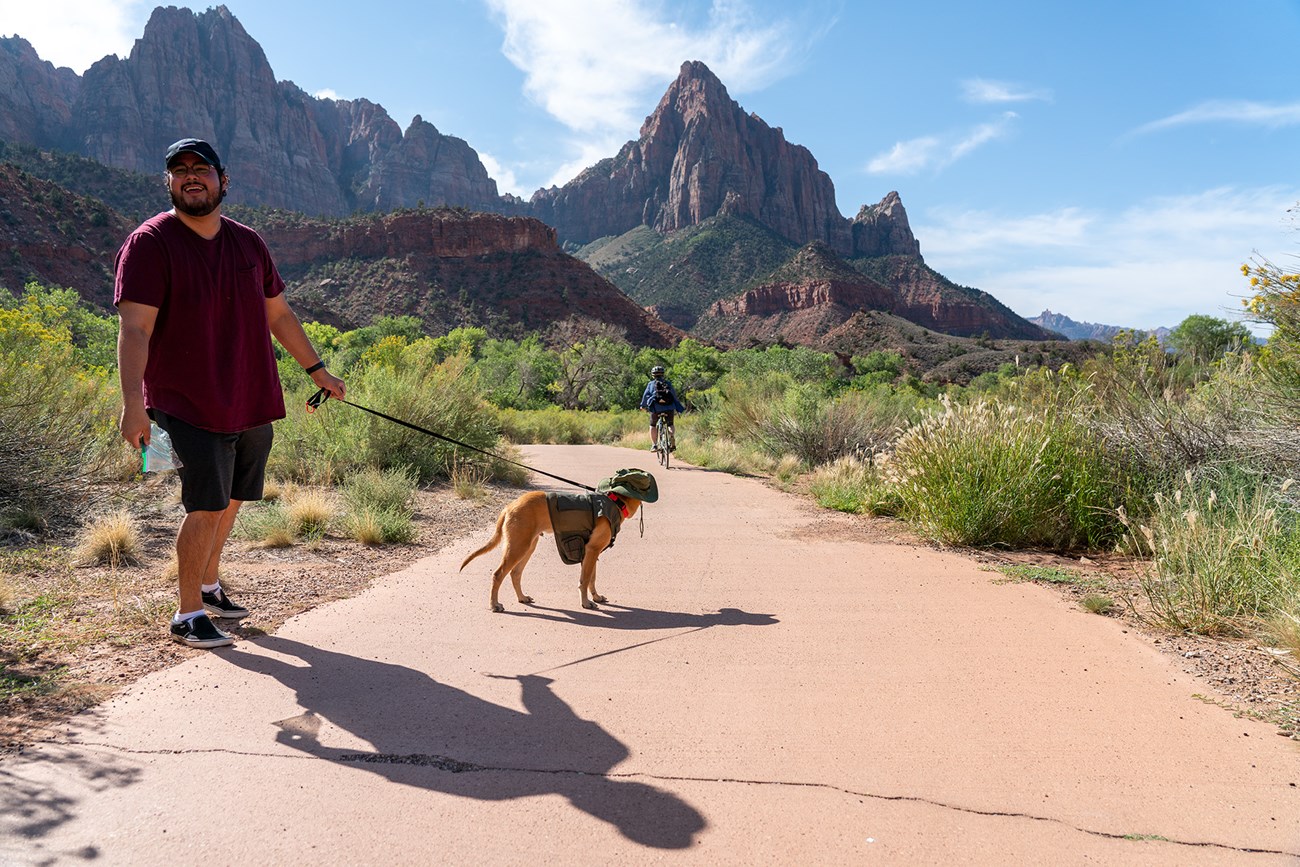 Last updated: April 22, 2022