A study at Point Reyes National Seashore finds habitat loss from sea level rise isn't the only significant climate-related impact on these at-risk shorebirds.
By Matt Lau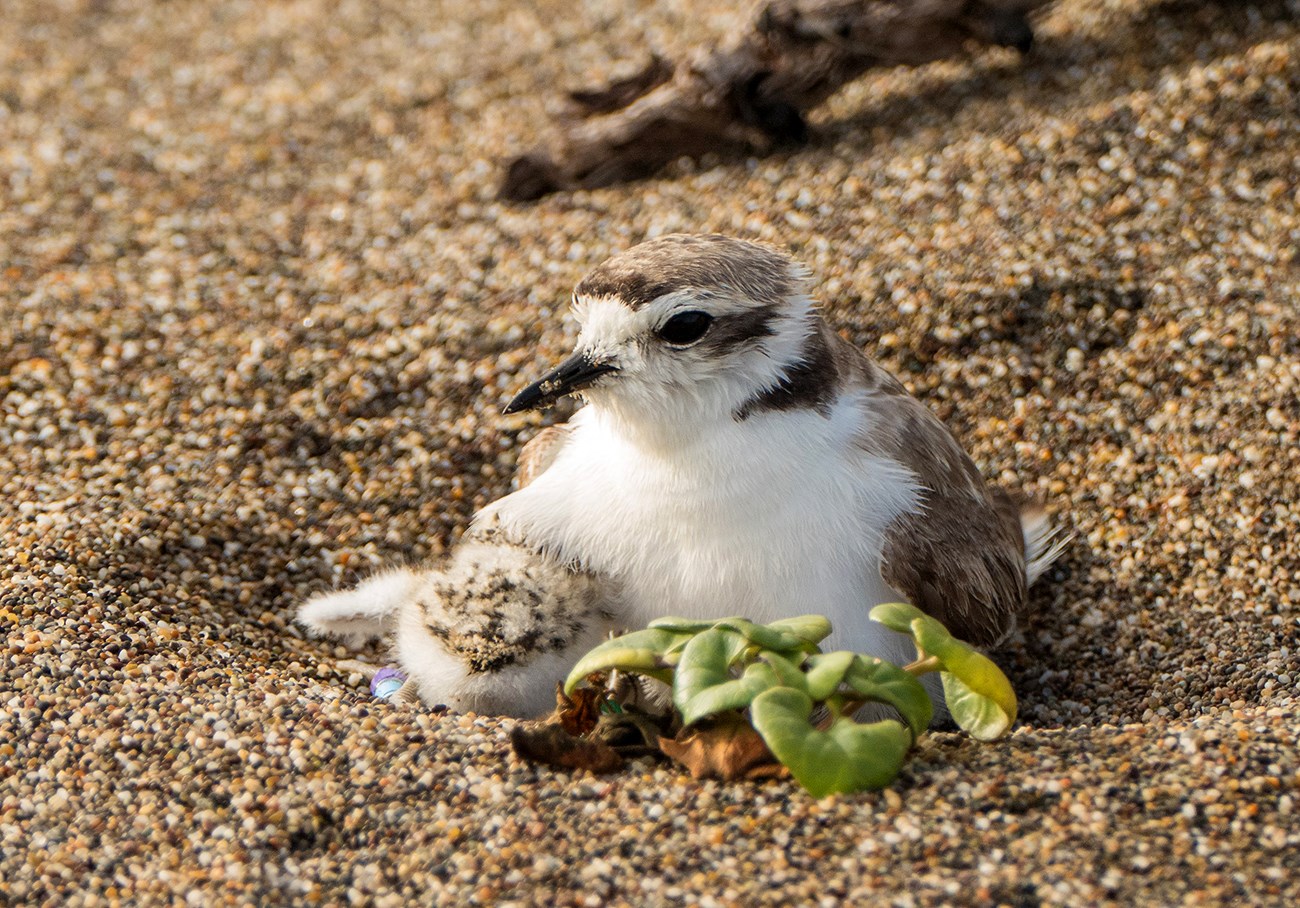 On a cold, breezy May morning, I stood on a sand dune in Point Reyes National Seashore with my spotting scope, looking at the lower beach close to where the waves crashed onto the shore. Two tennis-ball-sized white dots, western snowy plovers, skittered between pieces of bull kelp. They were chasing tiny crustaceans, which were bouncing around to evade them. These male birds were foraging, refilling their energy reserves before returning to nearby nests for their turn at incubating, a task they share with their female nest mates. Scientists expect climate change to adversely affect these threatened birds and a multitude of other coastal species. Human development and invasive plants have already diminished how much space there is for them to nest. Sea level rise could cause further loss of nesting habitat, exacerbating population declines. But our recent work reveals there may also be indirect climate-related impacts. Climate change could affect snowy plovers even more than originally thought, in both harmful and helpful ways. And their well-being will increasingly rely on active management.
---
Rising temperatures could also have more positive effects on hatchling survival.
---
Western snowy plovers are an important indicator of ecosystem health along the California coastline because of their preference for pristine beaches. They have strict habitat requirements, such as wide, open beaches. A plethora of research has examined the direct impacts of climate change and sea level rise on these birds. But few studies have examined indirect impacts. In an upcoming paper, we describe a study done in collaboration with Point Blue Conservation Science to look at how snowy plovers would respond to direct and indirect climate-related changes. We find that some indirect effects of climate change may decrease nest survival. Specifically, rising temperatures could increase the risk of predation, decreasing plover nesting success and compounding the adverse effects of habitat loss from sea level rise. But rising temperatures could also have more positive effects on hatchling survival under certain circumstances, potentially by increasing the abundance of food and reducing exposure to cold.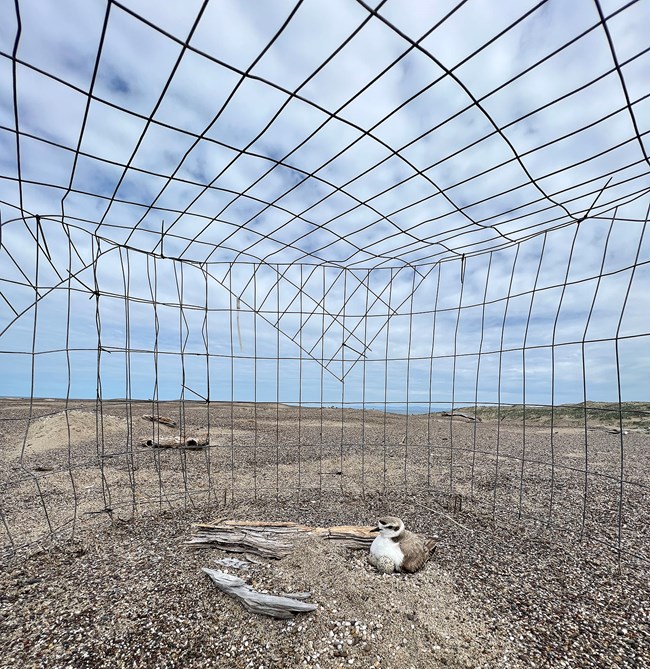 Exclosures Confound Predators
Point Reyes National Seashore has a relatively small breeding population of western snowy plovers. The park estimates that between 2015 and 2021, there were 22–40 breeding birds. Predators—common ravens and occasionally, coyotes—are the main deterrents to breeding success. Plover nest predation is a frequent problem, so National Park Service biologists use exclosures to protect nests.

Exclosures are fenced-in areas that allow adult plovers to freely move in and out while preventing predators from eating the eggs. Past research showed that exclosures are highly effective in increasing nest success. Our unpublished data show that from 2016 to 2021, 70 to 90 percent of eggs in exclosed nests at Point Reyes hatched successfully. But no more than 20 percent of unexclosed nests were successful. Ravens accounted for the depredation of over 40 percent of all unexclosed plover nests.
Connecting Climate Change to Reproduction
In the current study, we related plover reproductive success to temperature, precipitation, and how far nests were from the mean high water line. We used a long-term snowy plover dataset combined with climate and GIS data to make this determination. We collected coordinates of all nests found within the park between 2002 and 2020. We characterized the climate conditions at the time of the nesting attempt and estimated how these variables affected nest and chick survival. We then used climate change models to estimate future plover breeding success in relation to how scientists expect the climate to change.
---
This led us to believe that the temperature effect is related to nest predators—a surprising result.
---
We found that plover hatching success was most affected by temperature and the distance to the mean high water line. Nest success was higher when temperatures were lower in the months running up to the breeding season, which is March through September. But we also found that exclosed plover nests were unaffected by these trends. This led us to believe that the temperature effect is related to nest predators—a surprising result. We conclude that increased temperatures related to climate change could increase predator presence near plover breeding sites. The consequences for plover nests that aren't protected with exclosures could be disastrous.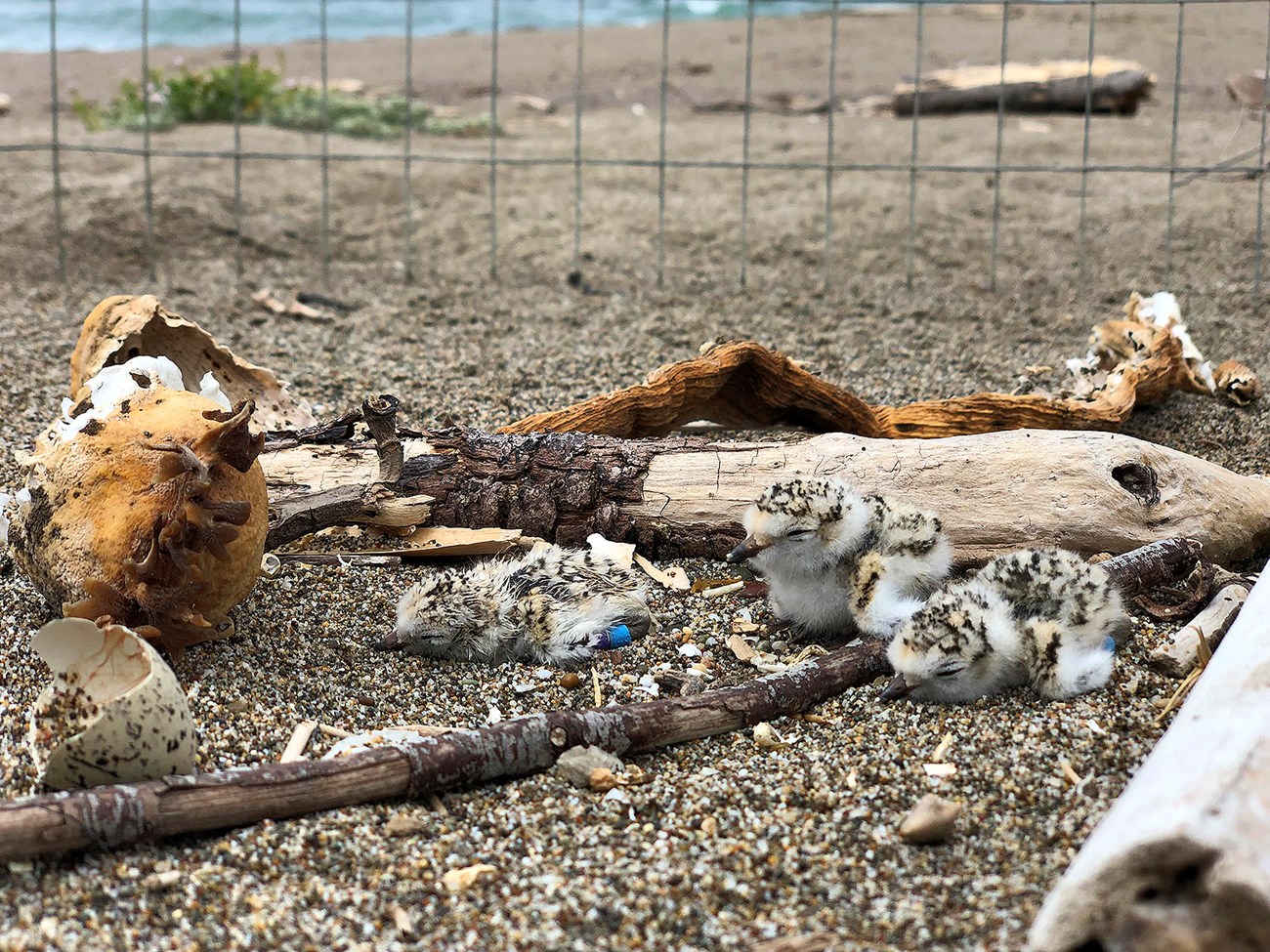 Benefits to Young Plovers
But warming temperatures could also affect plover chick survival in a positive way. In the study's statistical models, chick survival trended upward when temperatures were higher in the months preceding the breeding season. It is possible this is because warmer temperatures would cause an increase in invertebrate prey for plover chicks. Or plover chicks may benefit from warmer temperatures during the first two weeks after hatching, when they are most vulnerable to the cold.

Western snowy plovers in Point Reyes National Seashore could face difficult challenges from the oncoming effects of climate change. These changes could come directly from sea level rise and indirectly from predator increases. This could also be true of plovers elsewhere in their range along the Pacific coast. "Current and future plover conservation efforts will require adaptive management strategies to respond to both changing predator and environmental conditions," said Dave Press, the lead wildlife ecologist at Point Reyes National Seashore. "Climate-smart conservation will be essential for saving the western snowy plover."
---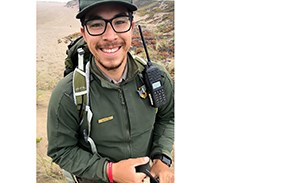 About the author

Matt Lau is a biologist at Point Reyes National Seashore. He has worked with western snowy plovers for a decade and has led the park's snowy plover management and monitoring program for six years. He also helps monitor elephant seals, mountain beavers, and other wildlife. He is interested in shorebird ecology, bat conservation, spatial ecology, and conservation education. He is also interested in increasing diversity and inclusion in the workplace. Image credit: NPS