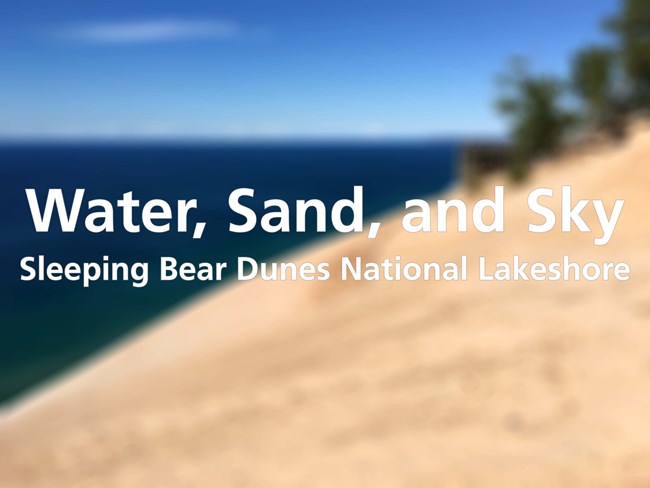 COMMUNITY PREMIERE
The NEW film for Sleeping Bear Dunes National Lakeshore is ready to experience.

The film will be premiered during National Park Week (April 16-24, 2022) in a regional debut we are calling Sleeping Bear Everywhere.

The broader business community is also encouraged to join in. Examples include partnering with an event space or getting creative with themes from National Park Week. National Park Week - NPS Celebrates! (U.S. National Park Service)

Those outside the region will be able to watch the film premiere online as well. The Lakeshore will premiere the film online via social media and the website on Saturday, April 23rd, 2022. It will be available to stream online until May 2nd, 2022.

Water, Sand, and Sky
explores the stunning landscapes, rich biodiversity, and captivating history of Sleeping Bear Dunes National Lakeshore. This 71,199-acre national park hugs the northeast shore of Lake Michigan, where miles of sand beach, towering bluffs, lush forests, and clear inland lakes, make up the natural world and provide the setting for a rich human history. Sleeping Bear Dunes is part of the world's largest freshwater dune ecosystem. The immense sand dunes are the products of vast glaciers that covered the landscape thousands of years ago. Today, the land is cared for by the National Park Service, making it possible for us all to enjoy adventures in this breathtaking, ever-changing environment. Water, Sand, and Sky makes Sleeping Bear Dunes more accessible than ever before with 4K cinematography, 5.1 surround sound, and rarely seen archival imagery. The film brings the sights, sounds, and stories of the park to vivid life, transporting viewers back in time and inspiring a deep appreciation for this extraordinary corner of the earth.
Dates, Times, and Locations
Visit the organization websites for showing details.


Monday, April 18th
7 pm - hosts: Preserve Historic Sleeping Bear,phsb.org and Friends of Sleeping Bear, friendsofsleepingbear.org
at City Opera House, www.cityoperahouse.org
Tuesday, April 19th
7 pm - Glen Lake Community Library,
Glen Lake Library Event Site
7 pm - The Historic Vogue Theatre,
Vogue Theatre Event Site
Wednesday, April 20th
6 pm - Glen Arbor Township Hall,
Glen Arbor Township Event Site
Thursday, April 21st
3 pm - Leelanau Historical Society,
Leelanau Historical Society Event Site
7:30 pm - The Garden Theater,
Garden Theater Event Website
Friday, April 22nd
6 pm - The Homestead Resort,
Homestead Resort Event Website
7 pm - Glen Lake Community Church, glenlakechurch.org
9 pm - The Homestead Resort,
Homestead Resort Event Website
Saturday, April 23rd
2 pm - Bay Community Theatre,
Bay Theatre Event Site
3 pm - Bay Community Theatre,
Bay Theatre Event Site
4 pm - Bay Community Theatre,
Bay Theatre Event Site
5 pm - Maggies Bear Lake,
Maggies Event Website