Article
Top Ten Tips for Visiting the Statue of Liberty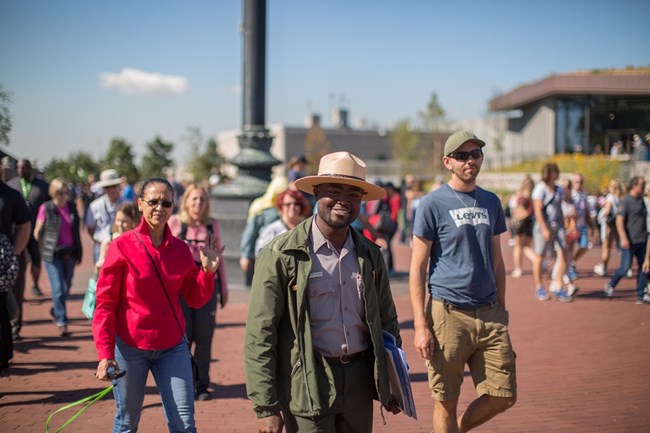 Plan Like A Park Ranger!
Are you planning a trip to the Statue of Liberty National Monument this summer? Check out these top ranger tips for a fun, safe, and unforgettable trip! For more information on visiting other national park sites this summer, visit go.nps.gov/summer.

1. Got Tickets? Avoid the queue. Get your tickets and check the ferry schedule ahead of time at Statue City Cruises.
2. Check Our Website again on the day of your visit for any last-minute park alerts.
3. Download the App the new National Park Service app is available through the Apple Store and Google Play.
4. Wear Comfortable Footwear. Be prepared to be on your feet - durable, close-toed footwear is encouraged! Mobility concerns? Check out our Physical Mobility Page.
5. Pack Light. There are not any places for you to store your personal belongings while you visit the island; and you may prefer not to be weighed down with extra things as you explore the park.
6. The Earlier the Better. Smaller crowds and shorter wait times can make your visit more enjoyable.
7. Dress for Success. Wind? Sun? Rain? Check the weather. What you're wearing will impact your comfort and enjoyment of the islands.
8. Pick A Meeting Spot. Cell phone service can be spotty out here. When you arrive to each island, set a spot for your group to reunite in case you get separated.
9. Don't miss the boat! You will be going through airport-style security before boarding the ferry. Arrive 15-20 minutes before your desired ferry departure time and look over our list of prohibited items ahead of your visit.
10. Family Connections. Check out this link to the American Family Immigration History Center to see hours of operation on Ellis Island and to discover tips for searching immigrant records.
Last updated: June 4, 2021