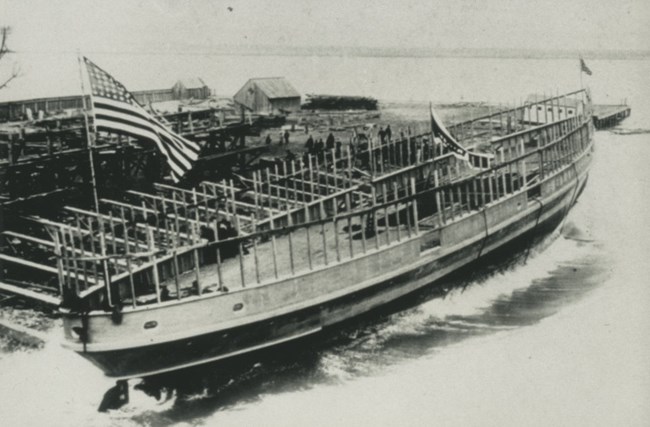 Construction
America was Hull Number 127 for Detroit Dry Dock Company (Middleton, 1898). Events surrounding the launch of the America's hull on Saturday, April 2, 1898, were carried by the Detroit Free Press (May 22, 1898):
Less than a month later, after the new ship was completed at the Detroit Drydock (about June 10) and began the daily run between Chicago and Michigan City (Detroit Free Press, May 22, 1898), Chicago marine men were expressing their satisfaction with America and remarking on its speed of 15-17 miles an hour.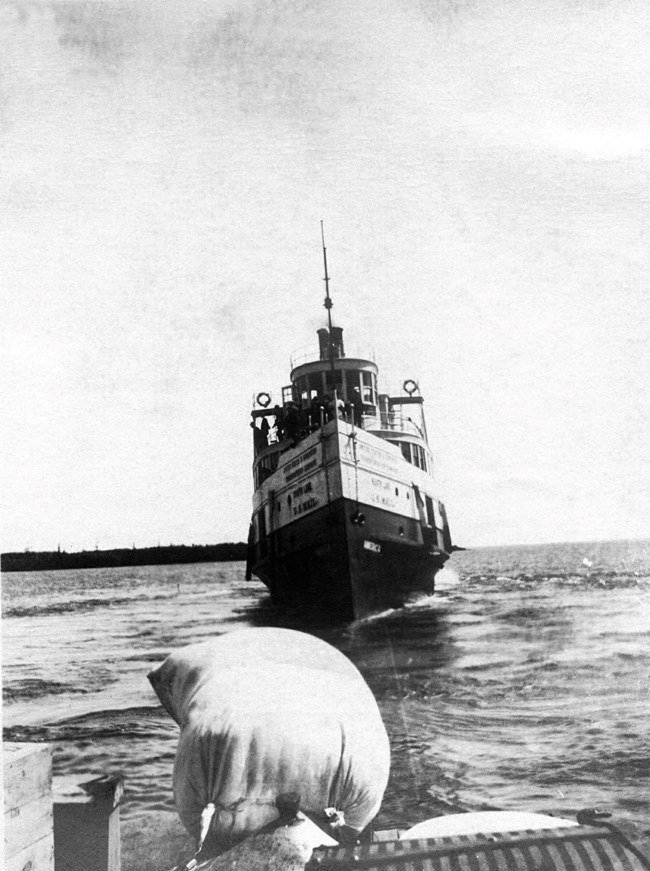 America's first document of enrollment was a temporary one issued on June 13, 1898 in Detroit. This document listed E. C. Dunbar of Michigan City as 3/4 owner and M. B. McMillan of Detroit as 1/4 owner. The master of record is Capt. M. F. Morgan. A master must be assigned at the time of ship enrollment. In many cases this master, as shown on the documents, is not actually the captain of the vessel, but rather a representative of the company or individual who owns the vessel. In this instance, Capt. M. F. Morgan was also the captain. The document shows America was built by Detroit Dry Dock Company in 1898 at Wyandotte, Michigan. United States registry number 107367 was given to America, which was classed as a steel hull screw steamer. This document states the steamer had one deck, no masts, plain head, and round stern, with registered dimensions of 164.6 feet in length, 31.0 feet in breadth, and 11.0 feet in depth. The gross tonnage was calculated to be 486.37 tons, consisting of 309.79 tons capacity under the tonnage deck and 176.58 tons capacity of enclosures on the upper deck. America's net tonnage was 283.40 tons, allowing for deductions of 28.90 tons for crew quarters, 28.90 tons for master's cabin, 18.43 tons for anchor gear, and 155.64 tons for propelling power ("Temporary Certificate of Enrollment," No. 69, Port of Detroit, issued June 13, 1898; Detroit Free Press, May 22, 1898).
America's engine and boilers were listed as built in 1898 by Dry Dock Engine Works of Detroit. It is a triple-expansion engine with cylinder diameters of 15, 24, and 38 inches and a stroke of 24 inches. The engine produced 700 indicated horsepower at 160 RPM. Steam for the engine came from two Scotch boilers, 10.0 feet in diameter and 10 feet 2 inches long. The boilers had four furnaces with grate surface of 48 square feet, and heating surface of 2,242 square feet; working pressure was 125 psi.
The hull of America was lengthened in 1911 at the shipyard in West Superior, Wisconsin. When work was complete, America was 18 feet longer with 12 added staterooms for 50 additional passengers. The freight capacity was also increased by about 100 tons. The beam of 31 feet and depth of 11 feet remained unchanged. However, the new length was 182.6 feet and registered tonnages increased to 937 gross and 593 net tons ("Doc. of Enrollment," Sept. 9, 1911). The speed remained unchanged, but handling and appearance were reported improved with the addition of the 18-foot section.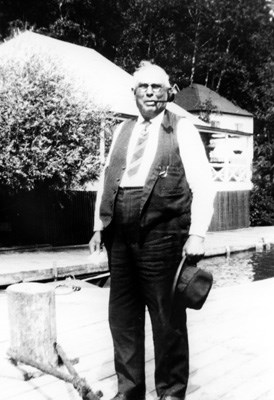 Master of America was listed as E. C. Smith with Louis P. Hogstad of Duluth as the owner's representative. The approximate number of crewmen required was listed for the first time as 20 persons ("Permanent Certificate of Enrollment." No. 79, Port of Duluth, issued June 9, 1911). By the time of its sinking, America would be required to carry 30 crew members.
Minimum crew requirements were specified as 1 licensed master and pilot, 1 licensed first-class pilot, 5 able seamen, 3 seamen, 11 certificated lifeboat men, 1 licensed chief engineer, 1 licensed first assistant engineer, 3 oilers, 3 firemen, and 4 watchmen. An added note stated, "Of the watchmen specified, 2 are main or deck watchmen included in the deck department and 2 are cabin watchmen or deck patrol and included in the stewards department." In all, the number of officers and crew allowed was 30 and the total number of passengers allowed was 94. Thus, the total number of persons allowed to be carried under Class (A) rules equalled 124. An additional handwritten note referring to Class (A) stated, "When running more than 3 miles off shore during the interval between May 15 and Sept. 15, both dates inclusive, 277 passengers are allowed making a total of 307 persons including crew." One additional note was pencilled adjacent to the latter saying simply "14 less than last year", but without further explanation.
America carried cork life preservers: 307 for adults, 39 for children, and 12 for lifeboats. Sixteen were condemned during inspection in April 1928, perhaps explaining why the number of passengers allowed was reduced by 14 as noted above. The ship also carried 2 ordinary ring life buoys and 2 "luminous ring life buoys."