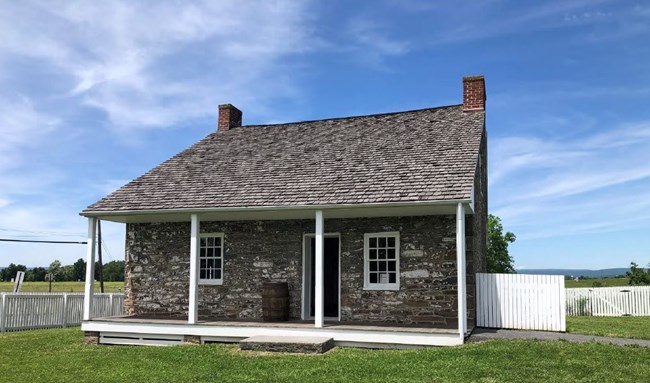 Recipient:
American Battlefield Trust
Amount:
$62,500
Pickett's Charge. Little Round Top. These names have been immortalized in print and film accounts of the Battle of Gettysburg and are well-known to many Americans. In early days of July 1863, the Confederate army's unsuccessful assaults on the second and third day of this decisive battle would end the Army of Northern Virginia's invasion of the North and serve as a—if not
the
—turning point of the American Civil War. But the view from Seminary Ridge just days earlier opened on an entirely different prospect as terrified civilians fled General Robert E. Lee's attempts to bring the war to Union territory and force an end to the conflict that had already devastated much of the South. On the morning of July 1, 1863, Lee and his entourage rode just north of Gettysburg and established their headquarters in the farmstead residence of Mary Thompson.
From the Thompson House, Lee directed Confederate defenses of the nearby Seminary Ridge and organized the Confederate assault on Culp's Hill. By July 3, the combined casualties reaching beyond 50,000 in the war's deadliest conflict. Lee moved his army into retreat on July 4, the same day that Vicksburg, Mississippi's garrison surrendered to Union General Ulysses S. Grant, leaving the people of Gettysburg to care for more than 10,000 wounded Union soldiers. Though civilian deaths were few, the horrific scene—nearly 8,000 dead lying bloated in the sun—would leave lasting scars on the landscape of human memory.
With financial support from a Battlefield Restoration Grant from the American Battlefield Protection Program, the American Battlefield Trust will synthesize research on the civilian landscape at Seminary Ridge, including the Mary Thompson House, the James Thompson House, the Dustman Barn, and the ruins of the Alexander Riggs House; all properties that witnessed the opening stages of the battle. The Trust's plan will build upon previous research to gain a complete understanding of the Seminary Ridge landscape and provide a roadmap to restoring day-of-battle conditions to a viewshed essential to visitors' experience at the Gettysburg Battlefield.
Battlefield Restoration Grants
support projects that restore "day-of-battle" conditions at nationally significant American Revolution, War of 1812, and Civil War battlefields and associated historic sites. The awards are made possible by the
Land and Water Conservation Fund
, which reinvests revenue from offshore oil and natural gas leasing to help strengthen conservation and recreation opportunities across the nation. These grants empower preservation partners to inspire wonder, understanding and empathy at the places that witnessed some of our nation's most challenging events. In addition, the ABPP administers three other grants:
Battlefield Land Acquisition
,
Preservation Planning
, and
Battlefield Interpretation
grants. This financial assistance encourages and sustains community-driven stewardship of historic resources in Tribal, state, and local communities.