Article
Puma Profiles: P-22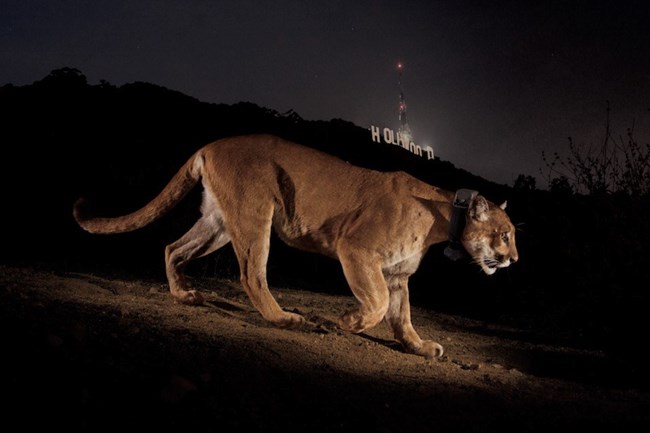 Male
Initial capture date: March 2012
Deceased

P-22 was our most famous mountain lion and known as our "Hollywood Cat," where he was a resident of Griffith Park in the city of Los Angeles. At about 12 years old, he was one of the oldest cats in our study. For a cat in the wild, that is a very old cat!

There was so much more to this male mountain lion than his living around the Hollywood Sign (although that National Geographic photo sure is pretty amazing!).

His presence was first documented in early 2012 by a camera trap set up by the Griffith Park Connectivity Study.

Shortly after that, NPS biologists captured and outfitted him with a GPS radio collar in March 2012. At the time of his capture, he was estimated to be about 1.5 years old and weighed 90 pounds. He lived in Griffith Park since at least February 2012 until his final capture in December 2022. He persisted for more than 10 years in the smallest home range that has ever been recorded for an adult male mountain lion.

What made P-22 especially unique is that he somehow made his way into Griffith Park, the eastern flank of the Santa Monica Mountains, from the western side, where he was born to P-1 and an unknown female lion. That meant he likely crossed two major Los Angeles freeways, the 405 and 101, a feat other lions have died trying to do.

His safe passage into and life in the park is a testament to the wild spaces remaining in Los Angeles, but his story isn't one of total success.

Griffith Park has proved just as much of an island of habitat as the rest of the Santa Monicas, if not more. Hemmed in by freeways and urban sprawl on all sides, it is difficult for lions to disperse and define their own territory and eventually mate. The 9 square miles of Griffith Park may have been P-22's territory, but it was sorely too small -- by a factor of about 31! -- for an adult male. As an isolated patch of habitat, it was unlikely that he would ever find a female and produce offspring (and to our knowledge, he never did).

P-22 first graced the front page of the Los Angeles Times in August 2012, shortly after he was first discovered. He has since become an ambassador for urban wildlife. In January 2017, he landed on the front page again, this time with a "week in the life" feature story that shed insight into his movements and diet. He also appeared on 60 Minutes in an episode called "Mountain Lions of L.A." where millions of viewers were introduced to him and the challenges facing mountain lions near urban areas.

He also made headlines across the city and country a few other times. In 2014, he developed a case of mange, which was successfully treated by our biologists. In 2015, his presence under a home in Los Feliz, a Los Angeles neighborhood adjacent to Griffith Park, became a live news event as local officials tried to get him to leave. When the commotion died down, he left on his own in the early dark hours of the morning. And in 2016, he was suspected of killing a koala at the L.A. Zoo.

In November 2022, P-22 attacked and killed a dog that was being walked on a leash at night near the Hollywood Reservoir. Following this incident, there were several reports of sightings, close encounters, and attacks on other leashed pets in the residential and urban communities surrounding his typical home range in Griffith Park. Biologists became concerned about this sudden change in his behavior, indicating the mountain lion could have been in some kind of distress.

In December 2022, NPS biologists worked with California Department of Fish and Wildlife, the agency that manages mountain lions in the state, to capture P-22 in the Los Feliz area and transport him to the San Diego Zoo Safari Park for a thorough health evaluation. Results showed P-22 had several severe injuries, such as significant trauma to his head, right eye, and internal organs from a suspected vehicle strike, as well as multiple chronic health illnesses, including irreversible kidney disease, chronic weight loss, an extensive parasitic skin infection over his entire body, and localized arthritis. Due to his poor condition, CDFW made the extremely difficult decision to euthanize P-22 on the morning of Dec. 17, 2022.

P-22 lived an extraordinary life, and he captured the hearts of so many people across Los Angeles and beyond.

Although P-22 is physically gone, he showed us the challenges and possibilities for wildlife in L.A., and we will be analyzing his data for many years to come.
Last updated: June 13, 2023