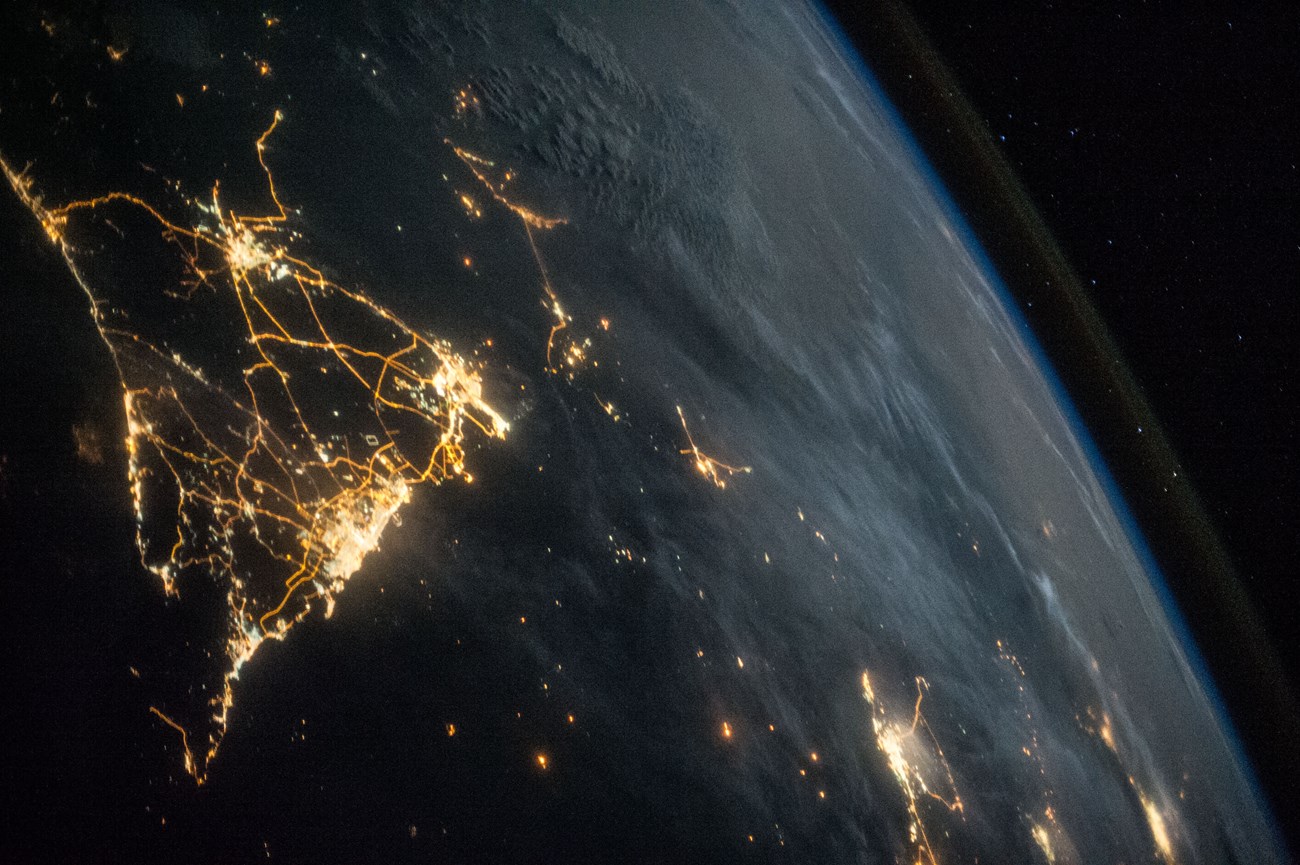 Decades ago, Congress enacted federal laws to regulate the impacts of air and water pollution on humans, wildlife, and our environment. But those high-profile problems have similarly problematic, lesser-known siblings: noise and light pollution. Noise and light pollution create obvious audible and visual disruptions to natural areas. Scientific research shows they also have significant impacts on humans and wildlife. Light pollution disrupts people's sleep and children's behavior. Noise and light pollution can modify animals' overall fitness and predator-prey relationships. Affected areas can experience altered ecosystems when animals avoid or become attracted to artificial sound and light. The National Park Service's Natural Sounds and Night Skies Division is a global leader in working to reduce sound and light pollution. We do this through air tour management planning, acoustic monitoring, scientific research, and international collaboration.
Helicopter

Sound recording of a helicopter, Yosemite National Park, California.

Credit / Author:

NPS

Date created:

2020-10-14 00:00:00.0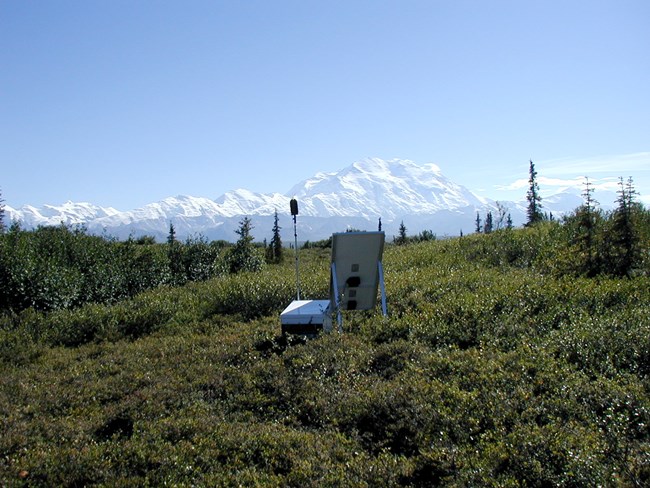 Sound Management and Illuminating Solutions
You may have heard the whirring of helicopter blades or the drone of an aircraft engine on your last visit to the Grand Canyon or another scenic park. Commercial services conduct overflights in many U.S. national parks. The Natural Sounds and Night Skies Division helps parks coordinate with the Federal Aviation Administration to develop air tour management plans to guide and set limits on these operations.

With our support, parks conduct acoustic monitoring to gather data on the ambient soundscape or underwater seascape. They describe human-caused sound from things like vehicles and vessels. To support parks, we also conduct research in acoustic science along with scientists from other institutions.

Artificial light can affect our ability to see the stars and planets in the night sky, even in national parks. Our division has developed advanced camera systems to assess night sky glow in parks and identify artificial light sources. We collaborate with the Illuminating Engineering Society, the International Dark Sky Association, and local city planners to help parks and adjacent communities incorporate the most technologically advanced solutions in their lighting infrastructure.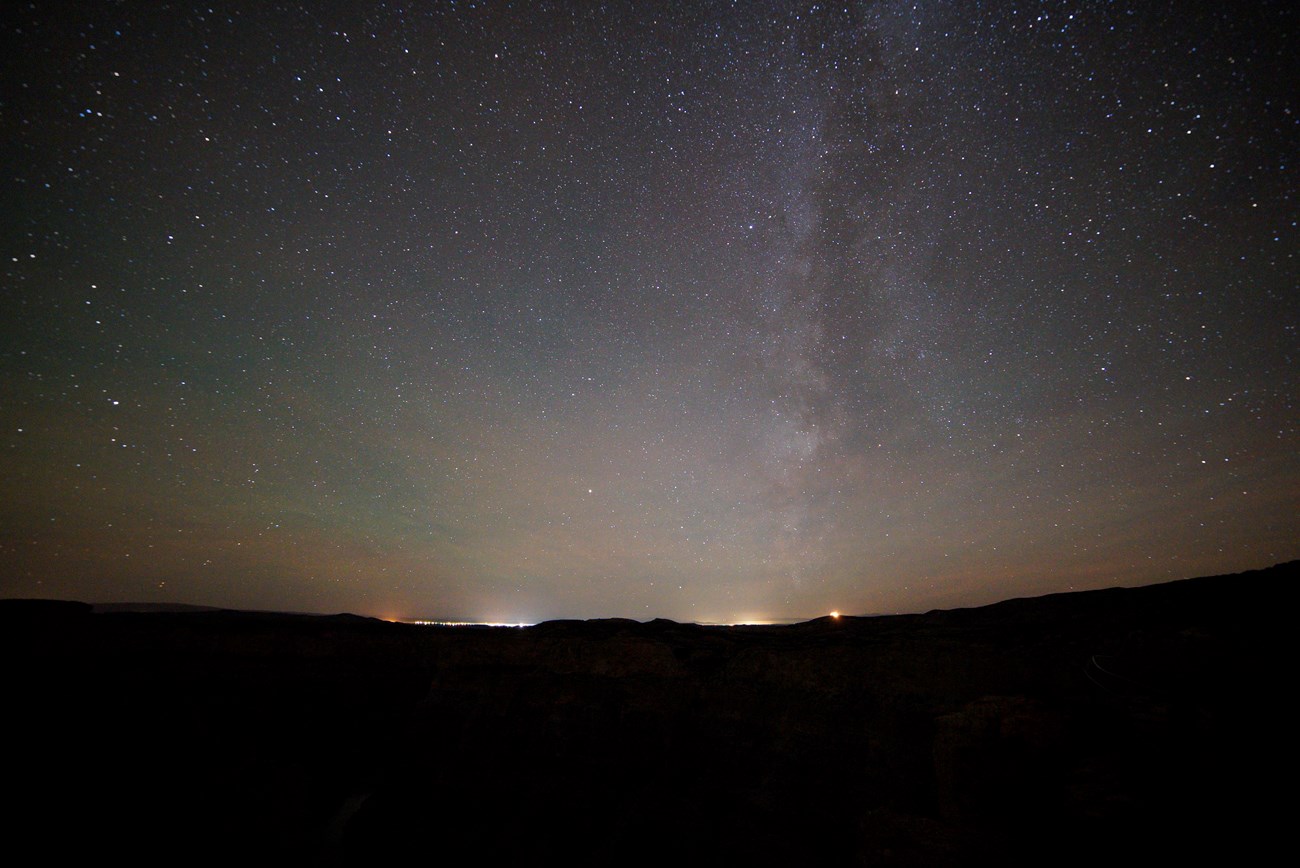 A Global Problem
The effects of excessive human-caused sound and light on natural areas are not limited to North America. Global efforts to reverse the impacts of unwanted noise and lighting have been growing over the past decade. The National Park Service is well regarded for its expertise in advanced methods and practices for reducing and minimizing noise and light pollution. The Natural Sounds and Night Skies Division collaborates with international partners to accomplish these goals. Our division staff members are often sought as keynote speakers at conferences and as advisers to international programs, such as the national park services in China and Colombia.

For global issues like soundscapes and dark skies, international scientific collaboration has multiple benefits. It allows us to incorporate additional expertise, share costs, and avoid duplicating our efforts. It also enhances diplomatic relations and accelerates progress on goals that benefit the global public. Such collaboration has expanded and diversified over the last decade. Our division staff members have participated in several international conferences, workshops, and seminars in recent years:
By participating in these events, we can track the latest developments in sound and light ecology research. The division keeps pace with emerging science and gains insights from its connections with the international scientific community. This allows us to provide updated recommendations to National Park Service units.
A Way to Downsize Data
Science depends on data, but the sheer volume and pace of new knowledge can be overwhelming. More and more peer-reviewed scientific publications addressing impacts from noise and night lighting are published each year. Of all the published noise-related articles we searched through the Web of Science database, more than 50 percent were in the past five years. For those related to artificial light at night, or ALAN, the proportion was over 60 percent. We need to meet the challenge of harnessing all this information to best support our national parks.


---
Knowing the international scientific community's work allows us to use the best available science in our work.
---

The success of science depends on being able to repeat experiments to show that their results are applicable to more than one study. To obtain a repeatable measure of progress in this burgeoning field, the Natural Sounds and Night Skies Division developed a literature synthesis tool. It uses standardized queries of the Web of Science to capture relevant research papers annually. It's difficult to extract a comprehensive and balanced summary of these papers, so we developed methods to organize and summarize the range of organisms, ecological contexts, sources, and response variables found in them.

Our analyses extensively identify the documented impacts of noise and light. They also highlight distinctive papers that are relevant to National Park Service science and management. The literature synthesis identified 406 ALAN and 1,776 noise-related articles published globally in 1978–2021. We validated the search results by comparing them to citations found in published review articles. The synthesis identified 90 percent of the noise-related papers and 92 percent of the ALAN references, excluding those not peer-reviewed and published.

Light and noise pollution don't stop at political boundaries. The international community is working to understand their impacts on natural soundscapes and dark night skies. Our analyses showed that in the last two years, 77 countries have produced a total of 444 scientific papers on these impacts, 330 on noise and 114 on light. Of these, 366 were published by authors outside of the United States, 285 on noise and 81 on light.

Staying up-to-date on this emerging international science is critical. Without a solid grasp of this research, the National Park Service would have only a fragmented understanding of noise and light pollution impacts. Knowing the international scientific community's work allows us to use the best available science in our work. It increases the National Park Service's capacity to protect natural sounds and night skies.
Brainstorming in Barcelona
Vilanova i la Geltrú is a small town approximately 25 miles (40 kilometers) south of Barcelona, Spain. It is renowned for its crystal-clear Mediterranean waters and some of the most beautiful beaches in Spain. In 2015, OCEANOISE organizers invited Natural Sounds and Night Skies Division staff to speak at a conference in Vilanova i la Geltrú. The Laboratory of Applied Bioacoustics of the Technical University of Catalonia hosted the conference.

The laboratory is part of the Technical University of Catalonia. It is an international leader in the field of ocean acoustics and has led several European Union-funded projects on noise abatement. The conference was to discuss the latest findings in the field of ocean noise. It brought together leading scientists in noise measurement, modeling, and mapping. It also featured experts on regulation, mitigation, and the physiological and behavioral effects of noise.
Glacier Bay 60-second clip humpback whale song November 2020

Glacier Bay 60 sec snippet humpback whale song November 2020

Credit / Author:

NPS - Chris Gabriele

Date created:

2020-11-13 00:00:00.0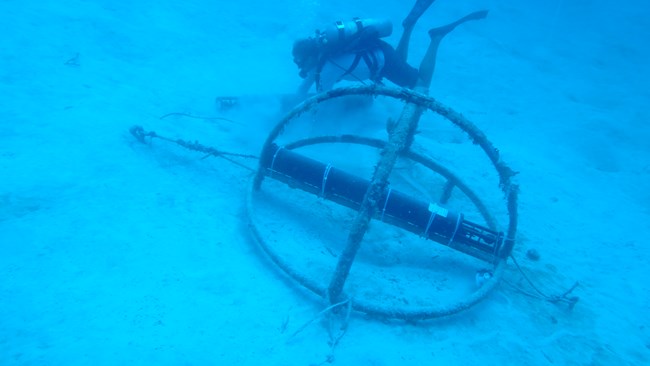 Division staff members shared their expertise in determining acoustic goals, establishing standards, managing effectively, and monitoring the results. We also talked about supporting research on noise effects on park resources. We discussed during brainstorming sessions how our approaches could be applied to marine environments. And we heard from other conference attendees about international initiatives for measuring the environmental impact of ocean noise at large spatial and temporal scales.

The presenters at the conference highlighted the importance of international cooperation in managing ocean noise. The importance of marine sanctuaries and other protected areas was a frequent topic. Multiple countries on every continent are doing research—and in every ocean. Sharing results, recommendations, and best practices is critical for well-informed decision making. The world's oceans are a large, interconnected, global system. Managing this system demands an integrated response among nations. Conferences like OCEANOISE can help.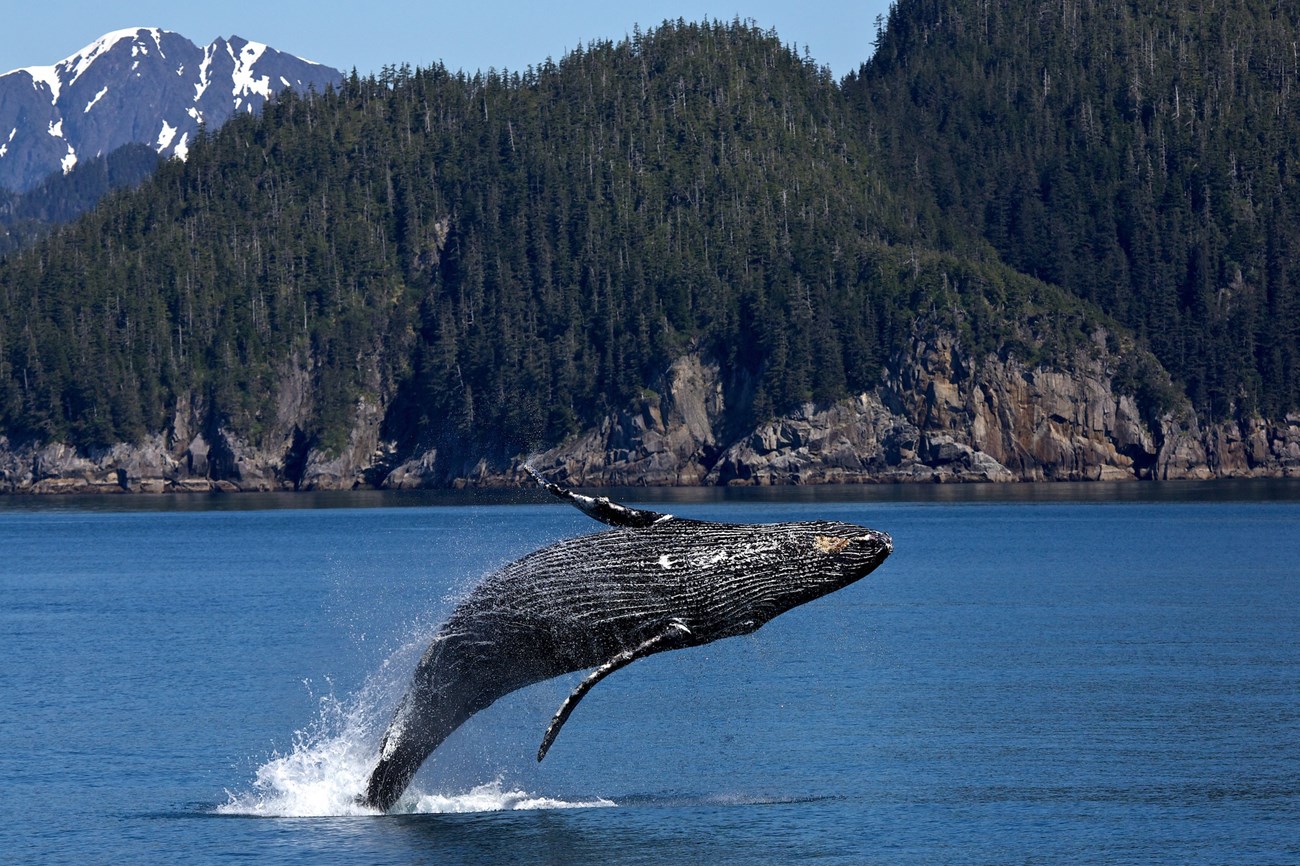 A New National Park System for an Ancient Land
According to the American Historical Association, China is the oldest living civilization, with 3,500 years of written history. A highly biodiverse country, it had 2,750 nature reserves by 2017. But most of them are managed locally or regionally. It was not until 2018 that the Chinese central government formally established a national park system to protect its natural areas.

China's national park goals are to conserve unique natural features, protect natural resources and biodiversity, and preserve culturally significant sites for all citizens, including Indigenous peoples. In September 2018, the United States—through the National Park Service's Office of International Affairs—hosted a delegation from the Chinese government. The Natural Sounds and Night Skies Division shared with this delegation some of the strategies our agency employs to manage and protect national parks.

During the delegation's visit, we described concepts and techniques to protect natural sounds and night skies to a group of Chinese representatives. We showed them images of the night sky with the Milky Way stretched across park landscapes, demonstrating the influence of artificial skyglow. We also played sound recordings of bugling elk and howling coyotes in the evening at Rocky Mountain National Park. A division staff member gave the presentation in Mandarin Chinese. The Chinese delegation was intrigued by how we manage ecosystems to protect these values.
Elk bugle

Sound recording of bugling elk, Great Sand Dunes National Park and Preserve, Colorado.

Credit / Author:

NPS

Date created:

2020-10-14 00:00:00.0
Three years later, China formally announced at the United Nations biodiversity conference their first five national parks. They cover an area as large as Minnesota. Then the National Park Service's Office of International Affairs invited the Natural Sounds and Night Skies Division to the International Symposium on Geoheritage and National Parks in China. Professor Dongying Wei at Beijing Normal University hosted the symposium.


---
The need to conserve and protect earth's natural wonders transcends national and political boundaries.
---

Professor Wei earned her PhD from the University of Missouri in 2008, and she helped facilitate the sister park relationship between Grand Canyon and Hubei province's Yuntaishan Nature Reserve. She has also received funding for research at one of China's five new national parks—Sanjiangyuan, in western China. Sanjiangyuan is often called China's—even Asia's—"Water Tower," as its 47,000 square miles (121,000 square kilometers) encompass the headwaters of the Yellow, Yangtze, and Mekong rivers.

With the support of the U.S. Embassy in Beijing, the symposium brought together researchers, experts, university faculty members, and students to discuss the direction, growth, and sustainability of geoheritage and national parks. Participation reached 652 attendees. Our division promoted astronomy-based tourism as a win-win situation for natural night sky preservation and sustainable park development. After the symposium, Wei said the webinar was "really successful." She said she would invite us for detailed follow-up trainings on different topics.

Sharing our expertise with China at such an early stage in its establishment of a national park system increases the potential for preserving these precious global resources. The need to conserve and protect earth's natural wonders transcends national and political boundaries.
Quieting Colombian Skies
Colombia is home to the biggest wild cat in the Americas, the mysterious and endangered jaguar. It is also one of the most biodiverse countries in the world, with 51 national parks. Some of these parks are critical habitat for at-risk animals like the jaguar. Currently, only one of these parks authorizes commercial air tours: Parque Nacional Natural Serranía de Chiribiquete. Chiribiquete is a UNESCO world heritage site with great biological diversity and an archeological presence dating back 20,000 years. Noise impacts from air tours, especially on Indigenous people and wildlife, have become an increasing concern for Columbian park managers.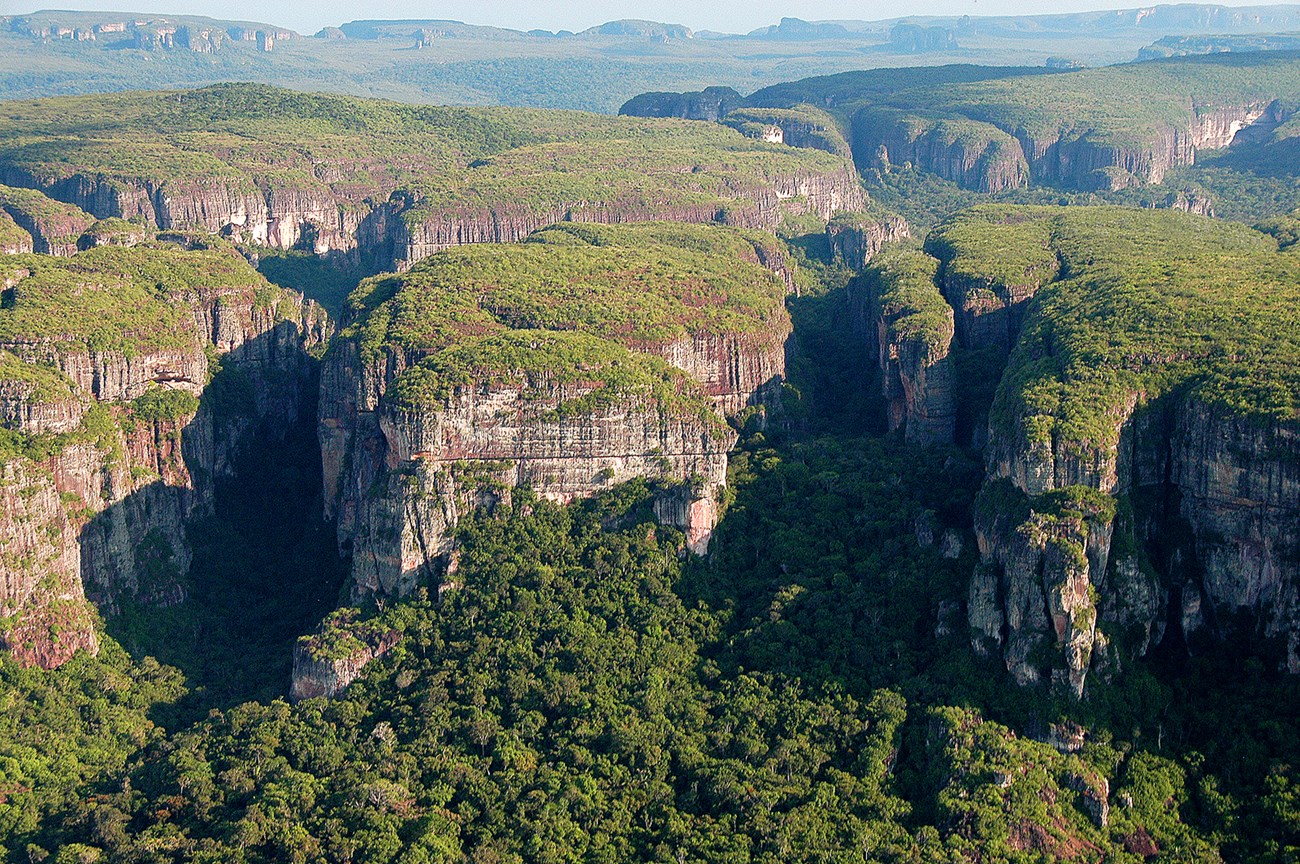 This heightened concern led Colombia national parks' Planning and International Relations Director Felipe Guerra to contact International Cooperation Specialist Jonathan Putnam at the U.S. National Park Service's Office of International Affairs. Putnam in turn reached out to the Natural Sounds and Nights Skies Division. Initial conversations between the two countries led to a first-of-its-kind workshop with subject matter experts from Colombia and our division. Thus began a robust dialogue between our two countries on air tour management.

We held two virtual workshops on March 7 and April 5, 2022. Our division coordinated both workshops in collaboration with the International Affairs Office and Parques Nacionales Naturales de Colombia. A partner from the Center for Protected Area Management at Colorado State University assisted with translation.

During the workshops, Chiribiquete park employees told us their main challenges were confronting non-compliance with minimum flight altitudes, quantifying impacts, and monitoring soundscapes. Our division shared the National Park Service's history of air tour management, laws and policies, air tour management planning, and lessons learned. We also talked about measuring acoustic baseline conditions, modeling air tour noise, and tracking aircraft.

---
Our air tour noise monitoring and management efforts help protect not only the Indigenous peoples and resources of Chiribiquete, but also other world heritage sites around the world.
---

The recorded workshops and notes are available upon request from the Natural Sounds and Night Skies Division. Chiribiquete park staff expressed interest in learning how to conduct acoustic baseline assessments and collect sound data. Our division shared with them published documents and operating procedures.

In the future, we may assist the Colombia national parks program with developing air tour management policies or a best management practices guide. We could also help the program protect soundscapes in other Colombian national parks and collaborate with other countries that have similar concerns. Guerra would like to work with the NPS to present a holistic approach on this topic to UNESCO.

Our air tour noise monitoring and management efforts help protect not only the Indigenous peoples and resources of Chiribiquete, but also other world heritage sites around the world. We believe that collaboration across countries is important. Readers can contact us for more information on air tour management planning in U.S. national parks.
It Takes a Planet
As society grows noisier, people around the world increasingly turn to national parks for quiet, contemplative experiences. In national surveys, 91 percent of respondents considered enjoyment of natural quiet and the sounds of nature compelling reasons for visiting national parks. Most people in urban areas cannot clearly see the Milky Way from their backyard and live in an area that scientists consider light polluted. National parks often provide the public with the most accessible opportunity to enjoy naturally dark skies.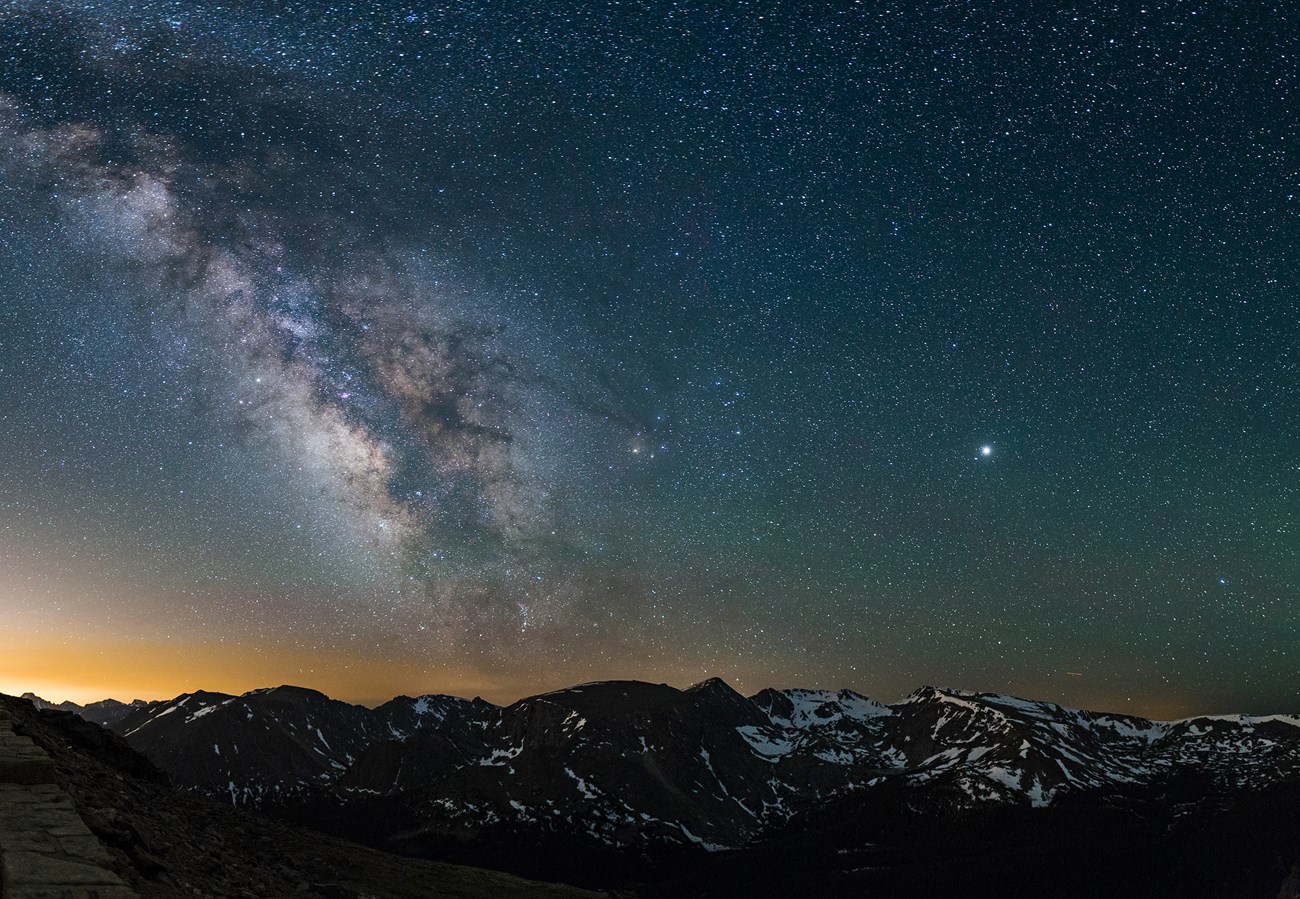 Natural sounds and night skies are integral parts of the network of natural and cultural resources that are the hallmark of national parks. They are inspiring to millions of park visitors, fundamental to our nation's historical and cultural context, critical for park wildlife, and vital to the protection of wilderness values.

Countries throughout the world are increasingly interested in preserving their natural areas from sound and light pollution. The National Park Service and its industry and university partners are global leaders in measuring, monitoring, and modeling these conditions. We also advise on best practices for minimizing noise and artificial light. The Natural Sounds and Night Skies Division's ongoing work with international partners helps preserve opportunities to experience tranquility—a rare and precious resource in our busy, modern world.
---

Christopher Kavanagh is the branch chief of Science and Technology in the National Park Service's Natural Sounds and Night Skies Division. Image credit: NPS

Sharolyn Anderson is a physical scientist in the Natural Sounds and Night Skies Division. A mapping expert, Sharolyn works with parks and partners to better understand—from a landscape perspective—the impacts of sound and lighting in national parks. Image credit: NPS

Cathleen Balantic is is a biologist with the Natural Sounds and Night Skies Division. She specializes in bioacoustics. She works on projects that use biological sounds to learn about wildlife in our national parks. Image credit: NPS / Cathleen Balantic

Li-Wei Hung joined the Natural Sounds and Night Skies Division in 2016. She is the lead scientist for the NPS night sky monitoring team. Image credit: NPS

Gina Pearson is an environmental protection specialist with the Natural Sounds and Night Skies Division. She joined the division in 2020. Her specialities are planning and environmental compliance. She serves as the division's communication and outreach liaison and is also the division's web manager. Image credit: NPS / Gina Pearson

Frank Turina is the former program manager for Policy Planning and Compliance in the Natural Sounds and Night Skies Division. Image credit: NPS

Karen Trevino is the chief of the Natural Sounds and Night Skies Division. Image credit: NPS / Karen Trevino