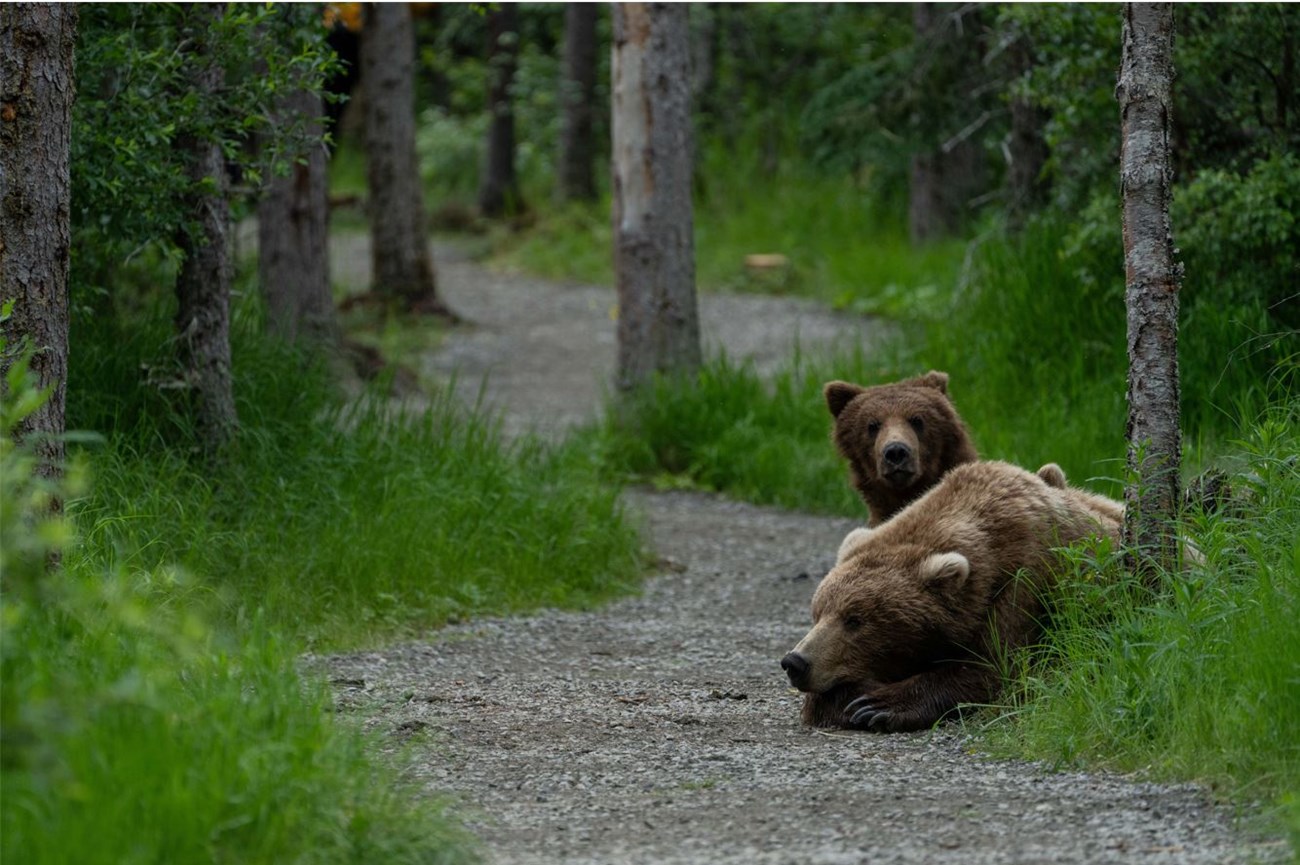 Plan for flexibility. This is solid ranger advice for any outdoors adventure but especially in Katmai. Whether it's flight delays caused by weather or a bear jam with family groups sleeping on the trail, it's important to remain flexible.
Pack your patience. Headed to Brooks Camp during the peak bear viewing season? Be sure to pack your patience. While there are several bear viewing platforms, the Falls Platform specifically has a limited capacity of 40 people. Rangers carefully manage this platform and maintain a waitlist as necessary. During the July season, wait times can often exceed an hour.
Prepare for all types of weather. Katmai weather is notoriously tempestuous. Be prepared with rain gear and dress in layers. A little preparation can go a long way to staying comfy and dry.
Know before you go! The best place to find the latest information is by checking out our Alerts & Conditions information online and following us on social media.
Plan to disconnect. There is no cell service or internet connection within the park so be sure to plan ahead and let friends and family know you'll have to show them the pictures later.
Grab the new NPS App. Download the NPS App before arrival for helpful planning tools and to make the most of your visit. Cell service is non-exist at Katmai and very limited in King Salmon, but with the new app, you can download content ahead of time for offline use.
Make a reservation ahead of time to stay overnight at Brooks Camp. Brooks Camp has two overnight options, Brooks Camp Campground and Brooks Lodge. Both are frequently full by reservation far in advance so be sure to make plans before arriving.
Explore the backcountry. Katmai National Park and Preserve spans over four million acres of remote, wild, and spectacular country. Consider a trip to the coast or exploring the Valley of Ten Thousand Smokes.
Learn our cultural history. People have made their homes in Katmai National Park and Preserve for at least 9,000 years. Learn more about the cultural history of Katmai online and be sure to visit the cultural site at Brooks Camp in person.
Ruffing it? While we all love our bark ranger friends, Katmai may not be the best place for furry companions. Dogs are not allowed within the Brooks Camp developed area so be sure to make other plans for Fido.
Heading to another park? Find more great tips for other areas
online
.