The content for this article was researched and written by Jade Ryerson, an intern with the Cultural Resources Office of Interpretation and Education.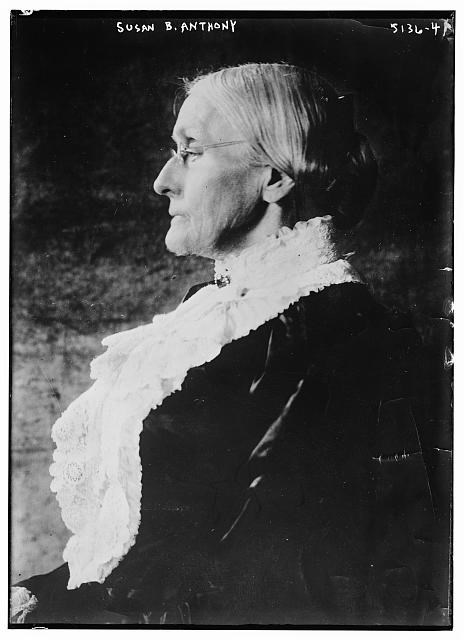 Susan Brownwell Anthony was born in Adams, Massachusetts in 1820, but most of her career was based out of New York state. In 1845, her family moved to Rochester, New York where they became active in the antislavery movement. Soon after, Anthony's career in women's rights reform took off. She became a leader in the women's suffrage movement and collaborated on much of her work with
Elizabeth Cady Stanton
. Together, they founded the American Equal Rights Association and the National Woman Suffrage Association (NWSA), later the National American Woman Suffrage Association (NAWSA). During the 1880s, Anthony, Stanton, and
Matilda Joslyn Gage
wrote the History of Woman Suffrage, which comprehensively detailed the work of white suffragists and generally excluded people of color. Anthony's work also took her across the United States. She led speaking tours, supported local suffrage organizations, and sponsored national petitions to secure women's right to vote.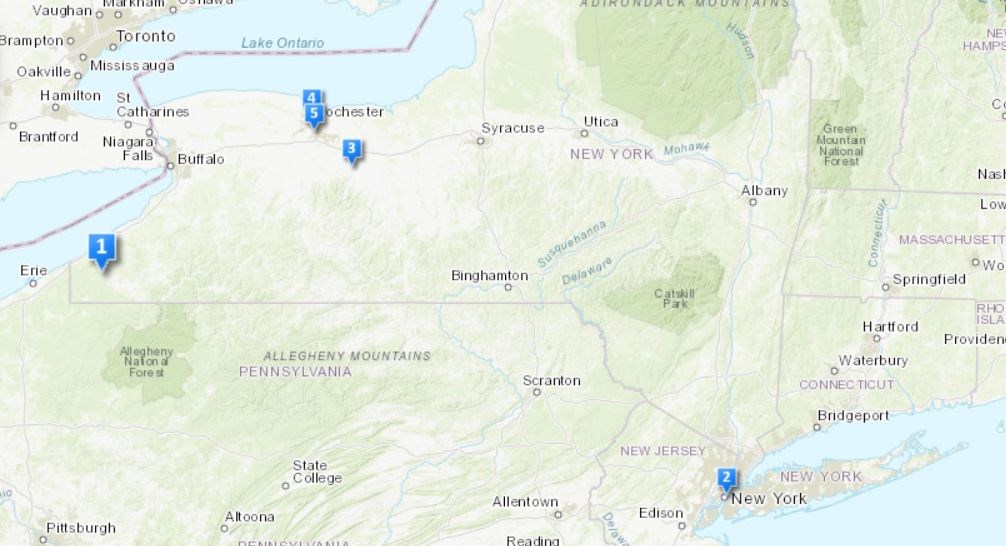 This map shows the locations of the different places featured in this article.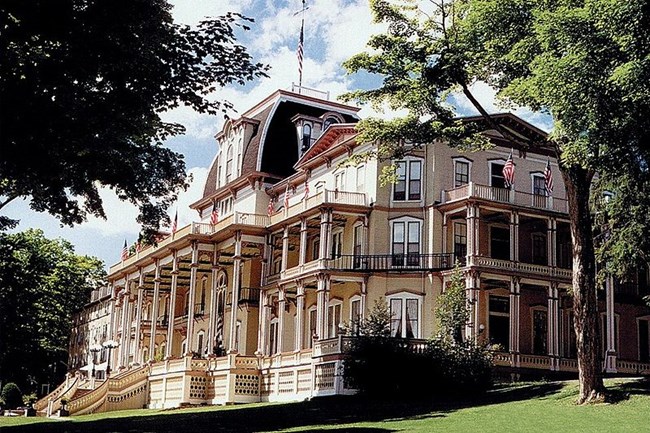 1. Chautauqua Institution Historic District
In 1854, Anthony spoke at the Chautauqua County Women's Rights Convention in southwestern New York. She returned on July 25, 1891, to speak at the first annual Political Equality Day at the Chautauqua Institution. Anthony was joined by Zerelda G. Wallace and Rev. Dr. Anna Howard Shaw. The county's Political Equality Club organized the event. This organization advocated for women's political rights, including suffrage for white women. They held petition drives and large public events, and supported state suffrage legislation.

The Chautauqua Institution Historic District is listed in the National Register of Historic Places.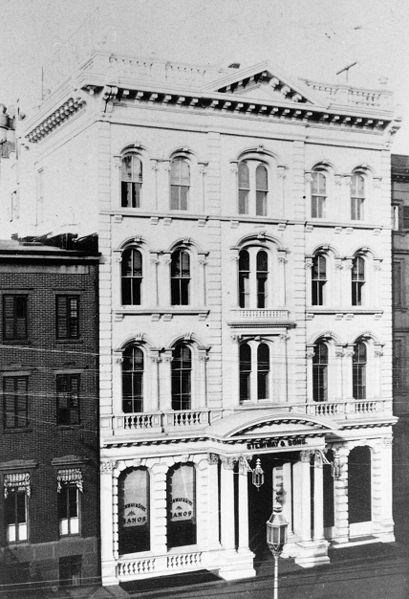 2. Union Square
The American Equal Rights Association (AERA) was founded at the Church of the Puritans in May 1866. It disbanded at Steinway Hall three years later. Both buildings are no longer standing; their former sites are within New York City's Union Square, a National Historic Landmark.

The AERA splintered over support for the Fifteenth Amendment, which granted the vote to Black men only. Anthony, Stanton, and Frederick Douglass disagreed about whether African Americans or women had a more urgent need for the vote. Despite Douglass's strong support for women's voting rights, Anthony and Stanton felt that he abandoned the suffrage movement by supporting the Amendment. They left the AERA and established the National Woman Suffrage Association, whose sole focus was women's voting rights. Likewise, Douglass was hurt by their insults against African Americans and lack of support for African American causes.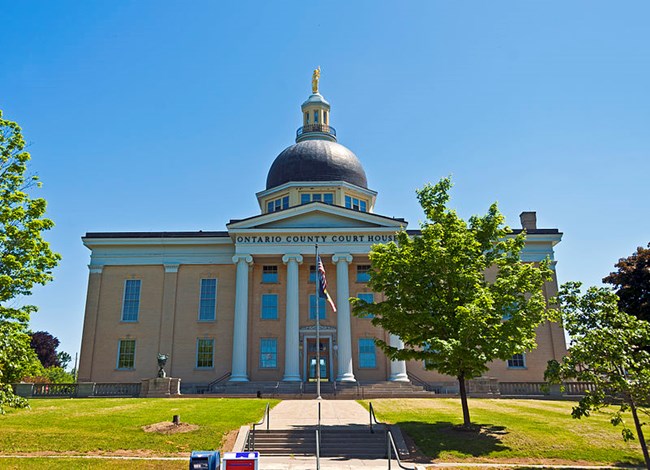 3. Ontario County Courthouse
In 1872, Anthony and fourteen other women attempted to vote in the presidential election. A poll watcher challenged the legality of their vote. Anthony argued that she could vote because of the Fourteenth Amendment, which granted citizenship to anyone born or naturalized in the United States. Anthony was put on trial at the Ontario County Courthouse. She argued that if women were citizens, they already had voting rights. The judge disagreed and fined Anthony $100. Without jail time, she could not appeal. Three years later, the US Supreme Court ruled that citizenship did not guarantee the right to vote in Virginia Minor v. Happersett.

The Ontario County Courthouse is listed in the National Register of Historic Places.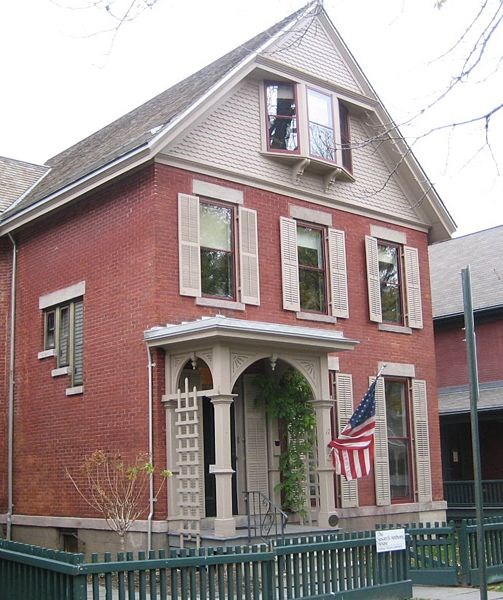 4. Susan B. Anthony House
For forty years, the Susan B. Anthony House served as Anthony's home and political headquarters. It is now a National Historic Landmark.

First owned by her mother Lucy and later her sister Mary, it was home to many members of the Anthony family. After attempting to vote in 1872, Anthony was arrested in the house's front parlor. Twenty years later, the first-floor parlors became public offices for NAWSA. When Anthony was elected president in 1892, the house became the organization's headquarters. On March 13, 1906, Anthony died of heart failure and pneumonia in her home.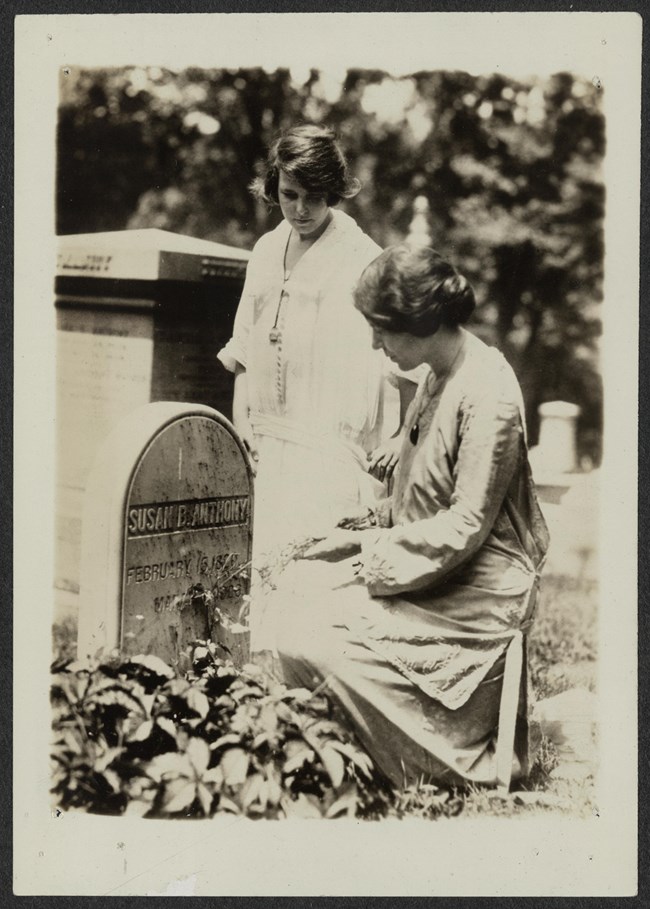 5. Mount Hope Cemetery
After her death, Anthony was buried at Mount Hope Cemetery in Rochester, New York. She dedicated decades of her life to a constitutional women's suffrage amendment, but died fourteen years before this became a reality. In 1920, the ratification of the Nineteenth Amendment made it illegal to deny the vote based on sex. As a tribute to her work, the Nineteenth Amendment was called the Susan B. Anthony Amendment. In recent years, voters have left their "I Voted" stickers as memorials at Anthony's gravesite on Election Day.

Mount Hope Cemetery in listed in the National Register of Historic Places.