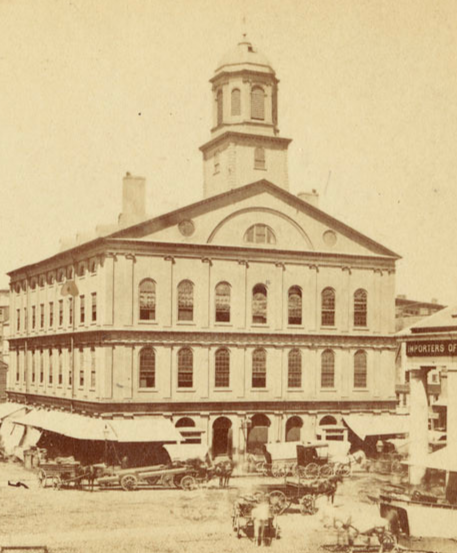 On December 2, 1909, the 50th anniversary of the execution of John Brown, Black and White Bostonians, gathered at Faneuil Hall to celebrate his "martyrdom". Describing the ceremony, a reporter for the Boston Globe wrote, "packed to suffocation, even the stairs and out onto the sidewalk, the evening crowd listened and applauded the speakers as they reviewed the story of the champion of liberty."[1] The daylong celebration at Faneuil Hall highlighted the reverence that many Bostonians still felt for one of America's most controversial figures, fifty years after his death.

Some in attendance that day, such as Franklin Sanborn, a member of the Secret Six, represented the older anti-slavery generation. However, many at Faneuil Hall came from a new generation of activists. They saw themselves as inheritors of John Brown's legacy, freedom fighters attempting to fulfill Brown's vision of racial equality. As Reverend Reverdy C. Ransom stated during his address at Faneuil Hall, "John Brown was the incarnation of the spirit of freedom… Standing in Faneuil Hall tonight we ask, is Boston, which is in the heart of New England, willing to take its stand for justice and fair play for the negro?"[2]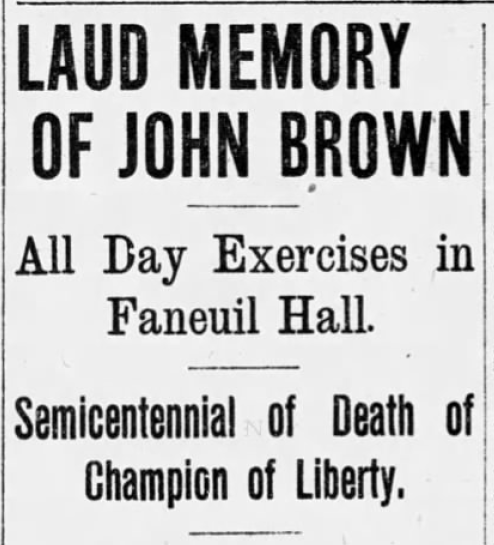 At the time of the John Brown celebration at Faneuil Hall, many of the civil rights gains from Reconstruction had been rolled back or not enforced for years. African Americans, particularly in the South, saw their civil rights stripped away and faced a rise in racial terror and intimidation in the form of lynching. Activists speaking out against these injustices found inspiration in John Brown and used his story to rally people to their cause. As historians John Stauffer and Zoe Trodd wrote in the introduction to The Tribunal: Responses to John Brown and the Harpers Ferry Raid, "the 1890's marked the beginning of a new generation…who began their own set of responses to Brown on behalf of organized labor, legalized segregation, and antilynching."[3] This new generation, like those that came before them, weaponized history as a tool in the fight for racial justice.