Pioneer Abolitionist and Suffragist
By Kristen T. Oertel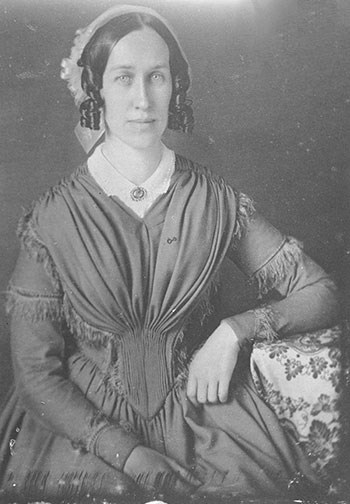 "No truer friend of freedom can be found than she, and if the wives of all the men who settle in Kansas are like her in this particular, slavery will never gain a foothold on that soil."

--Amelia Bloomer, 1854

---
"Without apology or preface…I have taken my long idle pen to tell you of this new oasis of freedom…. The women are 'strong-minded.' And by the way, 'strong-mindedness' will be no objection to a woman, among the pioneers to Kanzas."

--Clarina Nichols, 1854
As debates about temperance, woman's suffrage, and abolition heated up in the 1840s and '50s, Vermont-born Clarina Howard Nichols joined powerful social reformers like
Susan B. Anthony
and
Lucretia Mott
to advocate for social justice for women and enslaved blacks. Unlike Anthony and Mott, however, Nichols chose to actuate her principles in the American West and moved to Kansas in 1854, hoping that the emerging state would offer an unprecedented opportunity to create laws that benefitted women. Nichols called Kansas an "oasis of freedom," not just for its potential for woman's rights but also as a place where "the Almighty had spread wide the heritage of humanity to indicate its inherent right to freedom." Her time in Kansas radicalized her views on slavery and race, as she confronted the reality of human bondage firsthand. Nichols participated in the Underground Railroad sheltering black freedom seekers in the small territorial town of Quindaro and edited a free-state newspaper called the
Chindowan
.
1

This antislavery work enriched Nichols's understanding of how fighting against slavery and patriarchal privilege could employ the same weapons. In a letter to Susan B. Anthony in 1859, Nichols reported that "From its settlement Quindaro had been the Canada of the escaped slave and as such, obnoxious to the pro-slavery element of Wyandotte, which was outvoted at the polls and oftener outwitted on the underground rail-road…." As Nichols and her family became embroiled in conflicts with pro-slavery forces, she publicized them with her pen and her voice, heading back east in 1856 to campaign for Republican presidential candidate John C. Fremont. Holding up a pro-slavery bullet pulled from her son's shoulder after he fought with John Brown's free state forces in Kansas, she spoke with an authority rooted in experience that was virtually unmatched among antebellum reformers. That authenticity offered a platform for her to convince Kansas representatives to ensure unprecedented civil rights for white women in the new state's constitution: to own property outright, to gain custody of their children in cases of divorce, and to vote in school board elections. These milestones would be important stepping-stones on the road to full suffrage nearly sixty years later with the passage of the 19th Amendment.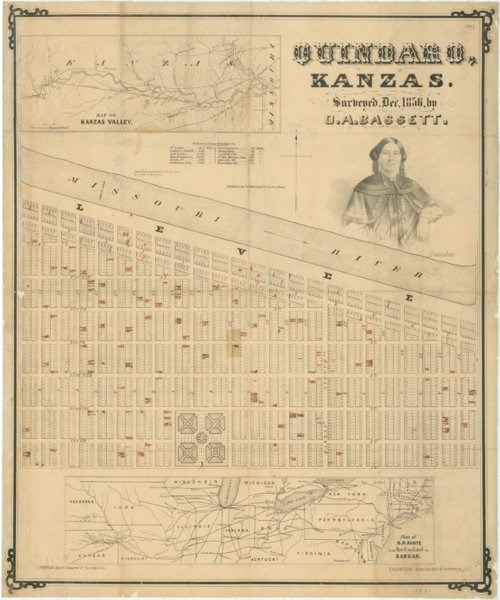 -------------------------
1Quindaro was named for a Wyandot Indian woman named Nancy Quindaro Brown Guthrie, who with her husband Abelard Guthrie helped to establish the town. The English translation of Quindaro is "bundle of sticks" and is often interpreted as meaning "in union there is strength." Chindowan is also a Wyandot Indian word meaning "leader."
---
To read Clarina Nichols speech "The Responsibilities of Women" given at the Women's Rights Convention in Worcester, Massachusetts in 1851, visit:
https://www.kansasmemory.org/item/204087
Kristen T. Oertel, PhD, is the Mary Frances Barnard Professor of 19th Century American History at the University of Tulsa, where she also serves as Chair of the Department of History and Director of African American Studies. Her research focuses on race and gender in the 19th century, especially during the Civil War era. She is co-author of the award-winning Frontier Feminist (2011) which narrates the life of Clarina Nichols. She is also the author of Bleeding Borders (2009), which examines how Native Americans, African Americans, and women shaped the conflict between proslavery and antislavery settlers on the Kansas-Missouri border immediately before the Civil War, and Harriet Tubman: Slavery, the Civil War, and Civil Rights (2016) which chronicles the life of the iconic leader of the Underground Railroad.