For a century, Clare Marie Hodges was believed to be the National Park Service's (NPS) first female park ranger, working the summer season at Yosemite National Park in 1918. We now know that she was the third. She remains the first woman ranger hired at Yosemite and the first to get publicity in her lifetime for her role as a ranger.

Hodges was born on December 1, 1890, to John Crouch Hodges and Mary Ada Stolder in Seaside, Santa Cruz County, California. She attended San Jose College, where she particularly enjoyed botany.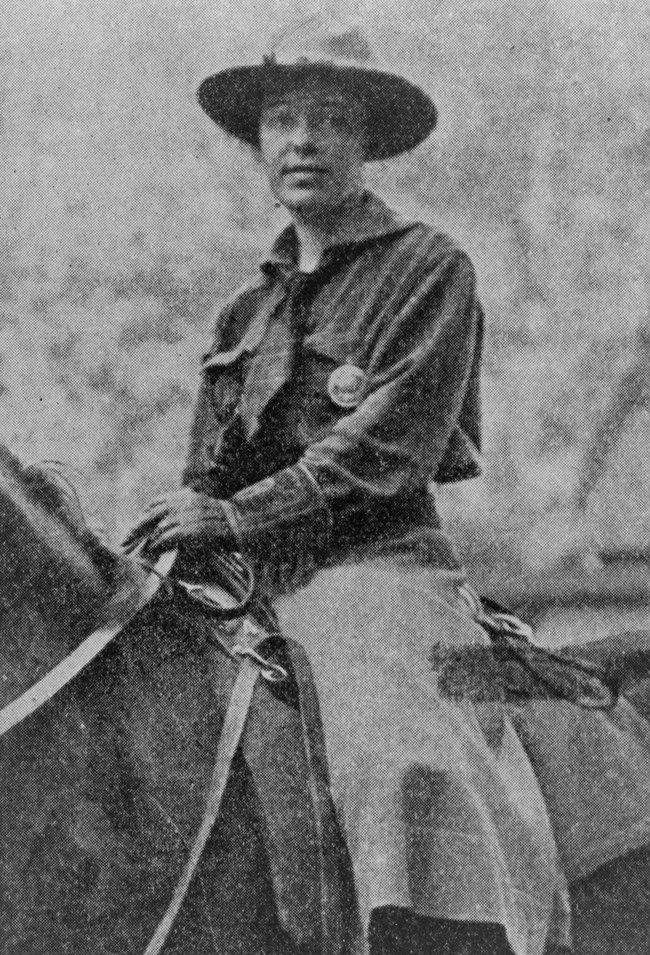 Hodges was no stranger to the park before she was hired. In 1904, when she was just 14 years old, she and her family rode on horseback for four days to reach Yosemite Valley. She also made trips to Tenaya Canyon and from Yosemite Valley to Tuolumne Meadows. After her first visit to Tuolumne Meadows in 1913, she returned five or six more times.

Hodges felt intimately connected to Yosemite, and several of her poems were published in 1914. In 1916 she began teaching at the Yosemite Valley School, becoming even more familiar with Yosemite's landscapes and trails.

In spring 1918 Hodges heard park rangers talking about how hard it was to fill the ranger positions left vacant by men fighting in World War I. With her two years of preparation as a teacher in Yosemite, she applied to W. B. Lewis, the park's superintendent. She told him that he would probably laugh at her, but she wanted to be a ranger. Lewis replied that he already had it in mind to hire a female ranger but hadn't found the right one. Hodges was hired as a temporary ranger on May 22, 1918. She was given a badge and a salary of $900 per year. As a temporary ranger, Hodges didn't wear the authorized 1917 uniform, but that didn't make her the Odd 'Man' Out.

As a ranger Hodges rode horse patrol through remote areas of Yosemite. She reported to the chief ranger just as the male rangers did. Her duties included taking the gate receipts from Tuolumne Meadows up to park headquarters, which was an overnight ride on horseback.

In an interview with The Lima News printed on June 1, 1919, Hodges noted that, "My life as a ranger is not as wild and woolly as it sounds." In addition to ranger patrols, she registered tourists, issued auto permits, assigned camps to visitors, sealed firearms (to prevent their use in the park), made reports, and answered the chief ranger's telephone, among other duties. She also declared, "Women can do all kinds of things and enter new fields of work if they care to."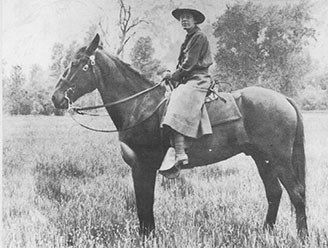 After her temporary position expired on September 7, 1918, she married Earl L. Seiverson. Together they had one son, Forest Glen, born in 1920. The circumstances surrounding the end of her first marriage are unknown, but she married Peter Wolfsen in 1925. She later gave birth to a daughter. She worked as a naturalist at a Seven-Day Adventists' summer camp at Wawona, teaching botany and horsemanship and establishing nature trails. After 33 years of marriage, Wolfsen died on July 29, 1958, in Yosemite Valley

In 1963, at the age of 72, she married Ernest J. Morris in Tulare, California. They were married for seven years before she died of cancer on June 20, 1970, in Loma Linda, California. She is buried at the Merced Cemetery.
Sources:
"Hodges, Clare Marie" file in the NPS Oral History Collection (HFCA 1817). NPS History Collection, Harpers Ferry Center.

Kaufman, P. W. (2006). National Parks and the Woman's Voice: A History. University of New Mexico Press.

Kaufman, P. W. (January 1990). Challenging Tradition: Pioneer Women Naturalists in the National Park Service. Forest & Conservation History, Vol. 32, No. 1, 4-16.

"Licensed to Wed." (1918, October 21). Stockton Daily Evening Record, p. 4.

"Only Woman Mountain Ranger." (1919, June 10). The Dispatch, p. 11. Moline, Illinois.

"Who'll Trade Jobs with Her?" (1918, September 13). The Times Herald, p. 13. Port Heron, Michigan.

Wolfsen, C. H. (1952, January). "Once Upon a Time." Yosemite Nature Notes, Vol. 31, No. 1.

Workman, R. B. (1998). Breeches, Blouses and Skirts: Women's Uniforms in the National Park Service 1918-1991, No. 4. National Park Service History Collection, Harpers Ferry Center.

Young, R. W. (March 1962). "Ladies Who Wear the Uniform of the National Park Service." Planning and Civic Comment, Vol. 28, No. 1.