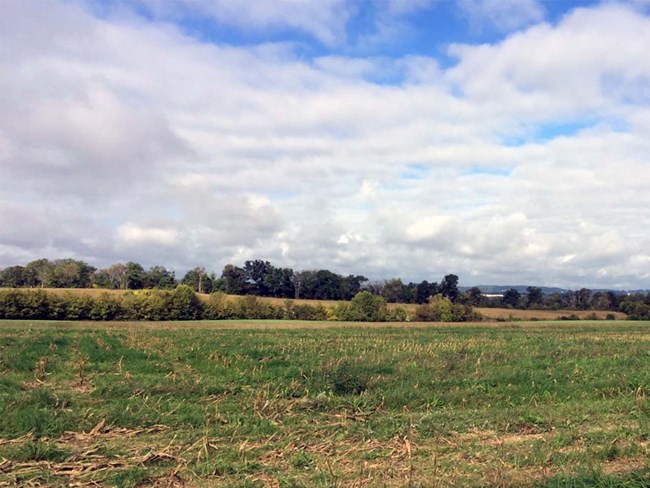 Recipient: Virginia Department of Conservation and Recreation
Award Amount:
$65,123.10
Acreage:
3.25 acres
The Battle of Piedmont was a hard-fought Union victory over the smaller Confederate forces. With 800 Union and 1,500 Confederate casualties, including cavalryman Brigadier General William E. "Grumble" Jones, it was one of the bloodiest battles fought in the Shenandoah Valley.
On June 5, 1864, this 3-acre cornfield in the heart of the Piedmont Battlefield was the stage for a stand-up battle between the 60th Virginia and the 34th Massachusetts. Earlier that year, General Grant tasked Gen. David "Black Dave" Hunter with raiding the Shenandoah Valley and destroying Confederate factories and supply lines. On June 4, "Black Dave" marched his army southeast to Port Republic, with the intention of cutting the Confederates off from Richmond. Jones set up his main defensive line near the Village of Piedmont and confidently proclaimed, "I can whip Hunter anywhere." However, after fierce hand-to-hand fighting, the Confederate line crumbled and Jones was killed when he rushed the front line, urging his men to hold their ground. Despite his last words, the Confederate defense collapsed, and the retreat became a rout.
In 2021, the
American Battlefield Protection Program
awarded the Virginia Department of Conservation and Recreation (VA DCR) a Battlefield Land Acquisition Grant to preserve 3 acres of this battlefield. VA DCR, with its partner the Shenandoah Battlefield Foundation, plan to install interpretative signage and enable public access by creating walking trails. The site will be protected with a conservation easement held by the Virginia Department of Historic Resources.
Battlefield Land Acquisition Grants
empower preservation partners nationwide to acquire and preserve threatened Revolutionary War, War of 1812 and Civil War battlefields. In addition, the program administers three other grants: Preservation Planning Grants, which are open to all sites of armed conflict on American soil, the newly authorized Battlefield Restoration and Battlefield Interpretation grant programs. This financial assistance generates community-driven stewardship of historic resources at the state, tribal and local levels.
Get Your Project Funded
Check out the American Battlefield Protection Program's website for more information about various grant offerings and eligibility.
Learn more