Telling the Story of the Enslaved People at Arlington House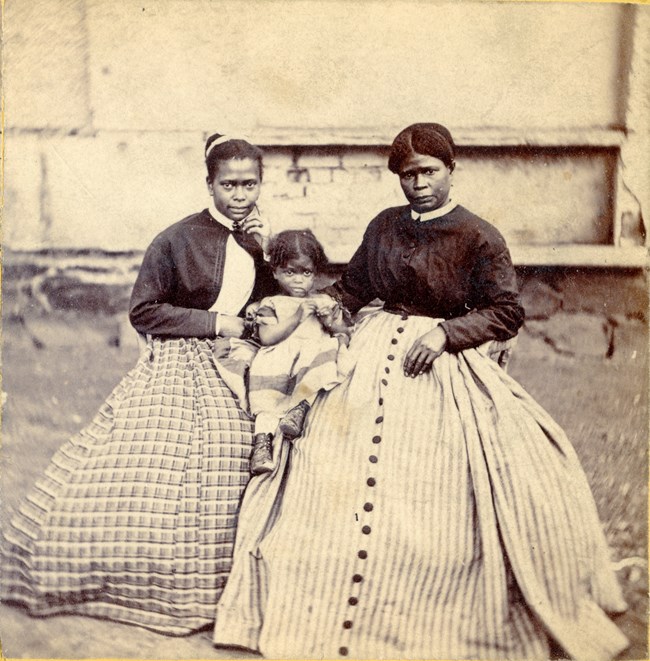 Over the 60 years leading up to the Civil War, Arlington House was home to at least 100 enslaved African Americans who lived and labored on the estate. Enslaved people at Arlington House lived difficult lives of forced labor. However, they found small ways to resist, in addition to building families and close connections with each other. The National Park Service interprets the history of the Lee and Custis families and the stories of those enslaved by them, including the Syphax, Burke, Parks, and Gray families, to present a more complete story of life at Arlington House.

George Washington Parke Custis brought the first enslaved people to Arlington House in 1802. Most of them had been born at Mount Vernon but were not owned by George Washington. They were part of the Custis estate from Martha Washington's first marriage. These enslaved people were held in trust for Martha's grandchildren on the event of her death. While George Washington specified in his will that the people he enslaved would be freed after Martha Washington's death, he did not have the authority to emancipate those who belonged to the Custis estate, as they would be transferred to Martha's children and grandchildren when she died. For decades, those enslaved to the Custis and Washington families lived together at Mount Vernon, building families and bearing children. Because of this, Martha's death forced the rupture of many of the enslaved families at Mount Vernon. While those enslaved to George Washington were emancipated by Martha in 1801, when she died in 1802, those enslaved to the Custis estate went to the Custis heirs, namely, Martha Washington's grandchildren, including Nelly Custis Lewis at Woodlawn plantation in Fairfax County, Virginia; Martha Parke Custis Peter at Tudor Place in Washington, DC; and George Washington Parke Custis at Arlington House.

Enslaved people at Arlington House married, although these marriages were not legally recognized, and had children. Forced to build roads, cabins, work buildings, and Custis' house, they also tilled the soil and grew the crops that provided wealth and sustenance for the Custis family. Many enslaved people had highly skilled jobs at Arlington. Charles Syphax oversaw the dining room, Daniel Dotson was the carriage driver, and Selina Gray was the housekeeper.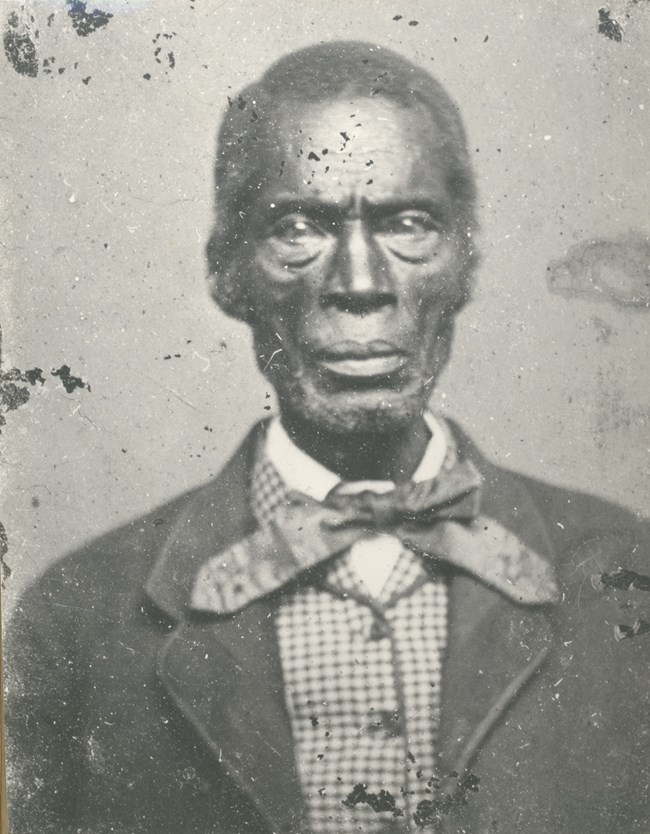 Those enslaved at Arlington House found different ways to resist the institution of slavery. To resist slavery, enslaved men and women might break tools, take small items from the mansion, feign sickness, or work slowly. Not all of their resistance was aggressive. With quiet defiance, enslaved people established familial bonds and practiced spiritual rituals.

When George Washington Parke Custis died in 1857, he left his various plantations and land holdings at Arlington and in southern Virginia to his daughter, who was married to Robert E. Lee, and their sons. He also left his four granddaughters $10,000 each. At the end of his will, he stated that "upon the legacies to my four granddaughters being paid, and my estates that are required to pay the said legacies being clear of debt, then I give freedom to my slaves."[1] He stated that the emancipation should be accomplished within five years of his death. The executor of the will and Custis' son in law, Robert E. Lee, continued to enslave them for the full five years in order to work off the Custis family debt and pay out the legacies as stipulated in Custis' will. Some enslaved people defied Lee's orders or attempted to seek the freedom they felt had been promised by the late Mr. Custis. In that regard, Lee wrote to his son that Custis had "left me an unpleasant legacy."[2] Wesley Norris, who was enslaved by Custis, recalled how Lee ordered the whipping of himself and two others who tried to free themselves from Arlington House by running north.

Freedom for people enslaved at Arlington House ultimately came with the Civil War. As Union armies overran the Custis estates, some took advantage of the opportunity to flee north, while others stayed on the plantation. At the end of 1862, following the wishes of his father-in-law, Lee ordered the freedom of the 63 people owned by the Custis family at Arlington.

In the years that followed, these families built new homes and lives not far from where they had once been enslaved. With the creation of Freedman's Village by the Federal Government in 1863, thousands of African Americans who had emancipated themselves from slavery established a community on what once was the Arlington plantation. At Arlington they formed deep bonds with each other, and many of these bonds continue among their descendants today.

While the story of those enslaved at the Arlington House plantation has been left out of many popular narratives, the National Park Service is dedicated to telling their story. Visitors to Arlington House can learn about enslaved people who worked at the estate, such as the Syphax, Burke, Parks, and Gray families, including learning stories about their daily life on the plantation and their families' legacies. The newly restored outbuildings that served as living and working quarters for enslaved people are open to the public.

A major rehabilitation effort completed in the summer of 2021 included artifact conservation, facilities restoration, and the installation of new interpretive exhibits that include multiple historical perspectives and are grounded in current research. New archeological findings have shed light on past behaviors of enslaved individuals. Today, the National Park Service tells the whole story of slavery at Arlington House, recognizing that speaking openly about this history might engender discomfort in ourselves, our colleagues, and our visitors, because it helps us to understand the complete story of our collective history and acknowledge those who have been too long ignored by the dominate narrative. The National Park Service acknowledges and recognizes the lives of those enslaved at Arlington House with respect, humanity, empathy, and agency.
[1] Will of George Washington Parke Custis, March 26, 1855.
[2] R. E. Lee to Custis Lee, July 2, 1859.
Last updated: July 30, 2021