Fishing in the Apostle Islands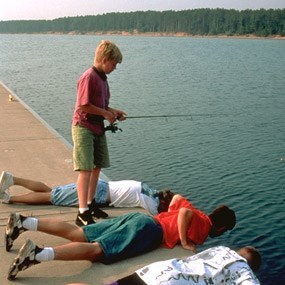 The Apostle Islands and surrounding area offer anglers opportunities to catch Lake Trout, Brown Trout, Brook Trout, Rainbow Trout, and Coho Salmon.
A Few Reminders For Prospective Fishermen:
Lake Superior is notorious for its cold temperatures, rough seas, fog, and sudden squalls. Boaters should be alert to changing conditions and should consult current marine forecasts before leaving on a trip. Marine weather forecasts are broadcast on marine channel 7, 162.525 MHz.
A Wisconsin fishing license and Great Lakes trout/salmon stamp are required for fishing in the park. Season dates, closed areas, line and fish limits as well as certain method restrictions are enforced by both the National Park Service and State officers.
You can find up-to-date Wisconsin Fishing Regulations at the Wisconsin Department of Natural Resources. A pamphlet containing the regulations may also be obtained at DNR offices and other locations where licenses are sold.
If you do not have a boat, there are a variety of water taxi services or fishing charters who are authorized to work within the park. The park boundary extends 1/4 mile into the waters surrounding the islands, so there are many other fishing charters operating in the area who do not need to be registered with the park. Area bait shops or Chambers of Commerce are great sources for finding a fishing charter.
---
What's Biting?
Spring Season (Ice-Out to Late May/Early June):
The best dates for this fishing varies from year to year, but during this period the water temperatures near shore attract large numbers of trout and salmon. The spawning of Steelhead (Rainbow) Trout and Rainbow Smelt further enhance the fishing. Popular angling areas at this time include many points along the Bayfield Peninsula from Ashland to Port Wing. The best areas are usually adjacent to good spawning streams such as the Sioux, Onion, Pikes, Cranberry and Flag Rivers.
Around the islands, the north side of Long is particularly productive. Other areas worth trying include the shorelines of Basswood, Hermit and Oak Islands. At this time of year, casting lures from shore may result in good catches since most fish are found in water from 10 to 30 feet deep.
Summer Season (Mid-June through August):
Generally, near-shore water temperatures will be too warm to host trout or salmon. Fishing during this period takes place in deeper water with Lake Trout being the most commonly targeted fish. Trolling (dragging lures behind a boat) is probably the most popular and successful method of catching trout and salmon in the Apostle Islands. A very popular and productive "sportfishing only" area has been established by the Wisconsin Department of Natural Resources between Madeline and Long Islands. The area around Sand and Eagle Islands, or out near Cat Island can also yield successful results. Fishermen should not approach within 500 feet of Eagle Island during this period so as not to disturb colonies of nesting birds on the island.
Fall Season (September through November):
Favorable shore temperatures and spawning runs of both trout and salmon species create good fishing in many of the same areas listed for spring fishing.
Last updated: February 23, 2021