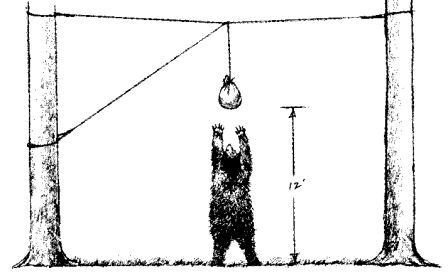 Bears and other wildlife
Black bears may be on any of the Apostle Islands, but are most common on Oak, Sand, Manitou, and Stockton islands. To avoid a close encounter with bears and other animals:
Make noise when you hike and travel in groups on established trails.
Avoid strong smelling foods and toiletries (soap, deodorant, toothpaste, etc.)
Do not cook in, or take food, garbage, dish towels or toiletries into a tent.
When cooking, wipe your hands on a small hand towel and store it with your food.
Keep kitchen and sleeping areas separate!
Wash dishes and clean the kitchen site thoroughly after cooking.
Wastewater from cleaning dishes can attract animals. Strain out food scraps from dishwater (dispose of scraps in the trash), and then spread wastewater on the ground at least 50 yards from the campsite.
Store food securely
: All food, beverage containers, garbage, cooking materials, and toiletries should be stored in provided bear lockers at designated campsites. Where lockers are not available, hang food and related items with a rope from a tree, making sure it's 10-12 feet from the ground and at least five feet from the tree trunk. (See picture.) Never, ever leave food or water bottles unattended!
If you do encounter a bear:
Never feed a bear or any other wildlife! Stay back at least 50 yards.
In the backcountry:
Back away while facing the bear. Avoid direct eye contact. Speak quietly, act passive, letting the bear know you are not a threat. If the bear approaches, wave arms and talk loader so the bear can identify you as a human.
In a visitor use area (campsite, dock, picnic area):
Make yourself look as large as possible and use a loud, strong voice. Bang pots, yell, and make noise until the bear leaves the area. Put away food and trash. Throwing small rocks in the direction of the bear should be done with caution -- you do not want to hit the bear! Please report the encounter to park staff as soon as possible.
If the bear acts aggressively towards you:
Leave the area immediately! Do not run. Report the encounter to park staff as soon as possible.