Camping Practices
Leave No Trace principles
Fires:
Build campfires in fire receptacles where provided or on a sand beach near the water's edge, below the vegetation line. Beach fires are not permitted on beaches on Raspberry Island, Julian Bay, and Presque Isle Bay on Stockton Island, or on beaches within 150 feet of campsites where fire receptables are provided. Fires should be no larger than three feet in height or diameter.
Use dead wood on the ground for firewood. Chainsaws cannot be operated in the National Lakeshore.
To prevent transporting invasive species like emerald ash borer or spongy moths, do not bring firewood to the National Lakeshore or move it between islands. Emerald ash borer poses a significant threat to the black ash commonly found in the wetlands around the National Lakeshore. Black ash was traditionally used by Native Americans for fish spears, snowshoe frames, sleds, cradleboards, arrows, and canoes. Today, ash is used commonly in flooring, cabinets, and baseball bats. Splints of black ash are still preferred for basket making. Spongy moths most commonly infest oak trees, which both economically critical and an ecologically dominant species. Moving firewood is the primary means of transportation for these two unwanted pests! More information about these invasive species can be found at the USDA's National Invasive Species Information Center site.
Please, do not leave fires unattended. Extinguish fires before leaving the area with water and/or smothering with sand.
Fires are not permitted in portable grills or stoves on docks, or topside areas of boats tied to public docks to prevent explosions and other dangerous, damaging situations.
If the fire danger is high, open fires will be prohibited entirely.
Quiet hours:
In order to insure a quality camping experience, quiet hours are enforced from 10:00 p.m. to 6:00 a.m.
Tent pads or platforms:
Please use them where they are provided because they protect vegetation and other important resources. Many of the group sites now have raised platforms with rings to tie down tents.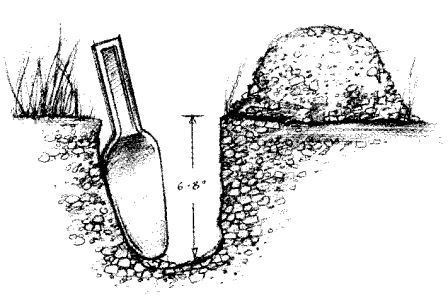 Garbage and human waste:
Carry your garbage out of the park. Do not put any garbage (including feminine supplies) into the toilets, bury it, burn it, or throw it in the lake!
Use the vault toilets or stump privies where they are provided. Otherwise, take care to dispose of human waste properly (see picture at right):
Be 200 feet from the nearest campsites or body of water.
Dig a hole at least six inches deep.
Cover your hole throughly when finished.
Bag toilet paper and pack it out.
Pets:
They are a part of your family, and your actions can keep them safe if you choose to bring them to the National Lakeshore.
Pets must be kept on a leash that is six feet or shorter. Off leash dogs have a history of running of cliff edges into the Lake, and being injured by or injuring wildlife in the Park.
Always have someone with your pet. Leaving them alone is cruel and dangerous.
Excrement must be immediately collected and disposed to in nearest trash receptacle or buried in a forested area using the same procedure as described above for human waste.
Please note: Only service animals with proper certification are allowed in public buildings or on scheduled Apostle Island Cruises trips.
Protecting your park:
Beaches and sandspits are some of the park's most popular attractions. They also support fragile plant communities. Please use official trails, boardwalks, and sand ladders. Avoid walking on or smashing beach grasses and lichens; they hold the sand in place. The islands provide homes for many bird and animal species. Please observe wildlife from a distance. Help keep the area's historic record intact by leaving artifacts where you find them.


Last updated: July 11, 2022