Gaylord Nelson Wilderness
"Away, away, from men and towns,
To the wild wood and the downs, --
To the silent wilderness,
Where the soul need not repress
Its music." -
Percy Bysshe Shelley, (1792-1822)
"To Jane, The Invitation," c.1820
New Apostle Islands Wilderness Honors Former Wisconsin Senator
Designation Guarantees Access and Ensures NPS Area Will Retain its Present Character
With the stroke of a pen, on December 8, 2004, President George W. Bush approved legislation designating 80% of the land area of Wisconsin's Apostle Islands National Lakeshore as federally protected wilderness. The new wilderness area - Wisconsin's largest by far - honors the late former Governor and U.S. Senator, Gaylord Nelson. This new addition to the National Wilderness Preservation System will be known as the Gaylord Nelson Wilderness. The designation guarantees that the present management style of Apostle Islands National Lakeshore will be maintained in the future - emphasizing continued motorized boat access to the mostly-wild islands, but no motorized travel on the islands themselves.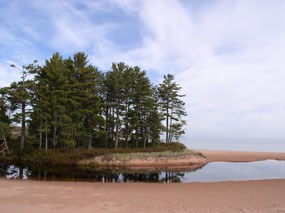 "We're absolutely thrilled about this," said Apostle Islands National Lakeshore Superintendent Bob Krumenaker. "Senator Nelson was a visionary who fought long and hard to create the Apostle Islands National Lakeshore, and for decades he was a leading advocate for our nation's wilderness areas. It is entirely fitting that this new wilderness area be named for him."
The waters of Lake Superior within the National Lakeshore are not included in the wilderness area, nor are the lighthouses or other existing developed areas of the park. Sand, Basswood, and Long Islands were kept out of the wilderness boundary in their entirety, along with the park's 12-mile mainland strip.
Click for more information on Wilderness Law and Policy.

Last updated: April 10, 2015