Firearms In The Park
As of February 22, 2010, a federal law allows people who can legally possess firearms under applicable federal and Wisconsin state law, to legally possess firearms within Apostle Islands National Lakeshore.

Federal law prohibits firearms in certain facilities in this park; those places are marked with signs at all public entrances and include:
All National Park Service offices and administrative buildings.
Roys Point and Little Sand Bay Maintenance Facilities.
Bayfield Headquarters and Visitor Center.
Little Sand Bay Visitor Center.
All lighthouses and historic buildings.
It is the responsibility of visitors to understand and comply with all applicable Wisconsin state and federal firearms laws before entering this park. As a starting point, please visit:
Specific types of firearms are authorized for hunting within the National Lakeshore during designated hunting seasons and following Wisconsin state hunting regulations. Please visit the following links for further information:
For any questions about firearms contact the Chief Ranger by email or calling (715) 779-3398.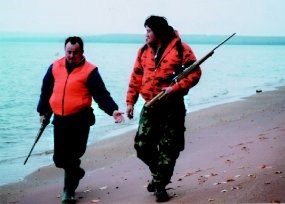 Last updated: August 26, 2020