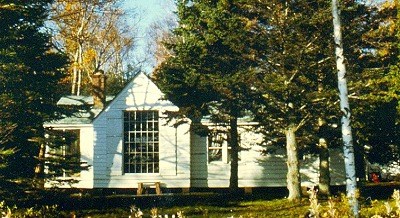 On the eastern shore of Lake Superior's Sand Island, a small cabin stands as a monument to two memorable individuals: Gertrude Wellisch, a strong-minded, independent woman who knew just what she wanted out of life;and Clyde Nylen, a craftsman so skilled that people still speak admiringly of his work four decades after his death.
Gert Wellisch (1896-1966) spent her childhood summers in the Apostle Islands. At first her family summered on Madeline Island, but in 1910 her father, a well-to-do manufacturer from St. Paul, joined with three other businessmen to build an imposing, Adirondack-style lodge on the west shore of Sand Island.The West Bay Club still stands today, owned by the National Park Service, but occupied by its former owner under a use-and occupancy agreement.
When Gert reached adulthood, a unique opportunity came her way to have her own summer place on the island. In 1920, the brownstone lighthouse at Sand Island's northern tip became the first beacon in the Apostles to be automated. The building sat vacant until 1925, when Gert, making use of her father's political connections, secured permission to lease the lighthouse, at a rate of $25.00 per year.