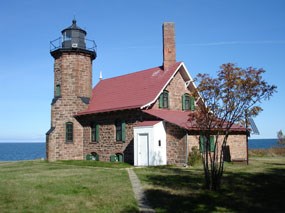 Sand Island lighthouse, near the western end of the Apostle Island chain, was occupied for a shorter period than any of the archipelago's other lights. Built in 1881, it was the first of the group to be automated, in 1921.
Considered by many to be one of the most beautiful lighthouses on Lake Superior, the structure was built from sandstone quarried right at the building site. The design of the lighthouse was influenced by the Gothic style, popular during the Victorian period. The light tower begins as a square rising from the northwest corner of the dwelling, then gracefully flows into an octagon surmounted by the lantern and walkway. Carved wood trim decorates the steeply sloped gable end of the quarters. A fourth-order Fresnel lens produced a fixed white light from the top of the 44-foot tall tower.
Sand Island light had only two principal keepers: Charles Lederle, from 1881-1891, and Emmanuel Luick, from 1892-1920. In 1885, Lederle gained praise for his daring rescue of the crew from the steamer Prussia. Spotting the burning ship, he rowed a small boat several miles out on the open lake, and rescued the entire crew. Luick also witnessed a shipwreck at close hand, but could do nothing to assist the victims. During a fierce September storm in 1905, he could only watch from the tower as the freighter Sevona broke apart near shore. Seven sailors, including the ship's captain, drowned.