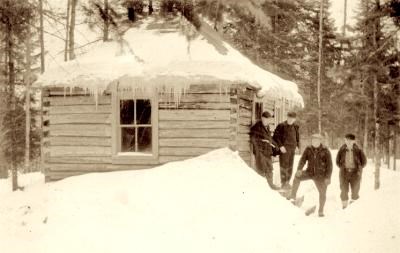 "Let me live in a house by the side of the road, and be a friend to man."
The words of New Hampshire poet Sam Walter Foss come to mind upon contemplating a small cabin not far from the Little Sand Bay Visitor Center. This one-room log cabin, long hidden in dark woods, has become easier for visitors to find now that improvements have brought the park entrance road close to its door.
The National Park Service has the responsibility and privilege of caring for homes associated with figures who made transcendent contributions to the nation's history. Each year thousands of visitors tour such sites as Franklin Roosevelt's mansion at Hyde Park, the birthplace of Martin Luther King, or the house at Appomattox where Grant and Lee signed the document that ended the Civil War.
But the Service also preserves homes of men and women whose names few may remember, but who each played their own role in the nation's story. There are pioneer farmsteads, slave quarters, workers' tenements. Visiting these homes helps us understand and appreciate the accomplishments of "ordinary people" who turn out, upon reflection, to be pretty extraordinary in their own way.
Consider, as one example, John Nelson, who built that one-room cabin at Little Sand Bay.
Born in Norway in 1882, Nelson found himself faced with a difficult choice as he reached adulthood. It was hard for a young man to find work in Norway at the turn of the last century. Throughout the eighteen-hundreds, advances in medicine and agriculture had led to a decline in the death rate and a growth in population, but economic development had not kept up. More and more people found themselves competing for any available jobs and the nation's relatively small portion of arable land.
Faced with this situation, many young Norwegians took the difficult step of leaving family and friends to seek a brighter future in America. Between 1825 and 1915, no country but Ireland sent a larger portion of its sons and daughters to this country than did Norway.
John Nelson was one of those who chose to try his luck in the New World. Upon arrival, like many Norwegian immigrants, he made his way to Wisconsin. He settled for a while at Ashland, and found work as a lumberjack in the logging camps of the Lake Superior country.
Logging was a hard way to make a living. It didn't leave much time for family life, and Nelson never married. He must have devoted himself to honing his skills with axe and saw, for acquaintances remember him as an expert woodsman. As his experience grew, he rose to become crew foreman, and finally set out on his own as an independent contractor.
By the end of the 1920's, though, the heyday of Northwoods logging was over. The great stands of pine were long gone, and the area's mills closed one after the other. There was still some hardwood and pulpwood to cut, but the need for lumberjacks dwindled. As John Nelson reached his fiftieth year, he found it necessary once more to start anew.