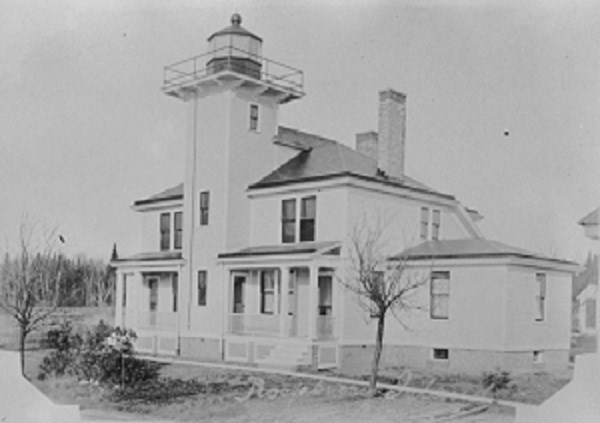 "When a woman marries a lighthouse keeper, she gives up everything else in the world."
Mrs. Cecelia Carlson Mclean of the Michigan and Devils Island Lighthouses.
For wives and children of lighthouse keepers, the challenges of daily life on a lonely island could sometimes seem overwhelming. Some keepers' wives were blunt in their opinions.

Wife of one lighthouse keeper and sister of another, Cecelia Carlson McLean was the sister-in-law of Anna Maria Carlson , whose ordeal on Michigan Island is described elsewhere in this scrapbook. In 1931, she shared her opinions with reporter Stella Champney:

"I hate lighthouses," said Mrs. Alexander McLean, whose husband kept the light on Raspberry Island for several years. "They are so lonely. Going from one island to another, out in the Apostles group, isn't much fun, especially when you have to go in a small boat and maybe get caught in a storm. We left Raspberry Island in 1916, and I was glad enough to see the last of it."

"When a woman marries a lighthouse keeper, she gives up everything else in the world. If I had my life to live over again, it would not be in lighthouse stations."

"My husband was 35 years in the lighthouse service. Thirty of those I was his wife, living on the isolated stations in the Apostle Islands, and part of the time at Two Harbors, Minn., where one might as well be on an island for all the social life one is able to have. Winters I was shut in by unbroken snowdrifts down in the railroad yards which shut off the lighthouse from the town, and while the men folks got the children out to school and back, by the time I was ready to go anywhere, the roads were drifted full again. And ma could stay home. There was always too much to do around home, anyway, to spend any time getting to town."

"On the islands, we always had to keep up two homes, as women and children have to be off the islands Oct. 15, and when you have two homes to maintain, something has to be slighted. We slighted necessities. Luxuries-- we had none of them. We gave up the things we needed."

Mrs. McLean spent her honeymoon on Devil's Island, a lonely outpost in those days. Her husband began his lighthouse work on Isle Royale, and for a time was assistant keeper on Menagerie Island, a desolate rocky pile in Siskiwit Bay. His first head keeper's job was on Michigan Island, following the Carlsons, and, he said, "Where I was the only human being for whole months, monarch of all I surveyed."

Four years later, while keeper on Devil's Island, he married.

"On Devil's Island," his wife continued, "in storms the spray used to dash against my living room windows, 600 feet from the cliffs, and ooze through the windows and flood the floor so that I would have to take rags and sop it up. Such a mess it always made."